Inspiring Young Entrepreneurs
Tina Wells, CEO of Buzz Marketing Group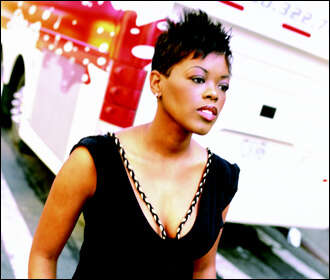 Tina Wells is the rockstar entrepreneur who founded Buzz Marketing Group ten years ago when she was only 16. At the time, she realized the disconnect between, "teen's desires and companies' misdirected outreach." Her company helped to close that gap.
Today, at age 26, her list of accomplishments is nothing short of spectacular. Her 10 person firm has extended its reach by growing a network of 9,000 young BuzzSpotters and Entrepreneur Magazine just included her in their list of Young Millionaires.
If you want to know what is cool, then you want to know Tina Wells.
She's also a Trend Hunter (
TrendHunter.com/BuzzTina
) with a growing list of submitted trends and dozens of Trend Hunter Cravings. When asked about Trend Hunter, she told me, "I am rarely impressed by sites that claim to showcase trends, but Trend Hunter is the real deal! I really enjoy participating in a community of visionaries and innovators. This is the best place on the web to find out what's new and what's next!"
14 Questions with Tina:
1. How and when did you become interested in watching trends?
I've really been interested in pop culture since I was a young girl. I was always fascinated with the clothes my parents bought me, and I have strong memories of things I loved when I was a child. My favorite item of all time was my Kelly green polo dress w/ the little lizard logo on it. ;-)
The older I got, the more I picked up magazines, books, and watched shows like "Style with Elsa Klench." I really thought I'd end up a fashion journalist since I loved clothing so much, but it seemed my career took a very different and unexpected path.
2. You launched Buzz at a very young age. Where did you get your entrepreneurial inspiration?
From my family. My mom has eight older brothers, and all of them were entrepreneurial at some point in their lives. My dad also always told me I could really do anything I wanted when I grew up if I had an education, so I grew up in an environment where anything was possible.
I am also the oldest of six children, so to satisfy my craving for fashion and pop culture, I had to think of a way to get the stuff I wanted for little or no money. Even at that young age, I was focused on finding a solution!
3. How do you define a trend?
That's a difficult question to answer. I think I have a different system than most traditional trendspotters, though. For example, I don't focus on an item like an iPod. I focus on the trends it inspires, like customization and massclusivity. I define massclusivity as something that seems so exclusive, yet it's created for the masses. To me, something becomes a trend when my buzzSpotters are over it and everyone else is into it! Myspace is the perfect example.
4. How do you define cool?
Cool to me is what something like Myspace or Youtube is before the general public picks up on it, or before advertisers write it into their marketing plans! And I'm not talking about traditional ads, but something more serious like, "we're going to launch the next season of Entourage through Myspace!" Haha. That's when it's uncool.
Cool is an attitude. It's also when you say, I'm going to rock cowboy boots with tights and a mod top even though cowboy boots were so last season.
5. What types of trends interest you the most?
Behavorial and pyshographic trends are my favorite. To me, it's about seeing through the noise and getting to the heart of what will really impact our society for the long haul.
6. How and where do you discover your trends? Is it just from your marketing network, or do you personally search around?
Oh I'm personally always searching for new stuff. One of my favorite places to read about cool things is British Glamour. There is no better magazine for young women! I love to look at their ads and see how brands like River Island and Mango are presenting their looks. There's always fabulous fashion features and tons of clothes from great stores like Top Shop.
I also spend tons of time with actual youth. You have to constantly interact with your network to make sure your trends aren't stale. I can't tell you how often they save the day for me, keeping me trendy and cool!
Stores like H+M and Forever 21 are also great for keeping up with current trends. If I'm looking for trendy stuff to wear, I'll mix my J Brand or True Religion jeans with their tops. They're also the place to go for that must-have accessory of the moment.
For my bags and shoes, I usually splurge a bit on European designers like Karina Arabian (she used to be the head accessories designer for Chanel and now has her own line) and Cote de lac (fabulous, one-of-a-kind blouses), and Cydwoq.
For films, I usually go to independent theatres like the Ritz (www.ritzfilmbill.com) or Netflix. For music, I depend on my very trendy friends and buzzSpotters to keep me up-to-date on artists I should know. I'm also lucky to have fab relationships with record labels, so I get tons of advanced music.
7. Why do you feel it is important to watch trends?
Well, first and foremost, it's something I love to do. It's totally intriguing to me to watch things come to life. Right now, I'm really big on this trend I'm dubbing Wharholism. I really believe that this generation of youth believe that they're going to be famous for at least 15 minutes!
While this is definitely great for the self-esteem of this generation, it could have several negative effects. Primarily, I think this will effect future workforces. Many studies show that over 70% of youth want to be in business for themselves. Where will we get our blue collar workers from? They also feel like they're entitled to things, so how will we make them see the value of hard work?
So, while reality TV, Myspace, and even toys like Star Station seem like like unimportant things, they really are having a bigger cultural impact than we think.
8. What do you think is the best way for a company to infect cool into their products?
Talk to cool people. Do not – I repeat – do not, try to interpret cool on your own. Cool is something you instinctively know how to be. I don't think you can learn how to be cool. I think you can learn how to be trendy (if you read enough magazine and follow the dots, it'll be easy), but you can't fake cool. Brands try way too hard to be cool, instead of trying something that makes a statement and is authentic. One of my favorite brands of the moment is Victoria's Secret Pink. I think that the brand is so authentic and just cool. And fashionistas started wearing the loungewear to classes and other "inappropriate" places, which made it even hotter.
9. What is the key to innovation?
Seeing through the noise, and understanding what your consumer needs. The latter is really of the most importance. If you can truly understand what the consumer wants, you can push the envelope on innovation, and ensure you're going to sell your product.
This can be true of iPods, too. An iPod is nothing more than a convenient way to transport music and files from one location to the other. It allows you to enjoy music you love wherever you are. It's simple convenience, yet it's innovated the entire MP3 market. Does anyone even remember iRIver? Haha.
10. Tell me a bit more about Buzz.
Buzz Marketing Group is a youth marketing agency. We specialize in research, events, and promotions. I started the agency 10 years ago as a research firm, but we've really grown our service offerings over the years.
Right now, I'm focused on launching buzzspotter.com, which will be a site for our buzzSpotters to share trends and information. I'm also launching research products like bTruth, which is focused on ad agencies, and bMusic, which is focused on the recording industry.
I also want to get into consumer products. I'm going to be writing a book soon focused on trends, and also a series of books for tweens! I'm so excited about the tween book series, because I've been doing so much research on tweens lately, and they're an exciting group of consumers. Hopefully I can publish something that will mean lot to them.
11. What are your favorite articles that you've written?
One of my favorites is a piece I wrote about a year ago called "It's So Out To Be In." I basically talk about how everyone's running to be trendy instead of creating cool. I also just wrote an article for Media magazine about the future of teen magazines. That was a fun one to write.
12. Professionally, what do you want to be doing in 10 years?
I want to be a professor. I'd like to pursue a PhD in Social Anthropology and teach at a university. I obviously need to work on some books or something, right? Haha.
I also want to spend the next few years traveling even more and I NEED to become fluent in French. C'est vraiment important!
I would also love to work for the United Nations. I met Kofi Annan several years ago, and if I had an idol, it would be him. I really love reading about global affairs, and I do a lot of non-profit work with children in developing countries. I'm on the board of an organization called Friends of the Orphans, and I've been to Honduras and will be going to El Salvador in a few months on their behalf.
So, eventually, I will pass the torch of CEO on to one of my current buzzSpotters, and move into the role of Chairman of the Board. I also plan to (hopefully) get married and have children in the next five years.
13. What are your biggest hobbies other than trend watching and looking for cool?
I love to cook and I love playing field hockey.
14. Name 3 people who have inspired you.
Kofi Annan, Faith Popcorn, and my parents (sorry, counting them as one!).