Empowerment Through Creativity
An Interview with Timur Khabirov, Prequel's Co-Founder and CEO
Related Trend Reports
AI
,
Branding
,
Business
,
Commercials
,
Design
,
Marketing
,
Media
,
Modern
,
Multimedia
,
Pop Culture
,
Tech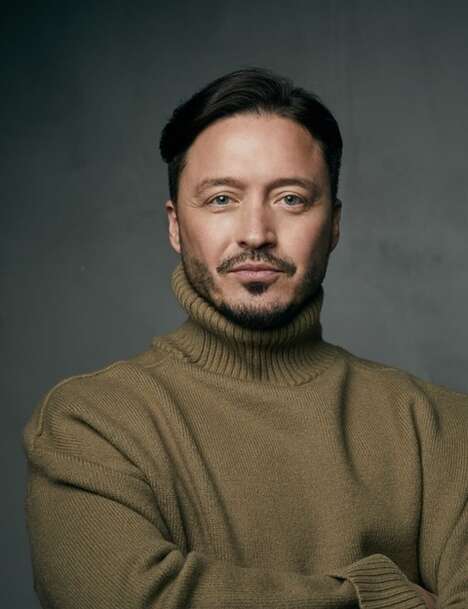 Prequel Inc.
embodies the belief that everyone has the potential to be a creator, with software designed to unlock that potential. Whether it's enhancing photographs, adding artistic filters, or creating stunning visual effects, the company's goal is to provide a platform that inspires and empowers individuals to turn their imagination into reality. Timur Khabirov is the Co-Founder and CEO of Prequel and believes that creativity is not just about creating beautiful art but also about empowering individuals to express their unique perspectives and tell their stories.
1. Tell us your name and about how the idea for Prequel came about.
My name is Timur, and I am the co-founder and CEO of Prequel. Our main objective was to create more than just an application for processing video content. The core idea revolves around enhancing editing tools with effects that stylize the content. While content processing ensures quality, editing tools and stylization help convey the mood and message of the content creator or actor. I would say it's not just about the tools; it's about the augmentation. It's similar to the fashion industry in the digital era.
Do you remember the movie "Player Number One"? They preferred changing their avatars, right? Their appearance, their current mood, or something similar. Just like the fashion industry, your dress provides a deeper connection. It helps reflect your mood, current message, and personality. The same applies to content creation. It doesn't matter if you take a selfie, a photo of a landscape, or architectural objects. It reflects your mood and message. With our stylization and augmentation, we can assist people in expressing themselves. Initially, we focused on challenging technologies such as red technologies, but now we are shifting towards AI possibilities.
2. What does innovation mean to you?
Innovation, to put it simply, provides a fresh solution to age-old questions. Throughout human history, we've had various answers, regardless of their origins. Before the technological revolution, for instance, there were limitations. But now, let's say I'm standing in the middle of a street. Thirty years ago, it would have been challenging for me to work and simultaneously enjoy life, capture moments, and so on. However, now we have smartphones—an innovation that addresses those previous challenges. They represent the new answer to those long standing questions.
3. How does your team generate new ideas? And are there any specific rituals that you rely on to reset creativity?
I would say, brainstorming sessions from different perspectives. Firstly, finding inspiration is crucial, and it goes beyond just the artistic aspect. Inspiration encompasses everything. The key lies in combining technology and art seamlessly, which is why we focus on the authentic segment. Inspiration acts as the driving energy behind all your knowledge, skills, and passion. Additionally, unique cases or situations play a vital role. For instance, stumbling upon a new technology or having a brilliant idea that no one has executed before can be a game-changer. Understanding the current needs of the market is also essential, considering our business model targets the mass market. There are many ways to approach this, and personally, I enjoy exploring futuristic concepts. I'm an avid fan of futurology, science, and contemplate the future of AI and visual AI regularly. It fascinates me to envision how we can leverage these technologies to benefit people.
Sometimes we delve into art books or historical books to learn, however, we cannot change the vast legacy of art. Yet, in our modern era, we have the ability to create meta art. We can mix previously unmixable elements together, things that were unimaginable before, to create something beautiful. I believe that is the core of innovation—discovering these combinations. It's similar to reading a thought-provoking book, like the one by the futurologist Alvin Toffler from 15 years ago. His ideas were truly innovative, ushering in a new era. Just a decade ago, it would have been unthinkable to conceive of the possibilities we have now in our present time. One aspect of innovation, as highlighted by the author, is the ability to merge disparate parts, elements, or concepts that seemed incompatible. People would have thought you were crazy for suggesting such combinations. Yet, if you successfully bring them together, you have something truly innovative. This is precisely what we aim to achieve by blending technology and various art styles. Our goal is to create something entirely new, and artificial intelligence plays a significant role in assisting us with this endeavor.
4. How do you identify trends and are there any specific resources you use to spot consumer insights?
A trend is like a metal, and a metal has two sides. There are two aspects to consider in the realm of trends. On one hand, there's the organic trend that emerges unpredictably in the market. It's like the book "The Black Swan," where unforeseen events take place. No one can accurately predict or fully comprehend these trends. On the other hand, there's the proactive side of our approach. We strive to create trends by identifying new technologies or styles, combining them uniquely in ways that are absent from the current market. We've successfully achieved this several times, generating impactful results.
However, it's important to note that our colleagues and competitors operate in a similar manner. Nevertheless, the power of trends remains strong. People consistently seek something new—a fresh avenue to express themselves or make an impression on their social accounts. The nature of trends is complex and challenging to explain succinctly. It's a multifaceted phenomenon influenced by various factors. As a business, it's our responsibility to navigate this landscape continuously. We must analyze the market and comprehend the emerging trends, whether they originate from our initiatives or from the broader market. This ongoing process is an integral part of our daily work.
5. What is the biggest challenge you face when innovating?
One of the biggest challenges, I would say, is technology. Sometimes you cannot predict whether you will win in a month, or in three months, or a year. At times, we're working with these smaller, more complex technologies and intricate algorithms. When it comes to making predictions, it resembles working in a science lab. Despite our research and development efforts and accumulated experiences, we can only foresee around 60% of the outcome. The remaining 40% remains unpredictable, posing a significant challenge. Nevertheless, we must persevere and tackle this task head-on. It is an essential part of our work, and we are committed to facing it with determination.
6. Since its launch, the Prequel app has had over 100 million downloads gaining global popularity. One of your main user demographics is Gen Z consumers. Can you speak more about this generation's evolving purchasing power and how much that impacts your business decisions?
Our target audience is not limited to Gen Z only but I have great respect for this generation as they are flexible and dynamic, with a hunger for new information and content. They serve as a driving force, like an engine, so to speak. However, we must also prioritize profitability since we cater to the mass market. Our audience is diverse, including professionals, occasional celebrities, and even companies like Gucci who have launched campaigns with our platform. We have multiple segments within our customer base, and we recognize the importance of addressing their specific needs.
For example, we are developing a new product line to cater to Gen Z and other segments such as businesses and B2B use cases. We aim to provide solutions for professional creative communication as well as appeal to the mass market. Our audience consists of various individuals and industries, including bloggers, eCommerce entrepreneurs, and professionals from the art industry. They are all valued customers who contribute to our success.
7. Speaking more about these sub-segments of your business, can you share any specific projects that you're looking forward to launching?
For instance, we will offer specific tools tailored for bloggers and companies engaged in advertisement campaigns. These tools will cater to their unique needs rather than targeting the mass market. While the list may not be extensive, we will focus primarily on enhancing portrait photography, particularly with selfies. Additionally, our next step is to develop video-based solutions using artificial intelligence. This is an exciting progression that we anticipate within the next three to six months. Currently, we have a wealth of technologies and expertise in aesthetic image processing, but our focus is shifting towards video.
We plan to thoroughly test and assess the market as we strive to refine and expand our offerings. Presently, video holds tremendous potential as a market segment, as it has gained widespread popularity, captivating a vast audience, including all of us. Visual art, visual explanations, and visual styles have become integral parts of our lives, surpassing traditional phone conversations. From Zoom video meetings to visual content across various platforms, visuals dominate our perception. Approximately 90% of the information we receive is through visual stimuli, highlighting its significant impact on our minds.
8. The recent and rapid acceleration of generative AI technology is changing everything around us. Can you speak about how this AI acceleration will continue to impact Prequel in the future? Are there any exciting projects you're working on that you can share?
I would like to start with our mission statement. It's that the percepton which comes through art and tech reveals humanity and this can be visual perception or audio perception. To achieve this mission, we embrace the diversity of lenses people utilize in their creative endeavors. Whether it's through the lenses of a smartphone camera, AR or VR glasses, professional-grade equipment, or even the latest app store offerings, we recognize that the choice of tools is subjective. Our role lies at the intersection of art and technology, utilizing various technologies in our journey.
Currently, we employ AI in approximately 70% of our processes, but we remain open to exploring additional avenues beyond this threshold. This is merely the beginning of our journey. We have already witnessed the emergence of real-time generative photos and anticipate the expansion into videos. The potential ahead is immense, and we refuse to remain stagnant. We want to surpass the limitations of momentary trends and ensure our innovations have universal applicability. In the past, we experienced remarkable success with our cartoon filter, where our utilization of AI technology positioned us at the forefront of the market. This journey began nearly two years ago, or perhaps even longer. Currently, the market is experiencing a significant surge in this area, marked by a high demand and popularity.
While we have our own research and development team at G Lab, we acknowledge that some universities also possess similar capabilities. However, what sets us apart is our expertise in delivering these technologies to the mobile market, a domain that presents its own unique challenges and opportunities.
Experience in the industry grants you an understanding of services and the intricate workings of the business landscape. Yet, some technologies remain hidden, tucked away in universities or research institutions for years before they're unveiled to the public. However, a growing trend is that more individuals are sharing their technological innovations openly. This is helping to foster collaboration as companies and colleagues combine multiple technologies to create groundbreaking products. For us, embracing this approach unlocks immense potential for innovation.
9. What makes an innovative culture? How do you create a culture of innovation within your company?
As a leader, you must recognize that not every member of your team will possess a hundred percent inclination towards innovation or creative processes. It is crucial to understand the differences among your team members, including their perspectives on life, their visions, and their overall mindset. Within my circle and company, I have individuals who excel in creativity and innovation, while others thrive in production and manufacturing roles. As a leader, it is my responsibility to discern these strengths from the start and ensure each person is assigned to the appropriate position. Such discernment is essential for effective team management.
Let's compare this same idea to music. Iconic bands in the music industry, like Queen and others, have left a legacy with their work. However, expecting them to create ten songs a day would be unrealistic. The creative process is more like a flow that takes time. It requires moments to enjoy life and prepare for the next steps. Daily production at such a pace is impossible and it's comparable to a birth. It starts with an act, then nine months of nurturing, followed by the creation and growth of a new life. Innovation is similar. It's not merely a fleeting idea, but a comprehensive life cycle, like raising a child. Each step contributes to its evolution. Simply having an idea doesn't constitute innovation, and it requires implementation and development, making it a profound and continuous process.