Committing to Sustainability
An Interview With Allbirds CEO and Co-Founder Tim Brown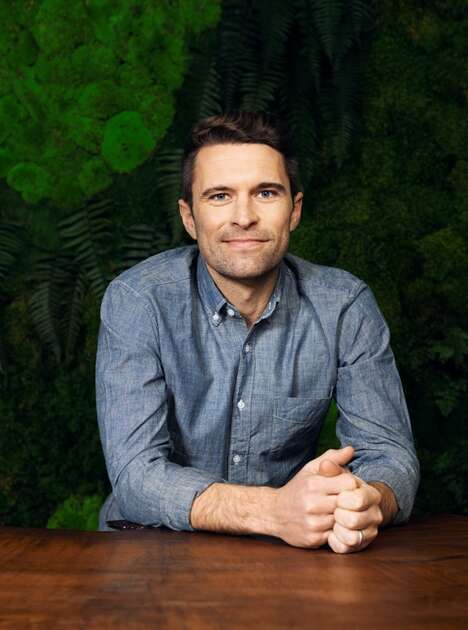 Understanding that sustainability in the footwear industry is a long-term commitment and an ever-changing process, Tim Brown is the CEO and co-founder of Allbirds. The San Francisco-based brand's ethos is centered around design that is both purposeful and good for the planet.
1. Tell us about your role and how the idea for Allbirds came about?
My name is Tim Brown, and I'm the CEO and co-founder of Allbirds. Allbirds is a business focused on making shoes from sustainable materials with the belief that we are in the early stages of a transformation. We're moving away from synthetics and plastics in the footwear industry and more towards natural and sustainable materials.
We've been around for about six years and have a little over a thousand employees, 50 retail stores and businesses in 30 countries around the world. The idea was born in New Zealand where I'm from, and was initially based on a design insight that footwear tends to be over logoed, bold and changed all the time–sometimes for no good reason. This opened up an opportunity for a different type of design aesthetic, different materials and ability, which is Allbird's purpose.
2. What does innovation mean to you?
Innovation is about finding new solutions to very well defined problems. Oftentimes, there are a lot of misconceptions about what exactly innovation can be. Sometimes it's something new and completely unique, and other times it's a recombination or reconstitution of things that we already know.
Innovation can be about adding things or about taking things away. In the case of Allbirds, we didn't invent wool or shoes, but our initial Marino innovation was about rethinking an opportunity with materials that have been ignored by a very large category for the better part of 50 years, in favor of cheaply available synthetics.
Innovation can be a lot of things but it's really about looking at the world differently. It can be about constraints, and I think it's about trusting your instinct and your intuition a lot of the time. That's what we did in the early days at Allbirds, despite a number of people from the wool and footwear industries telling us our idea would never work. We forged on because we believed there was a big opportunity and that consumers wanted something different. We believed that the world was going to need to completely reinvent the way that it made things and the materials that it made them out of.
3. How does your team generate new ideas? Do you have any specific rituals for resetting your team to be creative?
The ideas start and stop with our customers. Staying close to them, talking to them, listening to them, but also observing them, has been the starting point for a great deal of our innovation. Often, people don't know what they want, so it's broader and more nuanced than just simply asking. That sort of consumer obsession has been at the heart of anything we've tried to do from an innovation perspective, and what makes Allbirds different is our deep focus on material innovation.
Our team is really obsessed over the latest materials and innovations in the natural material space, and that extends to different things like travel or relationships. There's also a lot of creation of space and time to prototype and make. I think it's one thing to sketch something down and to talk about it, and another thing to make it. So we spend a lot of time in house and with partners prototyping and making, and it's within the context of prototyping and making that some of the things that were written off come to life. Making things generally is just very difficult, and the sooner that you can get to a prototype phase, the better you will be.
In terms of rituals to create, the biggest gift you can give in the context of innovation is two things. One is a very clear set of constraints. Innovation is born from constraints and the definition of what you can't do and what you possibly can. How you set those and think about those factors is usually at the core of success. The other thing is time, and the benefit of time within those constraints. It's important to give your team the ability to get outside of the building, away from their sketch pad, away from their screen, and out into the field. Some of the best creative inspiration comes from working in our retail stores, spending time with the people that are closest to our customer out in the world. We encourage shopping, walking, moving, listening and, truly giving our team time to look for solutions within a really clearly defined set of constraints.
4. How do you identify trends and what resources do you use to spot trends and consumer insights?
Sometimes when you hear a word like trend, it can be interpreted negatively, like a flash in the pan or very short term shift in consumer sentiment that necessitates very short term solutions to those changes. That's not what we're about, and we need time to develop a sustainable material platform.
The idea of chasing short term trends is shallow, broad and not what we stand for, but if you interpret a trend as a consumer shift, than that shift in consumer behavior is something we value. Let's talk about the fact that for 50 years, we've been innovating in synthetic materials and there is a new generation of consumers who are starting to care deeply about what they wear, what it's made from and where it comes from. These consumers are asking extraordinarily deep questions about supply chain and sustainability, and that is the foundation of our business. We need to be aware of these consumer shifts in order to be a leader within them.
This business is still quite young and I was there from the beginning when it was me alone. I started by listening, observing, and by trying to understand where the gaps are, and we've continued to embed that type of entrepreneurial mindset in our dna. We've also tried to build best practices around innovation and our own definition of narrative and insight. We continue to have design researchers in our company who are out in the field observing our consumers, and mining insights that will drive our product creation. Additionally, as a vertically integrated brand, the first six years of our business brought forth incredible data, analytics, and the ability to connect with our customers because there was no one in between us and them.
That's been a huge part of our competitive advantage, and if you use trend as a proxy for consumer behavior, consumer beliefs, and consumer values, it's critically important for us. What we believe in and stand for is uniquely positioned to meet one of the biggest shifts this category has had since its founding.
5. What is the biggest challenge you would say you face when innovating?
Often, if you're sitting around a table and working on something that everyone thinks is a good idea, it's usually a pretty good sign that it isn't. In the case of the Wool Runner, our first product, it was a bad idea for a long time before it was a good one. Everyone understood it on a conceptual level–natural materials against the skin, this incredible natural fiber that everyone knew had these miraculous properties. There were also a lot of cynical observations about the difficulty of doing it, and the challenges of actually crafting the product, and so thinking about preserving the counterintuitive is one of our big challenges.
That takes bravery, confidence, and really a clear set of the articulation of constraints that might allow a non-obvious idea to come through a framework. Otherwise, you're going to default to everyone being happy and you'll have a product that doesn't actually progress the conversation.
Additionally, when you have a highly analytical analytical environment and an incredible amount of data on consumers, their behavior, when they purchase, and what they purchase, most of this date is retroactive. While It does an incredible job of representing behaviors that have already taken place, it does a less clear job of predicting the future. And so, you have to use data to inform decisions, while remembering that it's just one aspect of the way that you think about the future. Otherwise you'll continue to amplify existing behavior and you might not look towards the solutions that haven't been considered.
I also think that you need a framework and a process for innovation. It's important to consider how to best create systems and processes that might spit out and churn out unique solutions. We think about it in relation to three important factors–the story, the consumer, and the insight. That process can be applied to materials and innovations, like materials that fall under the sustainability umbrella, which is at the core of what we stand for. It's actually about sustainable materials that create an improved consumer experience, and about design, creativity, form, and the intersection of those three things. That's how we identify solutions, concepts and materials that might be able to create unique experiences that drive things forward for consumers.
6. Has there ever been another industry that has influenced Allbirds?
A lot of the time, I get asked what footwear company we'd like to emulate? To be clear, there are some iconic brands in the category, but no one quite like us or exactly representative of our purpose-driven approach to shifting the category. Similarly, as we've gone from one product to many products, we've looked to the evolution of design DNA in the automotive industry.
We've started to introduce a deep focus on carbon and to label every product with a carbon footprint of its construction in the footwear industry. Traditionally, when you've thought about making a product, you've only thought about three things–the cost, the utility, and what it looks like. Now all of a sudden, you're introducing a fourth innovation constraint around carbon, and you're inspired a little bit by the evolution of the design language in cars and how electric cars freed from the constraints of a combustion engine are starting to look a little bit different.
When it comes to the objects that we're designing with carbon, there's a deep focus of our innovation and creation process, as we've started to move into novel materials like plant leather that are starting to shift the consumer away from bovine leather. We're moving towards solutions that are trying to replicate that experience and are facing questions of what that should smell like in the same way that an electric car and a mobile phone don't technically need to make noises. They do this because of historical expectations surrounding the behavior of objects, so we're asking questions like "what should plant leather smell like?" as we've worked deeply to craft and recreate the feeling of leather in a better way with plant-based materials. I think a lot of those questions are deep and philosophical and incredibly energizing, and the answers lie all over the place. To limit yourself to one category would be to miss the broader opportunity of how you connect dots to solve problems.
7. What makes an innovative culture and how do you create a culture of innovation at Allbirds?
I don't want to say that we have all the answers, but a willingness to take risks and to challenge the status quo is important. There needs to be a little bit of a pirate mentality maintained so that you are prepared to take risks. There's also an aspect of the business that must execute with great consistency, and do the same thing every day with a methodical repetition of creating consistent excellence. Then there's another part of the business that must break the rules, challenge the status quo, and do things differently.
I think about that in the way that you define process, the way that you hire people, but most importantly, those two different types of behaviors must be united by a clear set of values. And so, one of the first things we did as a business was define an immutable mission that will hopefully last for a hundred years as we build this brand to find a set of core values around the behaviors that we want to see that are consistent. We wrote a vision for 10 years in the future, and as we try and reconcile different behaviors of consistency, creativity, confrontation, and of conformity, having a singular culture where the values with which we approach that are the same is the key detail. It's then that you're able to make a culture united.
6. Looking to the future, how will Allbirds continue to be a leader in innovation?
The role of visioning and stepping into the future is something that we don't often give ourselves permission to do. When we do it, it tends to be through the lens of a strategy document or a list of objectives tied to the business or long term financial outcomes. One of the best things that we've been introduced to and viewed from the early days of Allbirds is this idea of storytelling and vision setting where we sit down and imagine a moment in the future. We then co-author a story, often a one or two page story that we've collaborated on in one afternoon about not just what we've done, but how we've done it, and not just where we've had success, but also where we've had failure. The story wouldn't just be about the specifics of how the business is performing, but would provide a lot of context on why the business exists and how it feels to show up and work for it. And it's been incredibly helpful.
When you start a venture or an innovation project, nothing will ever be purer than how you approach it in the beginning. Once you get into the realities of margin and timeline and practicalities, you tend to get caught up in that. So that ability to pick your head up, imagine a point in the future, and then drive narrative around it in the beginning is really powerful.
As to where Allbirds will be in 10 years, we've recently become a public company, and the future answers lie in nature. We believe that there's an incredible awakening, whether it be around, how we get to work, how we construct our buildings, how we eat our food, how we manage our food systems, and specifically within a broad re-imagination of all the products that we use today and what they're made from. We're approaching the end of the age of plastics and reconnecting with natural materials and natural systems and harmonious ways of doing business.
Because climate change is the problem of our generation, we need to rethink the way that we live and coexist with the environment. The fashion industry is only a small part of that. It's not all of it, but it's a very important piece that is connected to culture. There is an incredible shift in consumer expectation and consumer curiosity around this topic, and we're in early stages of that shifting from the heart to the head. In our case, we're focused on carbon and other key metrics that can specifically inform the consumer about better choices in the day to day. At the moment, everyone cares about this topic, but when it comes to impacting their behavior, there's often what I call a do gap. A lot of people say they care, but are less clear when it comes to how they should consume more sustainably. The topic of greenwashing is obviously another big factor, particularly in the UK and other parts of the world. Because of that, I think we're going to coalesce in the coming years on a very clear set of standards that will reward the businesses that are doing the real work, the hard work, and not just the ones that are talking about it and clinging to short term trends. I think the ones that are investing in the trend of doing things the right way for the long term will win, and I think Allbirds is uniquely positioned to lead that conversation.