Creating Mindful Streetwear
An Interview with TAIKAN Founder and Brand Manager Garret Louie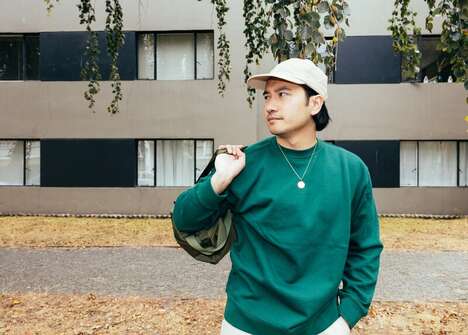 With a passion for art, entertainment and culture, TAIKAN founder and brand manager Garret Louie aims to make high quality streetwear more accessible. TAIKAN consists of versatile basics and accessories that are ultra comfortable and made with performance-focused materials. Garret's goal is to create minimalist pieces that have longevity over time while keeping sustainable practices in mind.
1. Tell us your name and a little bit about how the idea for TAIKAN came about?
My name is Garret Louie. I have owned a distribution company for 25+ years and the idea for TAIKAN came when we were thinking about the kinds of brands we wanted to add to our roster, but couldn't find it. Something really clean with not too much over-branding, yet high quality at attainable prices with a really creative front end.
2. What does innovation mean to you?
Innovating to me is doing something that hasn't been done before, or something done in our own way. Since most of our apparel and bags are thoughtful, minimal and clean we like to get really creative on the marketing side. Whether it's our photos, social media, store windows, or ads, we like to get weird with it.
3. How does your team generate new ideas?
We have a very creative team and it all comes pretty easy. We take inspiration from art, music, film, photography, design and skateboarding so it's a never ending flow of ideas.
4. Do you have any specific rituals for resetting your team to be creative?
I wouldn't say there's a particular ritual, but we all like to go out and take inspiration from nature and the underground music or skate scene. A little balance of opposites.
5. How do you identify trends? What resources does your team use to spot trends and consumer insights?
We like to pay attention to everything going on in real life. For example, if we are in a different city, we are looking at what everyone is wearing, especially the younger kids doing creative things with their wardrobe as they often can't afford big brand names. I love to see how they create certain DIY looks and styles. Coming from a skateboarding background, I truly feel that skaters are always a step ahead of the trends. They will be the first to introduce new styles, and then usually a few years later the mainstream jumps on board.
6. What is the biggest challenge you face when innovating?
The biggest challenge we face when innovating is being too early. We all love really forward styles and colours but the reality is that the average person might not be there yet. When it comes to manufacturing a style, you need to make sure you hit certain minimums with the factory so being too underground or forward might not always be the best move. If you believe in it enough you can just go for it though!
7. Has there ever been an instance where another industry has influenced an innovation at TAIKAN?
Yes, I would say that because we are born out of Vancouver there's a lot of outdoor 'GORP' vibes out of necessity. It's hard not to like what the outdoor market is doing from a technical point of view.
8. What makes an innovative culture? How do you create a culture of innovation?
To always progress with the mindset of striving for something even better each season in all aspects of the brand. Our quote is "if you're not getting better, you're getting worse."
9. Looking to the future, how will TAIKAN continue to be an innovation leader within the fashion industry?
I can confidently say that every season we have gotten better and we will stick to this plan. Although we want to be innovative, we also want to create styles that are more sustainable and of great quality, so you can pull our pieces out of the closet 10 years later and still wear them.
10. Can you share any exciting projects the brand has in the works?
Yes, we have a few collaborations that will come to light in this next quarter. We will be showing at Complex Con with our Soulection collaboration. We have a really great custom tote bag that we created with M@RKET brand and are very excited to have a collaboration coming up soon with a Copenhagen shop called Storm.
We are constantly collaborating with our 'TAIKAN By' series where we work with photographers, artists, designers & musicians on a local community level, so keep your eye out for those collabs too!