The Power of Infectious Messaging
Seth Godin, Author of Small is the New Big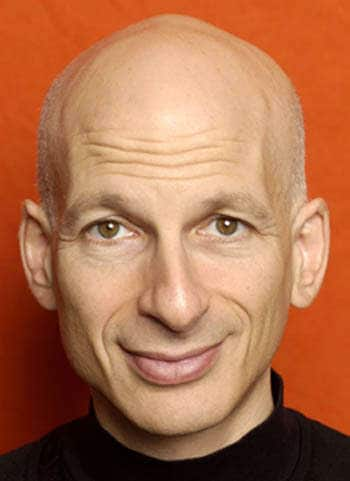 In the world of celebrity business authors, Seth Godin rises to the top of the list. He's written numerous books, including, Unleashing the Ideavirus, Permission Marketing, Survival is Not Enough, Purple Cow, All Marketers are Liars and his latest, Small is the New Big.
In addition to his influential writing, Seth is an accomplished speaker and entrepreneur. He founded Yoyodyne, a leading direct marketer acquired by Yahoo, and most recently,
Squidoo.com
, a community site based on ideas.
It's also worth noting that Seth has done a tremendous job of branding his head, which appears throughout his work. In fact, he's the only bestselling author with a personal site that requires you to click on his head in order to read his blog.
11 Questions with Seth
1. How did you become interested in marketing and what motivates you to continue?
My first business got started when I was 16. I learned that just about every piece of a business was easy except for the marketing. How do you spread ideas? It's so everchanging and tricky, it's fascinating. And if you get it right, everything else takes care of itself.
2. How significant are the topics of cool hunting and trend spotting in the world of marketing?
Big difference, in my opinion. Trend spotting is about finding ideas that are moving through Rogers curve, moving from the geeks to the mass market. Cool hunting, on the other hand, is about finding the otaku, the obsession of the nerds that will never really spread. Devilrobots Tofu Bobblehead is cool, but not a trend (http:// www.toytokyo.com/shopping/index.php/page/product/product_id/5885).
Finding a trend is important if you want to grow, especially if you have a long lead time for your products. Trends allow you to have others take bigger risks and you can follow along, quickly. It's an art, though, and sometimes it's easier to just invent your own trend.
3. Do you need a culture of innovation to create something that is cool?
You need a person. Or several people. Fearless people or passionate people. It's people who make things that matter, not organizations.
4. What is the best way to create an infectious idea, product or service?
You need to make something--I know this sounds obvious--that people care about. Something that makes them proud to talk about, something that they want to passionately spread. It's not about you, it never is. It's about them.
5. How have your views about infectious ideas changed since you first wrote Unleashing the Ideavirus?
I think I underestimated just how powerful this tool would become. Not as a tool for marketers, but as a tool for consumers to spread the word.
6. What is the key to innovation?
That there isn't one! That innovation has no agenda, no plan, no rigid structure. It's about doing something you care about. I've found that people who truly care are the ones that are most likely to be innovators.
7. Can good innovators be good marketers?
They better be! An innovation without a story goes nowhere.
8. What are your ambitions for Squidoo?
Squidoo is on its way to becoming a significant force in philanthropy and community-based knowledge. We've already built schools in Cambodia and funded a factory in Tanzania, as well as research to find a cure for Juvenile Diabetes. We have more than 60,000 pages, each hand-built by an individual with passion. Our hope is that we'll be in the top 1,000 of all websites for traffic less than a year after our official launch, and then, who knows... It's sort of up to our users!
9. How do you reset yourself to be creative?
I identify a problem. Then I give myself a set amount of time to find a few ways to approach it. Then I repeat. I'm pretty fearless, because I've discovered the downside of failure is tiny.
10. Professionally, what do you want to be doing or studying in 10 years?
What a great question. I'm delighted to tell you I have no idea.
11. What are your most important hobbies?
I'm pleased that I have no important hobbies. My unimportant hobbies include baking in a wood burning pizza oven, canoeing on the Hudson River, using my roller skis without falling down and eating spicy food.