Transparent Brand Messaging
An Interview with Sarah Wagman Ellenbogen, Co-Founder and CEO, Digiphy
Related Trend Reports
AI
,
Computers
,
Customization
,
Design
,
DIY
,
Gadgets
,
Internet
,
Media
,
Multimedia
,
Political
,
Pop Culture
,
Tech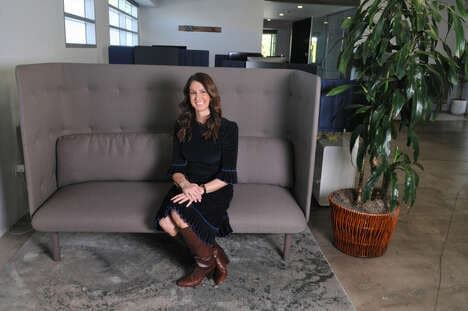 Helping brands transparently communicate their product origins through elements like connected and traceable packaging, Digiphy was born out Co-Founder and CEO Sarah (Wagman) Ellenbogen's own desires as a consumer.
1. Tell us your name and about how the idea for Digiphy came about?
My name is Sarah (Wagman) Ellenbogen and I'm the Co-founder and CEO of Digiphy. Digiphy was born from an amalgamation of a challenge I saw brands face trying to reach consumers while working at Google and came from my personal desires as a consumer. I wanted to better understand where products come from, how they're made, and whether they are good for me, my kids, and the planet.
What started as an idea to help brands transparently communicate product origin and traceability elevated into a connected packaging and contextual marketing platform. Digiphy is a SaaS platform that empowers brands to communicate directly with consumers to share their stories. Our platform is a customizable, self-serve solution that presents useful and engaging information at contextually relevant moments. Brands can tell entire product journeys, showcase different uses, or share recipes, videos, and beyond.
We combined page building with QR, third-party marketing, traceability, and data integrations to make this possible. Our platform activates products into an always-on, new marketing channel. Digiphy transforms all products and marketing assets into a dynamic, digital salesperson unlocking new revenue.
2. What does innovation mean to you?
Innovation means failing faster. In a start-up, we can't be afraid to try new things. We need to think outside the box and sometimes circumvent the box altogether. But we can't hesitate to pivot if something isn't working.
Our goal is to help all brands be innovative in how they engage their customers. At Digiphy, we're breaking ground on a new marketing channel that seamlessly bridges the physical to digital. We built tools to create elevated customer experiences that most small businesses would never be able to access without expensive budgets or a creative team.
3. Can you speak about the recent pandemic's impact on e-commerce and what you see happening in this realm moving forward?
The pandemic catapulted e-commerce into a new era. It forced companies to rethink how they reach consumers and engage with them. QR code scans increased by 443% in 2022. Contactless experiences were no longer a thing of the future! While we were heading in that direction, the pandemic sped up the entire process.
But its effects were so much more pervasive than that. Brands needed new ways to reach and connect with customers. During this time, people became more conscientious about how they were spending money and on what products. Shoppers were looking for brands that understood their challenges, aligned with their beliefs, and even offered helpful information to make their lives easier, like new recipes, ways to clean, and details on ingredients and their physical impacts on their bodies and the planet.
Customers often overlooked supply chains, but they became front and center during the pandemic as line disruptions occurred. Now more than ever, consumers are aware of the supply chain and when it's broken because their goods aren't arriving as expected.
Brands must communicate their commitment to sustainability, ingredient origins, and ethical sourcing. Integrate traceability information via GS1, .xls, and existing blockchain solutions so consumers can verify these claims. QR is now a commodity. It's everywhere, yet it's still not used by all brands on products.
4. How do you and your team generate new ideas? Do you have any specific rituals for resetting creativity?
We're a very open and creative bunch, and we often come up with new ideas just by talking with each other and creating a space to throw anything out. We just had an onsite where our team came together, and we used icebreakers, stories, and even just question-asking to get our creative juices flowing.
We also frequently use tools like Miro, Airtable, and a good old Google Sheet to brainstorm ideas. Since we work remotely, we look for collaboration tools that allow us to be effective.
5. How do you identify trends? What role do trends play at Digiphy?
The best way to identify trends is by listening and reading. We pay attention to our customer's pain points and challenges to see where the industry is moving. At Digiphy, trends guide us when road-mapping our product and content. We are a curious bunch with highly diverse backgrounds, interests, and experiences. These differences afford us the benefit of varied perspectives. We all have different Google Alerts set and spend time reading and watching industry content, which helps us understand the market from different vantage points.
We're building a cutting-edge storytelling platform for brands of all sizes. Knowing where tech and innovation are going for AI, Web3, and connected technology like NFC, RFID, blockchain, and beyond is vital because we're building these new technologies into our platform. What tech our clients are using and its adoption helps us prioritize our roadmap to plan what features we should build, integrations we need to add, and tools we need to form. Our partner's goals and desires also play a significant role because seeing a trend is one thing, but we need to ensure it's what they need so Digiphy is beneficial, used, and adopted.
6. What is the biggest challenge you face when innovating?
There are so many exciting opportunities and verticals for our business, determining what to focus on and when can be challenging. We like to say, 'it's a blessing and a curse.' Each vertical, while there are many similarities, has unique challenges and needs. It's the opposite of analysis paralysis.
We need to focus, test, measure, and scale to innovate successfully. Before moving on to the next big and exciting idea, we ensure success in the one prior. This way, we can leverage learnings for future innovation.
I brought Google's OKR planning and measurement system to Digiphy. We are big proponents of this model to ensure we're all in alignment on how we achieve our goals. We spend a lot of time reviewing our goals each quarter to know we're innovating on the most important things for our business.
7. Looking to the future, how will Digiphy continue to be a leader in innovation?
Digiphy stands apart from other connected packaging and QR marketing platforms as an all-in-one, marketing-first solution focused on unlocking new revenue and driving partner business objectives.
Our Storyline page builder + connected technology + marketing, traceability, and data integrations set us apart from others that narrowly focus on QR, static page building, or traceability. Competitors' page designs are flat and don't convert. Their tools are mainly for enterprise partners, which require more time and money. We created a flexible, self-serve no-code platform for small to medium-sized businesses up to enterprise. Our tools are highly customizable, reducing development costs and accelerating time to market.
While QR is the primary connected technology tool adopted by consumers today, we're agnostic to the digital trigger and are building capabilities for NFC, RFID, and more. We're also adding AI, smart content, product serialization, batch uploading, and the list goes on… to our platform.
We sit at the intersection of physical-to-digital storytelling, marketing, and tech. Digiphy has opened a new marketing channel with our always-on ads off existing product packaging and marketing assets the brand owns and operates. This allows brands to transform their physical touchpoint into dynamic, digital salespersons.
8. Can you touch on any exciting projects the company is launching / involved in?
We're working with several large enterprise brands and have some exciting product announcements coming soon. We can'tspeak publicly about these yet, but we look forward to sharing more details in the near future. To learn more about Digiphy, visit our website, and you can read more about our new marketing channel by following our blog.