Leveraging AI's Power
An Interview with Ross Patrick, Artificial Intelligence Creative Director, XTRA BOLD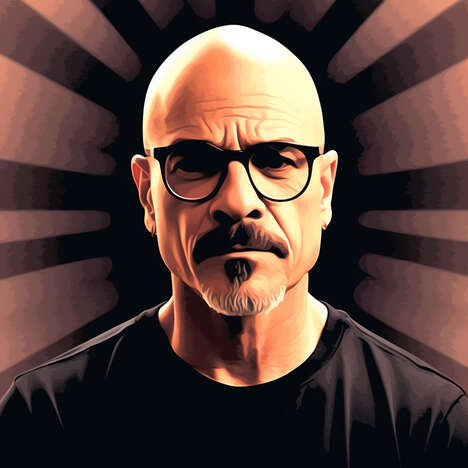 XTRA BOLD specializes in crafting remarkable brand experiences, from packaging to digital interactions, fostering emotional connections with customers. Guiding his team to leverage AI's ability to reveal key insights, Ross Patrick is the Artificial Intelligence Creative Director at XTRA BOLD. Ross believes in bridging AI's immense power with a human touch and aims to empower creatives to join the AI revolution.
1. Tell us your name, a bit about your role and how the idea for XTRA BOLD came about?
My name is Ross Patrick, and I've been a creative director in the business for over 20 years. XTRA BOLD came about as we were in the process of launching a bunch of startups, and specifically leveraging technology to transform our agency into a smarter, more resilient entity.
Initially, we utilized data to gauge campaign performance, conduct research, and analyze competitor activities. Additionally, we sought to learn how to create better SEO content for websites and ads. This data-centric approach evolved when we integrated ChatGPT, Midjourney, and other generative AI technologies into our business operations, enhancing our creativity.
Our underlying philosophy centers around the notion that bold, profound, and disruptive advertising elicits a stronger response from consumers. Nevertheless, we base these ideas on data-driven insights. Our current strategy involves harnessing both types of data—traditional data and generative AI–and combining these resources with our inherent human creativity.
Furthermore, we have been experimenting with AI in various ways, including teaching AI-related courses at the Academy of Art University. Through collaboration with students, we aim to explore the potential of AI in enhancing creativity within our agency environment.
2. What does innovation mean to you?
Innovation is something that everyone wants to be involved in and push forward. However, over time, it can become diluted, losing its magic as it becomes a mere buzzword. Our agency, on the other hand, has a different approach. We've had data scientists on our side, helping us measure and accelerate our campaigns, which has given us a deeper understanding of what innovation truly means.
For us, innovation involves the use of technology, science, and now, generative AI in all our work. This allows us to improve and expedite processes, introducing a slightly more disruptive element, thanks to the human touch we add. We're fully embracing technology while recognizing that innovation's true power lies in how it enhances human capabilities.
We're keen on pushing artificial intelligence to be genuinely useful rather than adding to the clutter. That's where true innovation lies for us—harnessing AI's potential to make a meaningful impact and drive positive change.
3. How does your team generate new ideas?
We take a bit of an old-school approach, starting with brand strategy and diving deep into research. Our main focus is understanding the consumer - who they are, their needs, and the problems we can solve for them. It's like classic advertising, but now we can enhance our research using generative AI to delve even deeper into our concepts.
What's really cool is that technologies like GPT-4 and others allow us to connect with the vast resources on the Internet, backing up our ideas with solid research and facts, not just opinions. Our team then takes these insights and starts brainstorming around them. This business thrives on insights, finding what resonates with consumers and creating engaging experiences.
Ideas are at the heart of everything we do since we're essentially in the idea business. While it's exciting to have generative AI and data science, our true essence lies in those innovative concepts. They've been the core of our business since day one, and that's what sets us apart.
4. Can you share an innovation tactic that has helped you and your team reset creativity?
It's fascinating how things have evolved in the creative process, and it's become both a good and a bad thing. Before, it used to be about A/B testing, a way to measure ideas against each other. Now, we've reached a point where we can test and measure multiple ideas, not just creative concepts, but also deals, offers, and promotions for brands or products. This has allowed us to be more experimental and open-minded with our ideas.
We throw various ideas into testing, even if some of them seem weird or absurd at first. Surprisingly, some of those disruptive and crazy ideas end up performing the best. It has liberated our creative department, freeing them from being constrained by the opinions of the strategy, account, or client teams. Now, we can rely on AI to measure the success of ideas and involve consumers in the process, which has become a quick and valuable form of research.
This shift has given the creatives more freedom and opportunities to explore new avenues. In the past, the business was often controlled by a few people, but now we welcome consumer input as another form of research on the backside of the process. It's been a game-changer, and leveraging data in this way has been the best thing to happen, empowering our creative team to bring innovative ideas to the forefront.
5. How do you identify trends? What specific resources do you use to spot trends and consumer insights?
I have to use the word old school again. We do everything from outreach to engaging with consumers and industry experts. For instance, in a recent project for a new liquor brand, we went the traditional route, talking to bartenders, consumers, and liquor store owners. It's essential to immerse ourselves in the world of the product and understand the current trends in the industry.
While we don't heavily rely on AI for this part, we do use tools like Google searches to gather information. However, the core of our research has always been connecting with real people. Hearing their thoughts and experiences provides a diverse range of responses and valuable insights. This way, we can go beyond surface-level findings from online sources or magazine articles. It's all about understanding what the consumers truly want and how they interact with
the brand.
By engaging with real human beings, we gain a deeper understanding of the current landscape and get a glimpse of what the future might hold. We keep an eye on new products entering the market and study emerging trends from various product launch pages. This combination of old school research and staying up-to-date with the latest developments helps us make informed and strategic decisions for our clients.
6. Can you speak more about AI's evolving impact on the advertising space?
AI's impact on the advertising industry is tremendous, and it's constantly evolving. It has revolutionized the data side of things, whether it's measuring media, researching competitors, or evaluating vast amounts of information. But what's really fascinating is how AI has transformed the creative side of the industry. Now we can generate a plethora of brilliant ideas and iterate on them rapidly.
It's like having an extra creative partner in the room, someone who is faster, smarter, and full of disruptive insights. This has been especially valuable during the pandemic when traditional brainstorming sessions were hindered, and we had to rely on virtual platforms like Zoom. Fortunately, AI tools such as GPT-4 have become trusted partners to bounce ideas off of, leading to a wealth of fresh angles and insights.
I'm guiding the creative team to leverage data, research, and information to harvest key insights. While AI can churn out massive amounts of information, it's the human touch that is crucial in sifting through it all and extracting meaningful insights. This has empowered the creatives to feel more involved in the AI revolution and recognize the value they bring to the process.
Some people may fear AI or not fully grasp its role in the creative world, but we've realized that our collaboration with AI enhances its capabilities. By infusing our insights back into AI, it becomes smarter and better at its job. This realization has been uplifting because it reinforces the significance of human input in tandem with AI, leading to more impactful and successful outcomes.
7. What is the biggest challenge you face when innovating?
Well, I think that's a common human psychological trait where we often second guess ourselves without realizing it. Luckily, I'm surrounded by problem solvers all day, from copywriters to strategists and designers. When we come together to innovate, we're essentially solving problems using an old-school approach. We analyze the challenges in front of us and figure out how to keep products in the spotlight or make consumers care about them.
Innovation can be as simple as recognizing that consumers might not know about a new product or that there's a better alternative out there. Brands like "Oatly Oat Milk" stand out to me because of their self-deprecating and humble personality. They aren't trying too hard to be cool or the best; they just have a unique and relatable stance. When we look at successful brands, we often find they have a distinct personality. So, when we're innovating, we focus on bringing a brand's behavior to life in a subtle yet impactful way.
It's true that sometimes the innovations we make might not seem earth-shattering, but they can have a profound effect on consumer engagement. As a reminder, I tell my team that we're not curing cancer, but we are crafting enjoyable and meaningful brand experiences. It's like a subtle sleight of hand that, when done right, can create a loud and lasting impact on the world.
Working with breakthrough brands has been a fortunate opportunity for us. We aim to showcase their core benefits and bring their products to life in a way that resonates with consumers. Whether it's a toilet paper brand or a non-dairy dairy product, we find ways to make seemingly mundane things inspiring and life-changing. The humble approach we take to create consumer engagement has consistently surprised me, as my team manages to turn the ordinary into
something extraordinary. In the end, that's the kind of innovation that truly makes a difference.
8. What makes an innovative culture and how do you help foster that?
You know, innovation in the creative space has truly undergone a significant transformation, especially in the last nine months with Chat GPT, Mid-journey, and other generative AI advancements. It has injected a fresh energy into our creative department, making us feel like we're breaking away from the mundane and diving into exciting new possibilities. Working with generative AI as a team has been particularly beneficial.
The collaborative nature allows us to share and learn from each other's results. When someone achieves something amazing, we're quick to inquire about their techniques and prompts, which speeds up our work and boosts our overall success. It's fascinating to witness how different team members achieve varied outcomes by using unique approaches and prompts. Even training multiple Chat GPT accounts on the same assignment yields diverse and impressive results due to subtle differences in approaches and training durations.
This ability to harvest valuable insights and continuously improve has revolutionized our daily routine. We're constantly getting smarter and more efficient, thanks to the exciting tricks we've uncovered with generative AI. Our tried and true methods have evolved as the AI technologies advance, and it feels like we're in a race to stay on top of the latest innovations.
Personally, I find this journey exhilarating, and it gives us a renewed sense of purpose and drive to tackle new challenges every day. The evolving landscape of AI and its impact on creativity keeps us on our toes, pushing us to explore the endless possibilities and find novel ways to bring our ideas to life. It's an exciting world of change, growth, and discovery, and I can't wait to see what the future holds for us.
9. Looking to the future, how will XTRA BOLD continue to be a leader in innovation?
I must mention that currently, we're working on a liquor brand, and we're determined to leverage every available tool in the shed to bring this brand to life. As a creative agency that often collaborates with startups, our role is to rebrand these businesses, develop new assets, design fresh websites, create ad campaigns, and launch innovative initiatives to introduce their products to the world.
The liquor industry is highly competitive, and going up against the big brands can be daunting. However, we view our scrappy and innovative nature as an advantage. We don't have the same traditional constraints or enormous budgets, which gives us the freedom to be disruptive and aggressive in our approach. Working directly with startup CEOs allows us to have honest conversations about the need to fight above our weight and take bold steps to stand out in the market.
One of the things that excites me the most is the synergy we have with our data partners, SEO companies, and media teams, all utilizing AI on various fronts. This balanced integration of generative AI with our creative team and AI-driven data analysis provides us with a well-rounded approach to tackl ;ing challenges and understanding market trends.
I believe that in the next six to nine months, we'll witness an influx of AI-driven campaigns and AI-generated creative in the industry. However, not all of it will be remarkable; some might turn out to be mediocre. The advantage we have is that our team has already experienced the learning curve, tripping up on some bad versions, and eventually discovering how to move faster and better. As a result, our work doesn't resemble a product of AI; it's more human,
engaging, and distinctive.
In the near future, there might be a wave of "vanilla marketing" where many brands will simply follow the current trends without standing out. I firmly believe that those who embrace innovation, push beyond the norm, and harness generative AI intelligently will be the true winners in this ever-evolving AI-driven world. Being part of a scrappy agency, we're excited to be ahead of the curve and fully prepared to navigate these changes with creativity and excellence.