AI-Driven Skincare
An Interview with Rachelle Seguin, Chemist and Founder of Omy Laboratoires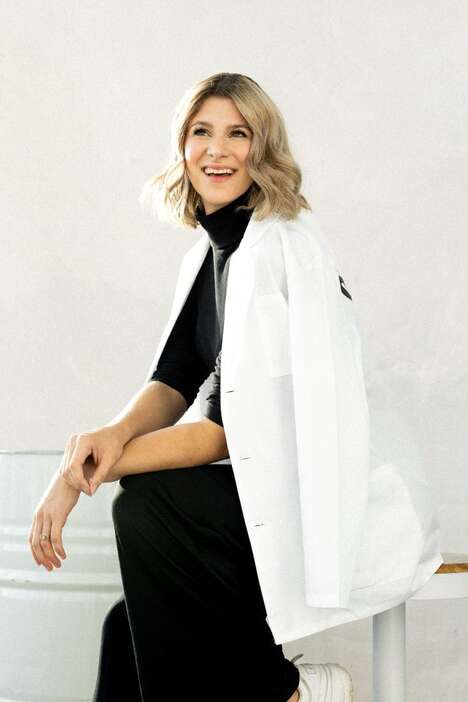 Rachelle Seguin, a visionary chemist, and entrepreneur, founded Omy Laboratoires, a certified B-Corp Canadian online personalized skincare company. Through AI integration, Omy has revolutionized personalized dermocosmetics. In five years, it has catered to 50,000+ Canadian and U.S. consumers with customized skincare solutions. Passionate about inclusivity, she leverages her scientific knowledge to create sustainable products that can make a difference for all. With degrees in chemistry and pharmacy, Rachelle harmonizes science and creativity to address evolving consumer and environmental needs. A multi-award-winning entrepreneur, Rachelle is also a philanthropist actively involved in multiple causes, including serving on the board of the Young Philanthropists of Quebec.
1. Tell us your name and about how the idea for Omy Labs came about?
My name is Rachelle Seguin, and the inception of Omy Labs started during my pursuit of a master's degree in pharmaceutical science, following a bachelor's degree in cosmetic chemistry. Alongside my co-founder, Andrea, our journey began in 2018. During our academic journey, we worked as beauty advisors at Shoppers Drug Mart, an
experience that illuminated how many people compromise on their skincare routines, often struggling to find their perfect match.
As passionate skincare enthusiasts, we identified a clear gap in the market for personalized skincare solutions that could cater to individuals' unique concerns and preferences. This realization, coupled with our strong commitment to sustainability, laid the foundation for Omy Labs. Our aspiration was to establish a brand that not only offered tailor-made skincare experiences but also upheld environmental responsibility. Our commitment includes using clean ingredients, maintaining a vegan and cruelty-free approach, and ensuring suitability for sensitive skin through the avoidance of fragrances and over 2000 other potential irritants. All our products undergo thorough dermatological testing to assure their safety.
In our quest to develop exceptional skincare, we collaborated on a research project with the National Council of Canada to scientifically validate the efficacy of our customized skincare products in addressing various skin concerns. We were determined to introduce the freshest products to the market by incorporating ingredients like vitamins
and antioxidants on the day of shipping, thanks to our personalized skincare approach.
2. What does innovation mean to you? How do you and your team generate new ideas?
For us, innovation means challenging conventions and pushing boundaries to create novel solutions that benefit both our customers and the planet. We cultivate an environment where ideas not only emerge but flourish. The diverse backgrounds and expertise of our team enable us to approach challenges from various angles. Regular brainstorming sessions and open dialogues are the lifeblood of our creativity, empowering us to continuously refine and introduce groundbreaking concepts that redefine personalized skincare.
Moreover, we maintain a strong connection with our consumers who provide invaluable insights into what they believe could add value to Omy or contribute positively to the environment. We take these inputs seriously and incorporate them into our innovation process. For instance, our refill system for personalized skincare emerged as a high demand from our clients. However, due to the intricacies of our production process, where each product is meticulously crafted, involving traceability and complex mixing, it took three years of extensive research and development to bring this 3R-compliant model to the market. This exemplifies our commitment to meeting consumer demands while upholding our rigorous standards.
3. Do you have any specific rituals for resetting your team to be creative?
Absolutely. We firmly believe in the rejuvenating power of nature to ignite our creativity. Regular team retreats to natural settings offer us a chance to reset and recharge. During these retreats, we engage in brainstorming sessions, fostering collaboration, and drawing inspiration from the serene surroundings. These experiences infuse our perspectives with freshness and restore our enthusiasm, which is crucial for innovative thinking.
In addition to our retreats, we've incorporated team activities that promote bonding and expose us to diverse experiences that can inspire new ideas. We also engage in mentorship relationships with other businesses, which brings fresh perspectives and insights. Participation in various contests further broadens our horizons, exposing us to
innovative practices in other industries. All these endeavors contribute to a dynamic environment where innovation thrives.
4. Can you tell us more about the science behind Omy's products?
Omy's products are firmly grounded in science and proven efficacy. Every element of our skincare line is meticulously curated, with ingredients chosen for their established effectiveness, used at scientifically validated percentages. We conducted research on several ingredients, including testing them on reconstructed skin in laboratory settings.
Furthermore, our commitment to efficacy is demonstrated through collaborations with the National Council of Canada. This partnership involved rigorous dermatologist testing to confirm the effectiveness of our skincare products. We subject all our products to comprehensive testing, and each formula is dermatologically tested to ensure their safety and efficiency.
Our approach emphasizes minimalist formulas that optimize active concentrations, achieving maximum results. The heart of our innovation lies in our personalized formulas, developed through cutting-edge AI technology that analyzes an individual's skin using a selfie and tailored questions. These formulas incorporate powerful natural ingredients, with more than 95% sourced from nature. Additionally, our products are proudly vegan and hypoallergenic, catering to diverse skin needs, while also undergoing meticulous dermatological testing.
To guarantee inclusivity, we employ a diverse panel for all our efficacy testing, ensuring that our products are suitable for a wide range of skin types. At Omy, we are driven by a commitment to efficacy, safety, and the provision of high-quality skincare that embraces the power of nature and science.
5. How do you identify trends and what resources do you use to spot what's next in your industry?
Staying ahead in the dynamic skincare industry demands constant vigilance. We maintain a keen focus on emerging consumer needs and preferences by actively engaging in social listening. However, Omy isn't merely about trends; our goal is to create skincare regimens that can be adapted throughout an individual's life.
At Omy, our approach is rooted in continuous assessment of evolving needs, challenges, and advancements in dermatological science. Collaborations with dermatologists play a pivotal role in our strategy. By closely aligning with these experts, we are well-positioned to anticipate trends and craft innovative products that effectively address the ever-changing landscape of skincare concerns.
6. What are your key recommendations for people looking to create a customized skincare routine that targets their niche concerns?
Begin by comprehending your skin using tools like our AI analysis. Pinpoint your specific concerns and preferences. Opt for products offering personalized formulations, and prioritize brands that underscore natural ingredients and dermatological testing.
Distinguishing between a customized routine and a customized product is crucial. Ensure you choose a tailored product that encompasses the right ingredients for your specific needs. This approach maintains your formula's minimalism and its high effectiveness in addressing all your skin issues, without compromise. Additionally, being
aware of your allergies is vital to prevent adverse reactions. AI tools like Omy's SkinIA are designed to formulate solutions while considering your allergies.
Consistency is pivotal—upholding a routine, monitoring results, and adjusting as needed. Generally, customized skincare brands like Omy offer free reformulation of products if they don't yield results after 28 days. Don't hesitate to evolve your formula, adjusting ingredients, texture, and scent according to the seasons and your skin's evolution. By allowing your product to evolve, you prevent your skin from adapting to a specific formulation, consistently witnessing improving results and satisfaction. By adhering to these principles, you can establish a skincare approach that genuinely addresses your unique needs while yielding optimal outcomes.
7. Omy is not only a leader in personalized skincare solutions but is also a sustainability leader with its refillable packaging. Can you give us more context on Omy's sustainability initiatives?
Our commitment to sustainability goes far beyond just being a leader in personalized skincare solutions. As a B-Corp certified brand, we established a comprehensive range of sustainability initiatives that are deeply ingrained in our ethos and operational practices. These initiatives demonstrate Omy's dedication to minimizing its environmental impact while contributing positively to society. Here's a more detailed context on Omy's sustainability initiatives:
Refillable System:
Omy's refillable packaging system is designed to minimize waste by allowing customers to refill their products, reducing the need for single-use plastic containers. This approach aligns with Omy's goal of reducing plastic consumption significantly.
Post-Consumer Recycled Plastic:
Omy uses post-consumer recycled plastic in its refillable containers and most of our other packagings. By incorporating recycled materials, the company reduces its demand for new plastic production and contributes to the circular economy.
Carbon-Neutral Shipping:
Omy's commitment to carbon-neutral shipping reflects its dedication to offsetting the environmental impact of transportation. This initiative ensures that the carbon emissions generated during shipping are balanced through various offset programs.
Ecologically Responsible Packaging:
Omy's packaging adheres to an eco-friendly charter, utilizing recyclable and recycled-source materials. This commitment to sustainable packaging showcases the company's effort to reduce its ecological footprint.
Health-Conscious Formulas:
Omy's products are formulated with vegan and over 95% natural origin ingredients, promoting both personal health and environmental well-being.
Local Sourcing:
Omy prioritizes local suppliers and distributors for over 60% of its ingredients. This not only supports local economies but also reduces the carbon footprint associated with transportation.
Zero-Waste Production:
The company's production laboratory operates with programs in place for reuse and recycling, aiming to achieve a zero-waste production process.
Diversity and Inclusion:
Omy fosters a healthy and inclusive work environment where diversity is celebrated and valued. More than 80% of managerial positions are held by women, and one of the company's founder has an immigrant background.
Community Engagement:
Omy's commitment to giving back is evident through its annual charitable contributions and various methods of community involvement.
Employee Well-Being:
Omy ensures fair working conditions by offering wages above the minimum wage, limiting salary disparities, and providing an equitable workplace that values employee well-being.
Transition to Carbon Neutrality:
The company's ambitious goal of becoming entirely carbon-neutral within three years reflects its dedication to reducing greenhouse gas emissions.
Energy-Efficient Operations:
Omy invests in energy-efficient measures and technologies to reduce its overall energy consumption. Its high-energy-efficient building demonstrates the company's commitment to sustainable operations.
B-Corp Certification:
Omy's impressive B-Corp score of 90.6 highlights its commitment to rigorous standards of social and environmental performance, transparency, and accountability.
In conclusion, Omy's sustainability initiatives are deeply integrated into every aspect of its business model. From refillable packaging to responsible ingredient sourcing and carbon neutrality goals, Omy demonstrates a holistic commitment to sustainability while continuing to lead in personalized skincare solutions.
8. AI technology is rapidly accelerating, leading to countless applications across industries. How do you think AI will change the skincare industry?
AI's potential is immense. In skincare, AI will refine personalization further, offering tailored solutions that evolve with individual needs. It will revolutionize product development, efficacy testing, and ingredient analysis, ultimately leading to more effective and personalized skincare experiences.
9. Looking to the future, how will Omy continue to be a leader in innovation?
Omy will remain at the forefront by fostering a culture of curiosity and collaboration. We'll invest in cutting-edge technologies, expand our research collaborations, and deepen our commitment to sustainability. Through constant evolution, we aim to consistently introduce pioneering products and practices that redefine personalized skincare and set new standards in the industry.