Making Magic Happen
Normand Latourelle Creator of Illumi & Cavalia, Founder, Cirque du Soleil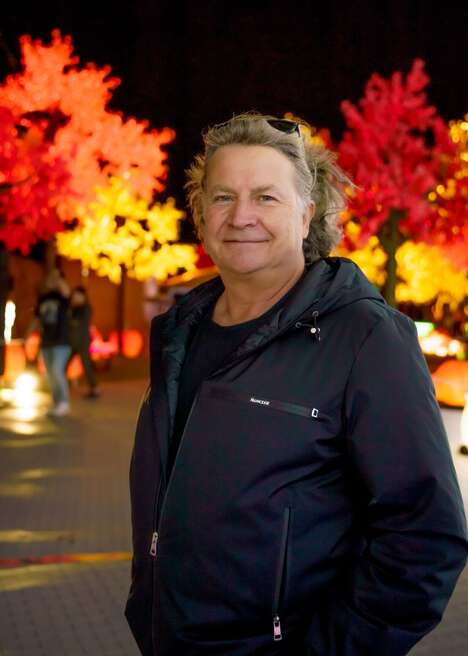 Believing that pure creation tells its own organic story, Normand Latourelle is one of the founders of Cirque du Soleil and the creator of Cavalia, the world's first artistic horse-themed show of its kind. His latest project Illumi, is an immersive celebration of light and the biggest multimedia sound and light show in the world.
1. Tell us about yourself and when did you first know you were interested in the world of live arts and entertainment?
When I look back to my first introduction to performance and entertainment, I come back to when I was six years old. I actually used to do small shows in my backyard using props I found in the garbage. We had no money at home, and I found a record player at the time. After that, I was bringing all the kids in the neighborhood over, making lemonade, decorating my backyard, and playing records I could find at Woolworth, which was a store not far away.
That was at six years old, and I later started producing shows. I was in high school at 12 years old when I did my first tour. At 16 years old, I worked as a sound and light designer, and from there, I never stopped. I left school because I thought I had more opportunity to follow my passion, which was creating and producing shows.
I'm from Montreal, and at that time I was growing up, there was no entertainment. Everything was more cultural rather than business oriented and I was part of a movement that wanted to change that. We wanted to show the world something new and interesting that we could produce.
Because of my diverse experience, I touched everything in the business–from producing records and doing sound, doing light, directing shows, touring and even driving a truck. You name it, I've done it throughout my career and this commitment to doing anything that was needed ultimately led me to be able to do what I do today.
2. Can you talk more about Illumi and how the idea for it came about?
Before Illumi, I created Cavalia and did two shows. Years ago, the show was performed under a wide big top with no signage on it. One day, we did the show in Chicago and the city's rules didn't allow for signage. We used to do a big billboard next to the tent, but at that time, it was not possible due to a general signage ban. This presented a unique challenge and forced me to think about how I could link a wide big top with the theme of the show which was horses.
I built a set of huge sculptures of horses with LED lights, in small, medium and large sizes. When I saw them illuminated, I had an epiphany about doing more light sculptures, and that was the spark that brought me to Illumi.
That's what I've done most of my life–create, recreate or support what doesn't exist–and that's what pure creation is all about. It's about doing things that have never been done. With Illumi, I got inspiration from my travels and used drawings and visual storyboards to bring it to life.
3. What does innovation mean to you?
I realized something when I was part of Cirque du Soleil early on in the eighties. We were a French Canadian collective from a small part of the world, surrounded by American and English speakers. I wanted to tell the world that we were different, and after touching the Canadian market first, we took a chance with the US market and opened our first show in Los Angeles. Americans were and still are at the forefront of entertainment, and are the best in the world because everything is at their disposal and because of better accessibility to everything.
When we brought Cirque du Soleil over there, it became an instant success on opening day. It was then that I realized that you could conquer the world simply by doing things differently and by thinking differently. You have to be different because if you try to copy what's already happening across the United States or even Canada, you don't get recognized as a creator. With that, I always try to push the limit of what exists by creating something never seen before, and this is what I've consistently done. We've done it with Cirque du Soleil, we've done it with Cavalia, and before Cavalia, there was no artistic show centered around horses in the world that celebrated them through a creative or artistic lens.
A big challenge in my life was moving on from Cirque du Soleil to Cavalia. After making that transition, I began to think about how I can challenge what already exists out there. I have had the privilege of witnessing the wide range of possibilities that light offers – the colors and the ability to create new worlds and push the limits of what's possible. Of course, I didn't create light, but I wanted to use light to push visual limits with Illumi, which became and still is the biggest multimedia sound and light show in the world.
4. Are there any rituals you and your team rely on to reset creativity?
Creation is a very strange process that has no formula. When you do a job, there are some rules, but in creation, there are none. For me, it's about not having constraints and going in any direction. At one point, the only question I ask myself before doing something is whether my family will like it because I'm not doing things to prove that I'm a creator, but rather to bring happiness to this planet.
Illumi has had great success in Montreal for a last four years, and though it's only been open in Toronto a few weeks, we have already reached a hundred thousand visitors and tickets sold. When I look at the people coming to see my creation, I feel I have achieved something whenI see them smile.
Whenever I've worked with people from the theater world, they always need to start with a story. That's not what I do. I believe that if you start with a pure idea, the story will come, and that the ideas that we realize become stories by themselves. I also believe that everyone can create their own story with new experiences. With Illumi, it's a journey where you travel through different worlds and sets. There's one piece that is made up only of red spiders, and interestingly enough, this morning somebody asked me why I did the red spiders first. I did it because with spiders, you either find them very funny or you are scared of them. So I did about 200 red spiders in varying sizes and the result is a little scary for some, but also funny for others. When you go through that world, you get a feeling, leading you to create your own narrative and to tell your own story.
5. Looking to the future, how will you continue to be a leader in innovation?
I hope I'm going to stay young in a sense that I don't want to put any barriers up. I have another project I'm working on right now and it's totally different from anything I've previously done. I've probably created 8 different concepts that I haven't had time to realize and I hope I'll have time to realize them, because they're all new and exciting.
At the end of the day, that's what I love to do, but it takes time. Even when you have one idea or concept per year, you ultimately can't do them all. I try to execute every idea as perfectly as I can, and it's never totally perfect, but I try to reach the point where it's not only beautiful for the eyes and for the ears, but also for the soul. I've been in this business a long time and I know everything about the business side but I'm not motivated by money. I'm motivated by sparkling eyes and that's something that always keeps me inspired.