Bridging Heritage & Innovation
An Interview With Nicholas Gizuk, the Estate Winemaker at Inniskillin Estate Winery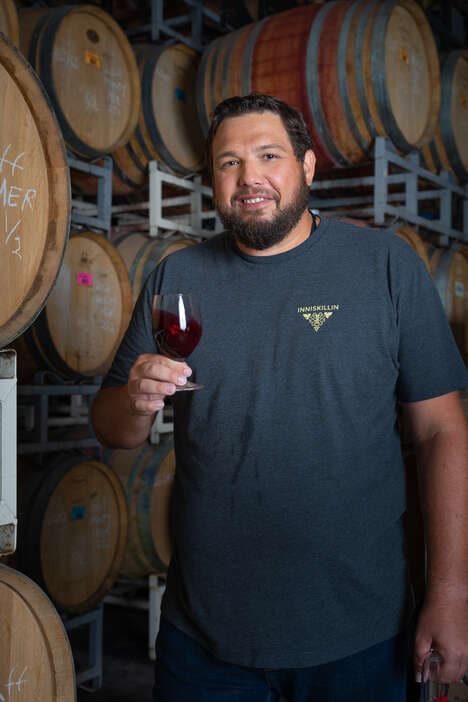 In the intricate tapestry of winemaking, where tradition intertwines with modern science and innovation, Nicholas Gizuk stands out as a paragon at Inniskillin Estate Winery, a hallmark in Canadian wine history. As the Estate Winemaker, Nicholas has been pivotal in steering Inniskillin's esteemed legacy while introducing nuanced artistry to each bottle. With a foundation laid in the scenic vineyards of Welland, Ontario, and enriched by global vinicultural experiences—from Niagara's fertile soils to the revered wine terrains of Australia and New Zealand—Nicholas marries tradition with groundbreaking techniques. A proud alumnus of The University of Guelph and the Niagara College Wine and Viticulture program, his scientific acumen dovetails seamlessly with a passion that was kindled in family vineyard visits during his youth. Residing in the heart of Niagara-on-the-Lake, Nicholas Gizuk's winemaking philosophy underscores the symbiotic dance between nature's bounty and human craftsmanship, positioning Inniskillin at the vanguard of the wine renaissance.
1. What does innovation mean to you?
Nick: To me, innovation is about staying open to new ideas and trends without forgetting our heritage. In the wine industry, it's a holistic approach that spans from grape growing and winemaking to marketing and community engagement.
2. How does your team generate new ideas??
Nick: There are several ways we approach this. For starters, we believe in cross-disciplinary collaboration, like working with chefs, artists, or even scientists. It gives us fresh perspectives. We also value consumer feedback, invest in research and development, and make sure we're up-to-date with the latest in wine education and technology. Market research plays a pivotal role too. We analyze market trends and preferences to spot gaps or opportunities. And there's an element of looking back to move forward; we sometimes explore historical winemaking techniques and grape varieties that might have been forgotten but are making a comeback.
3. Do you have any specific rituals for resetting your team to be creative?
Nick: A good reset for us often means team outings. We love to change our routine, have some pizza and beer, and just have fun together.
4. How do you identify trends? What resources does your team use to spot trends and consumer insights?
Nick: We use a mix of methods. Industry publications, wine conferences, and industry events are crucial. Wine associations, like the WSET, provide valuable insights. Market research firms give us data, and social media and online communities let us tap into real-time discussions. We also have our data analytics, and visiting other wineries can offer firsthand exposure to new techniques. Collaboration with experts, educational programs, direct consumer feedback, and monitoring wine reviews are equally important for us.
5. What is the biggest challenge you face when innovating?
Nick: Innovating, especially in the wine industry, is a complex process. Regulatory compliance can be a maze. We also have to tackle the impacts of climate change on grape-growing regions. There are challenges in vineyard management, predicting consumer preferences, facing market competition, and managing costs. We also have to think about our brand identity, how we distribute our innovative products, maintaining consistent quality, assessing long-term viability of new varieties, educating our consumers, and balancing innovation with sustainability. And of course, feedback, whether from critics or the general public, is always a factor.
6. Has there ever been an instance where another industry has influenced an innovation at Inniskillin Wines?
Nick: Yes, a memorable instance was in 1999. We collaborated with Riedel Glassware to craft the ultimate Icewine glass. The design was meticulous to ensure that the wine's nuances were perfectly captured when tasted.
7. What makes an innovative culture? How do you create a culture of innovation?
Nick: An innovative culture thrives in an environment that champions creativity, experimentation, and forward-thinking. At Inniskillin, we focus on leadership, open communication, cross-functional collaboration, and being customer-centric. It's about evaluating our current environment, ensuring leadership is on board, fostering open dialogue, offering training, and celebrating both our triumphs and missteps. It's a continuous journey for us.
8. Looking to the future, how will Inniskillin Wines continue to be a leader in innovation?
Nick: Our commitment to quality, sustainability, and customer satisfaction is unwavering. We aim to ensure that our innovations always resonate with our brand's heritage while also challenging the boundaries of winemaking.