Doing More with Less
An Interview with Ming Wang, Founder of Ming Wang Knits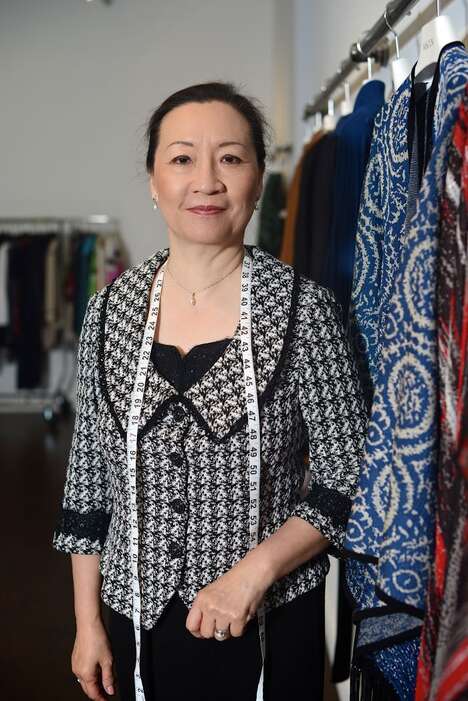 Ming Wang is the founder of her namesake luxury knitwear brand that she owns and operates alongside her husband, Eddie, and their two sons.
Ming and Eddie began their foray into the knitwear world when they moved to New York City from Taiwan in 1979 to attend the Fashion Institute of Technology — following in the footsteps of family members in the fashion and apparel manufacturing industry. To support their young family while working toward their degrees, they hand-crafted knitwear in their small Queens apartment.
Quickly mastering their craft, Ming and Eddie earned a loyal following, which allowed them to launch their first brand in the mid '80s with Ming as head designer and Eddie leading operations. Today, the Ming Wang brand is nationally recognized and is carried in boutiques and prominent department stores including Dillard's, Von Maur, Nordstrom, and Saks Fifth Avenue.
1. Tell us about yourself. When did you first know you were interested in the fashion industry?
I actually grew up in a very creative family. My mother taught art to diplomatic families, which allowed her to do a lot of traveling when I was young. My first fond memory of fashion is when she returned home from one of her trips with an American fashion magazine — which, at the time, was very hard to get in Taiwan. It became one of my most treasured objects. My friends would come over just so we could flip through it and look at the beautiful imagery. I probably looked at that magazine a hundred times, it meant that much to me.
As it turns out, though, I wouldn't end up in the industry necessarily out of a passion or interest in design, but out of necessity. I wanted to pursue pattern-making while my husband, Eddie, came from a background in apparel manufacturing – so, we moved to New York City to attend the Fashion Institute of Technology. At the time, our oldest son was still very young, so I needed a way to help provide for our family that allowed me to stay home with him. Learning to use hand-knitting machines to create fine knitwear fulfilled that need and, over time, became our life's passion.
2. How do you / your team generate new ideas?
One word: Collaboration. In all aspects of business — from the creative, design side to the operations side — we believe that diversity of experience, background, and opinion is critical to pushing the brand forward. So, whenever starting a new collection or project, we like to get the perspective of several people across teams, because they all have different needs and unique insights that would help to generate and build upon ideas.
For example, our marketing teams not only use data to communicate with our customers, they also collaborate with our customer service team to learn more about requests or questions our customers have about our collections. Each team and individual team member will bring something new to the table, which brings fresh ideas to the forefront.
3. Do you have any specific rituals for resetting creativity?
I believe that committing wholeheartedly to rest is one of the most important things you can do to refresh your creative energy. Eddie and I give ourselves 24 hours of retreat to escape all things work-related. We make sure to keep the boundaries strict, too, meaning no emails, no planning, no calls — just uninterrupted time to relax and enjoy our hobbies. For me, that's taking long walks and doing yoga, and for Eddie it's golfing. And we love to cook together! We've found that even these little, one-day vacations do wonders to inspire us and ward off the burnout.
4. How do you identify trends? What resources do you use to spot trends and consumer insights within your industry?
We actually take a two-side approach to identifying trends that will resonate with our customers.
The first side is to gather as much information and inspiration as possible, which is through a similar approach many fashion brands probably take: reading trend forecasting subscriptions like WGSN, traveling to other cities, sourcing new luxury fabrics, keeping up with competitors, and speaking with in-store sales associates that work closely with our customers. Our designers will also incorporate their own creative inspirations that they may get from unexpected places like a gorgeous vintage find, a button or trim they love, or even a feeling they would like to evoke.
The other side is understanding our customer deeply enough to filter all this information into the ideas that they can both relate to and be delighted by. We constantly have our eye on sales numbers to see what the customer gravitates to the most — whether it be colors, silhouettes, fabrics, or patterns.
It's our job to make shopping as simple as possible for our customer, so we bring both of these sides together to create something that seamlessly fits into their life. In other words, we do the hard work of filtering all of the trends out there for them, so they don't even have to think about it.
5. What is the biggest challenge you face when innovating within your field?
When it comes to fashion, I think it's easy to fall back into the safe and familiar. Innovation is a mindset and a willingness to evolve and improve, even when it doesn't seem necessary. So, we always view our biggest challenge as fear and complacency.
Fear comes from a desire to avoid failure. Nobody wants to be accountable for trying something new that doesn't work, which is why we always instill the idea throughout the brand that failure isn't the worst thing in the world, but a learning opportunity that allows us to grow.
On the other hand, complacency comes in when we repeat something just because it worked, rather than asking deeper questions about why it worked and how we can improve on the idea to suit our customers even better moving forward.
6. Has there ever been an instance where another industry has influenced your work?
I actually recently watched the documentary series "7 Days Out" which had an episode that chronicled the renovation of the Manhattan restaurant Eleven Madison Park — which is a restaurant Eddie and I love. What really intrigued me about their renovation and reopening was that they didn't renovate because they needed to. They're a Michelin star rated restaurant considered one of the best in the world! Yet, they still decided on a redesign. The level of thought that went into every detail of the dining experience beyond what they served on the plate was mind-blowing. Plus, the idea that you can continue to improve, even when you're #1 was extremely inspiring for me.
Another example that comes to mind is when we stayed at the Ritz Carlton on Central Park South a few years ago during late spring, when it was starting to get warm in New York. While I don't even remember the reason for the trip now, I remember our stay so clearly because, when I was coming in from a long walk in the park, somebody greeted me on the steps outside of the lobby with a cold bottle of water and a copy of the New York Times, saying "Welcome back, Mrs. Wang." It really solidified in my mind that, at the end of the day, it's about understanding your customer and giving them a personalized experience. That's what makes your brand unforgettable.
7. What makes an innovative work culture? How do you create a culture of innovation?
We've put a lot of work into building a strong organizational culture with an amazing set of core values. When you have a solid foundation in place to help employees thrive, I think innovation naturally stems from that.
A few of our values that really stand out to me when it comes to fostering innovation are: Be resourceful by doing more with less; be action oriented by valuing progress over perfection; exceed expectations by thinking ahead and anticipating needs; and passionate ownership that encourages a desire to be curious, ask questions, and always keep growing.
8. Looking to the future, how will your brand continue to be a leader in innovation?
At the end of the day, we're not here to sell products. We're here to be a resource in helping our customers build their best possible wardrobe. We're here to continually inspire them with looks that are an outward expression of their inner confidence. Keeping these ideas top-of-mind is what I believe will help us keep innovating year after year.
Innovating is not feeling like you know what your customers want, or dictating what they want. It's a willingness to listen and a commitment to react and evolve based on what they tell you.