Innovation Through an Artistic Lens
An Interview with Mikel Cirkus, Global Creative Director Foresight & Trenz, Firmenich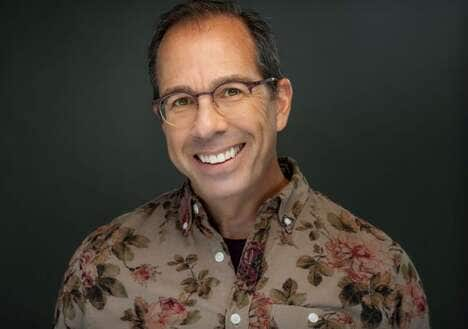 *This interview took place prior to the merger of Firmenich and with DSM, which took place in May
With vast experience in concept development, creative problem solving, and branding/design in the CPG industry, as well as 20 years of experience in global consumer trend forecasting for the Fragrance and Flavor industry, Mikel Cirkus is the Global Creative Director, Foresight & Trenz at Firmenich.
1. Tell us your name and your role at Firmenich?
My name is Mikel Cirkus and I'm the Global Creative Director, Foresight & Trenz, Taste & Beyond at Firmenich. A lot of my current role revolves around inspiration for innovation. I often think about the outcome of that inspiration and how the individuals involved in the innovation process utilize it.
2. What does innovation mean to you?
Innovation lies in the space between, where creativity and inspiration collide. It's a dynamic process that begins with generating ideas and inspiration, leading to the birth of something new and exciting. As you navigate through this journey, innovation unfolds, and on the other side, something creative manifests. True innovation requires a willingness to enter the process and emerge on the other side.
3. How do you and your team generate new ideas?
I have been working for Firmenich for a long time, and the good news is that our innovation inspiration has never run dry. We've never faced a situation where we didn't know what to do next, be it in the next week or next year. This is because my role involves being a source of inspiration for innovation, and we are constantly observing and forecasting to identify the latest trends and what's coming next. We're the "boots on the ground" team for pre-innovation, searching for signals and discovering what's new and what has changed. Our focus is on identifying emerging opportunities and challenges, and we're always on the lookout for what's next in the market.
When we get into the process of coming up with a new idea based on those observations, we're in the space where we can bring that information to the innovation team, because it's foresight. It's in my job title as Global Creative Director of Foresight. So that idea generation is literally the result of observations that we make and comes from connecting those dots to create new ideas or new opportunities that are of value.
4. Do you have any specific rituals for resetting your team to be creative?
The rituals are an essential part of the process, and as I mentioned earlier, they help us achieve our goals. When we go out into the street, we're not always sure what we're looking for until we find it, and that's where the ritual comes into play. The ritual is all about discovery, and we approach every situation with an artist's perspective. We are always searching for something new and unique, and the rituals help us stay focused and motivated in our pursuit of new ideas. So, the rituals are a crucial part of the process, enabling us to explore new possibilities with a fresh and creative mindset.
5. What is the biggest challenge you face when innovating?
The biggest challenge I face when innovating is finding the audience for what it is we're seeing. Not everybody's ready for the presentation of the context of something in a futuristic space. If you're in the foresight and trends business, and you're out there trying to inspire innovation, not everyone may always be ready for that. It's your job to bring them information that will be beneficial to them, probably 2, 3, 4 years after the fact. Because of that, you often have to work backwards, to say, now we need to innovate towards a specific idea. Not everybody's so receptive to that process, so the biggest challenge for us is selling the future to the present.
6. How do you identify trends? What resources do you use to spot trends and consumer insights?
The team and I solely rely on what's available out there for our work; we don't use any additional tools. Social media may be part of it, considering that we are all on Instagram, but it doesn't form part of our process. Our approach is centered around being out and about, traveling to places, and revisiting them often to identify areas where the future is bleeding into the present. We attend various events, including industry and counter industry events, where we can spot trends that will impact our projects and categories in the future. As a fragrance and taste company, we also attend car shows and other events because ultimately, the consumer is the same. They drive cars, eat, drink, and use deodorants, and we pay attention to it all.
7. Has there ever been an instance where another industry has influenced innovation at Firmenich?
I'll give you a little anecdote about that. When I started with the company, I was in our Perfume division doing essentially the same work, and then I switched to flavors and I'm still doing that work. On our campus, Perfume is over there and Flavors are over here, and while we're on the same campus, we're in different buildings. There's no cross divisional building where we get to mingle outside of the cafeteria. What was interesting is that when I left Perfume to come over to Flavors, I realized that while in perfume, we looked to flavors for inspiration. When you're in perfume and trying to create the next big candle fragrance, you look to the food industry to see what's trending in ingredients.
When I came over to Flavors, the Flavors business was looking at what's happening in the candle business to see what ingredients and air care innovations were trending with consumers in order to inspire beverage creation. It's so obvious, and yet it's not actually, and we've only more recently started to share some of those insights from a foresight lens.
We created a trends platform early on, called Trenz, as a proprietary tool to pull information from. When we see what's trending in both industries, we realize how valuable this information could be for any customer. Whether someone is selling auto parts or ingredients for fragrances or flavors, they are still selling to human consumers. So, it doesn't matter and it's surprising that it's taken so long for this to become the norm.
8. What makes an innovative culture? How do you foster a culture of innovation?
I'm honored and humbled, and beyond all measures, grateful that I've been able to do what I do for this company for the last 24 years. The reason I'm able to be a creative director in foresight and trends for a company like this, for as long as I've been doing it, is credited to the culture that Firmenich has and that I hope it continues to have going forward. Creativity is such a pillar of that culture and is part of the company's foundation. Whether it's a perfumer who creates, a flavorist who creates, or the application teams that makes each idea a reality, there's a common entrepreneurial spirit.
It's a creative enterprise and an awesomely creative place to be. You're surrounded by people who are passionate about fragrances, flavors and the senses. That part of it is so exciting that the innovation just sort of bubbles out of it. It's really a wonderful thing and the other part of it is that it's relatively anonymous.
Most of the world doesn't even know it's an industry that exists, or that a job like that exists. Whether it's mine or anybody else's in the industry, it's so pro-innovation that everybody's creative no matter their specific job title – whether you're in sales, applications, or in management.
9. Looking to the future, how will Firmenich continue to be a leader in innovation?
Last year, we announced a merger that will double the size of the business. We are moving from being ranked third or fourth in the industry to being closer and closer to a top rank. The innovation offered by the company's customer base and ours is part of what led to the merger. This consolidation of resources now provides us with a number of new innovative capabilities that neither company had before, and we're excited to bring them to our customers as one entity.