Elevating At-Home Culinary
An Interview With Mike Florea, Chef/Culinary Innovation Manager, Kroger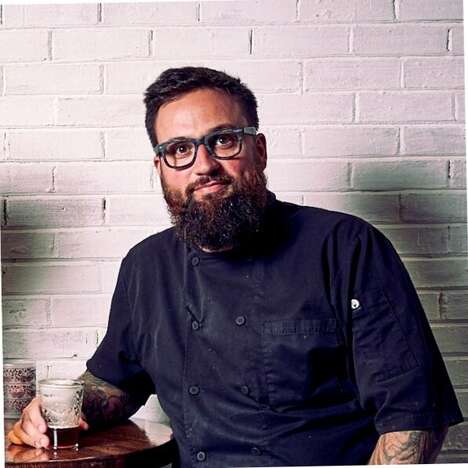 Starting with the innovation team at Kroger, specifically for private label about three years ago, Mike Florea is a Chef/Culinary Innovation Manager at the company. Mike's focus is on culinary innovation where he looks at everything through a culinary lens.
Working with a team of five, it's his job to feed the rest of private label ideas for new products and take the reins on looking into the future. He does so by paying attention to restaurants, competitors or anything emerging in the food
and beverage space.
1. What does innovation mean to you?
For me, the difference between new product ideation and innovation comes down to product development. New product development is to keep up with everyone else where innovation is more about doing what no one else is doing.
It's the crazy thought. It's the thought that no one has thought about. It's about creating things that people don't know and that they don't even know they need yet.
2. How does your team generate new ideas?
We have a very specific team of five, and we are very different. We've done personality tests and work to balance each other out like puzzle pieces. It's not necessarily cookie-cutter or specifics we're looking for but rather that we all have our strengths and weaknesses and we play to those things.
For us, innovation is like breathing. It's a very simple notion and it's about not being afraid to say your ideas out loud because it could stimulate someone else's ideas. So we don't even think about it. Generating ideas is not the challenge for us. It's about filtering those ideas because we also work on the product development side, and pointing our effort into the right direction that will add the most value to both our business and deliver the best experience for our customers. Something that the Kroger innovation team tries to focus on specifically is being the customer voice, so kind of working from the bottom up as opposed to the other way around. A challenge at any large company is that the day-to-day can become so focused on who's making decisions that we forget what the customer really wants, needs, expects. And obviously that's changed a lot over the last couple of years because of COVID.
For Kroger, our product offerings have been more centered around comfort just because now people are cooking from home that didn't necessarily cook before. So it's not these experienced chefs that are sitting in their house and we need to think about our products from a flavor standpoint while also considering how to bring a level of international flair to these products with less people traveling.
3. Do you have any specific rituals for resetting your team to be creative?
Our number one ritual is to get out of the office. We could all sit in our cubicles and we can Google anything and can search the whole world. The world isn't as big as it used to be but there's nothing like getting out of the office in order to have fun and travel. That was a huge thing that I brought to this team. For us, ideation is constant and not a nine to five job. I feel like if you treat it as a nine to five job, then you're going to miss out on core opportunities. .
As far as resetting our team, it's literally just about keeping it as light as possible and not taking anything too seriously. Obviously, food and beverage is huge and I'm not trying to downplay that, but sometimes I like to remember that it's all going to be bile tomorrow. So like, why are we taking it so seriously? Why not make decisions, get tough, try new things and throw things at the wall. You know, let's be aggravating, especially with a company as large as Kroger. Ultimately,
we always want to ask ourselves if we're capable of creating trends as opposed to just being a part of trends.
4. How do you identify trends and what resources does your team use to spot trends and consumer insights?
We want to make sure we are identifying real trends and not fads when we have an idea. We talk a lot about how many boxes it checks, if it hits on multiple trends we are seeing, but it's really about asking if it solves a consumer pain point.
If it does address a specific consumer pain point, there's a good chance it's not just a fad and is worth developing. So again, we can Google all we want, we can use services like Trend Hunter, and we can look to manufacturers for inspiration as they often feed us ideas because they want to get something on the shelf.
Our resources are really just open table. It's about listening to everybody and it's our job to take in every idea and distill it down and really give our merchandising team something that is not only great for the customer, but also great for the company. I like to focus my specific thoughts on items, not necessarily numbers.
Sometimes it works, sometimes it doesn't. But the further along the innovation team goes, the further we're able to tick off all of those important boxes. How do we address dietary concerns, a desire for freshness, a desire for health while also looking to take these consumer desires to a new level and collaborate with manufacturers who are able to bring our unique vision to life.
5. What is the biggest challenge you face when innovating?
A lot of the time, the ideas that I have or that our team has don't have quantifiable data backing them up. We naturally think further ahead than most and are trying to sell a vision that we see. so clearly when others can't always see it and this is a real challenge. So a large portion of our role is about painting the picture and putting together a pitch.
Sometimes, we encounter situations where a competitor will release the very thing we were working on. In cases like these, we look at the learning opportunities and then examine the data surrounding these product launches to learn more.
Like I said, finding the trend or noticing the trend is the easy part. Converting it into a product is the hard part. We have to make it work on your equipment and everything. Being able to bring trends to life, whether through visual packaging, through you guys or just information from another country brings us closer to being able to actually develop it in some way, shape or form so the customer can taste it, see it, feel it.
6. Has there ever been an instance where another industry has influenced innovation at Kroger?
I believe that we should never be arrogant enough to assume we have nothing to learn from other companies. We are very inspired by other industries, specifically culinary and food service industries. They're a major source of inspiration and one of our favorite brainstorming things to say is "how would Company X solve this problem?" When brainstorming food and beverage ideas, it's interesting to think well, what if Harley-Davidson was coming out with this or what if Apple was coming out with this? Just to bring a whole new perspective, especially with the number of people at Kroger and the food scientists in the room.
Going beyond product inspiration, we use Caterpillar-like construction equipment all the time. And so it's about trying to pull from the most ridiculous things. And again, trying to really take the innovation process out of Kroger altogether. Going back to the question about what do we do to reset creativity, it's like if we just stick to Kroger land, everything would just be generic.
We definitely use other industries pretty much 80% of the time to really be able to feed the ideas that we have. Our customers at Kroger are the same customers that use an Apple product. So, you know, there's no reason why you wouldn't piggyback on some really great ideas from other industries like user friendliness for example.
7. What makes an innovative culture? How do you create a culture of innovation?
There needs to be respect for each individual's unique talent, personality and work style. So again, going back to those puzzle pieces and how we all fit together. It was really interesting because when I first started on this team, I was coming from a specific chef-driven, restaurant background and very much came into it feeling like the underdog and like I needed to get up to the speed of my coworkers. Soon after that, I realized that I brought some of the team up and
they did the same with me.
We truly believe in every individual's uniqueness and empathy for each other and our customers is important. It's about knowing which rules can be broken and about being brave enough to break them constantly, while challenging every idea and every person to be better. The ability to fail, learn and recover quickly and a general sense of humor also help to drive each of us.
What's interesting is that there's a lot of people that are afraid to fail, and I think that's a bad thing. For me, the important thing is you tried and there's a lot of people that are just too afraid to try.
I like to use the analogy of a restaurant kitchen. Everyone has a role and those roles might change day to day. But overall, when it's time to work, when it's dinner time, everyone gets in their place, whether you're grilling or prepping salad. Whatever it is, everyone has a specific role in that three hour span and around it, there's this mess of an operation and just trying to get it ready whereas the dinner rush becomes kind of like a ballet. Once the prep is done, once all the hard work is done, now you just have to make this one thing 100 times. So that's kind of how I try to visualize Kroger's innovation process. I try to make Kroger as small as I possibly can mentally. Like, I don't want to know about all the moving parts, right?
For me to do my job effectively, I have to really minimize the big picture and not get caught up or overwhelmed in the entire process. With a team of 2000 people in the building, there needs to be that ability to focus on what is expected of me and what I need to do before worrying about what the other 1999 people around me are focused on.
I think overall, innovative culture is about availability, the conversation, but also knowing your role and knowing when to chime in and when not to chime in. And again, if you've worked in a restaurant, you notice that managing restaurant people is way different than the world I'm in currently. So I just try to apply that as much as I possibly can because that's 100% what I know.
8. Looking to the future, how will Kroger continue to be a leader in innovation?
Kroger will continue to be a leader in innovation because we have dedicated innovation resources like yourselves, because we will dig deeper than anyone else to understand and because we truly want to be the voice of our customers. We have the passion and the scale to start the trends, not just follow them.
Also, trying to keep up generationally is a huge thing for us. The way we keep up with that is by constantly reinventing ourselves whether it be our team or the store and continuing to constantly pivot. I think if you're not reinventing yourself, you're dying and for Kroger and for our brand, specifically focusing on what's next isn't just to keep us cool. It's really more to make sure that we are on trend for a generation for generations to come.