Investing in Sustainable Beauty
An Interview with Melodie Reynolds, Founder and CEO, Elate Beauty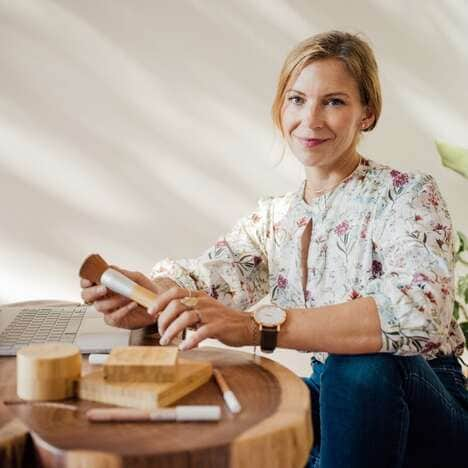 Elate represents conscious beauty, emphasizing intention, purpose, and ritual. Rather than mere routine, the brand transforms daily actions into meaningful rituals, nurturing self-love, confidence, and empowerment. At the forefront of conscious beauty, Elate prioritizes cruelty-free practices and mindful choices in ingredients and marketing, advocating kindness over indifference and supports consumers' journey towards intention and a conscious beauty lifestyle.
1. Tell us your name and about how the idea for Elate Beauty came about?
My name is Melodie Reynolds, and I'm the founder of Elate Beauty. I started my company as a response to my own personal beauty ritual. I noticed that I had many products in my makeup bag, but very rarely used one until the end. I wanted to create a company that was much more thoughtful and intentional than that. I had an experience where I bought a makeup product, and when I had finished unwrapping it, I had created a pile of garbage in front of me. This made me angry. I was angry that I bought the product in the first place, knowing that I probably wouldn't finish it, but also angry that the responsibility of disposing of all this garbage was left to me. I knew that I had to do something. Those were the seeds I planted 10 years ago, and they've grown into the company that we have today. Elate is disrupting the beauty industry while creating more time, space, and joy in our daily beauty rituals.
2. What does innovation mean to you? How does your team generate new ideas?
Innovation is the key to our success. Generating new ideas, really, starts with listening. Listening before doing. We ask questions and poll our customers and partners, listen to their feedback, and then bring those ideas back to the table. The team also stays curious about why we do things the way we do them and thinks about how the future would look if we did things differently.
For us, it all starts with desirability and user experience. When it comes to waste, we often think that it's the packaging or the end product itself, but in the beauty industry, waste is often created when companies have not thoughtfully designed products that customers want to purchase. At Elate we use a formula called the Sustainability Journey, which was designed by my Engineer husband and myself and tested through 10 years of beauty product launches. If our own customers are not interested in our new product then it would go to waste.
The next step is user experience: What is it like to use? Is it enjoyable? Does it last? It does not matter how sustainable a product is - if no one wants to buy it, it will end up as waste. We focus on these things to ensure that we produce as little waste as possible from end to end. Everyone at the company has a say and a part in deciding what products we launch and what we get to name them. (That's a really fun part!)
3. Do you have any specific rituals for resetting your team to be creative?
I find that creativity comes when you're least expecting it. We could be in a meeting about something completely different and have an Epiphany about what our next collection should be called. We stay open to those moments. When we need to find creativity we come together at the top of a meeting to breathe together and I guide the team through a meditation. This creates a general intention for the meeting while unifying the group.
For me personally, I take a lot of inspiration from nature, as I am outdoors quite often. I was actually on a hiking trip last week and came back with a bunch of new ideas for the team about our next collection
4. Can you speak about Elate Beauty's sustainability goals and about its commitment to using clean ingredients?
The supply chain is the most important thing when it comes to clean ingredients. Often we have to make choices between organic certifications and fair trade because even though these things seem to be cut and dry, it's very complicated. Just because something is certified organic doesn't mean that the individuals that harvested that ingredient are treated fairly.
There's a ton of research that goes into every choice we make, and we rely very heavily on our partners to comply with our protocols. As a B-Corp company we not only have our internal standards, but also a global movement to help guide us in decision making. Our sustainability goals are at the forefront of every single thing that we do from end to end. Our product creation is thoughtful, with an aim to create as little waste at the end as possible. Also, the onus of the waste ultimately belongs to us as a company, not to our customers.
The education piece regarding ingredients and packaging is so important. Refillable or compostable packaging doesn't matter if it's difficult to dispose of and ultimately ends up in the landfill. The general population is becoming more aware of the ingredients they do not want in their beauty products and we are excited to help them find clarification and become more empowered in the decisions they make. Elate is very transparent in the ingredient choices we make, why we make them, and how we source them. Through social media, our website, and newsletters we are able to connect with our community and help them navigate this arena. This is a relatively new segment of the beauty industry but we recognize sustainability is a journey, not a destination. We are happy to be a place that can give clarity without greenwashing or fear. We are always working towards creating simple solutions to a complicated problem.
5. Elate Beauty is not only a leader in clean and sustainable beauty but is also an advocate for diverse beauty standards. Can you speak more about the brand's responsible marketing mindset?
When it comes to responsible marketing, it's so important that we set the example. Fear and shame-based marketing makes us feel less-than, so we buy more. This is actually the root of the waste in the beauty industry. This type of marketing causes over-consumption. The goal of this marketing is you will have a fear of missing out, or make you ashamed that you don't look like the person in the picture.
I never want anyone to look at Elate and feel like they don't see themselves. This is why we use Role Models in all of our photo shoots. These are individuals from our community whom we celebrate for who they are rather than what they look like. When you choose "models" this way, you automatically get a more diverse group of individuals. We believe everyone should express beauty as they feel it. Beauty is not gendered, does not have sexuality, does not have race or caste. Beauty is an inner state of being and we will never photoshop the gift of that out of existence at Elate.
6. How do you identify trends and what resources do you use to spot what's next in your industry?
I've been in the beauty industry for 20 years at this point and I love the cyclical nature of trends. Trends are fun and we enjoy them, however, we do them differently at Elate. We make small batches of all our cosmetics, but when we launch a trendy shade or product formulation our community knows it is here for a good time, not necessarily a long time. We are creating a balance between wanting the new creative thing, but doing it in proportion to interest and longevity of that trend. We will always reimagine a trend to fit into our sustainability mandate. Logistically, I use the Pantone resources, find references from the past, and look at the current socioeconomic factors for inspiration. Ultimately, it comes back to listening though. Listening to myself, my team, and the Elate community will always remind me that while trends are exciting, we dominantly embrace the Essentials in our beauty rituals, knowing that they will never go out of style.
7. Does Elate Beauty leverage technology during its ideation and production process? If so, how?
Elate's ideation process uses nature and community feedback over technology. Elate has typically been ahead of technology. I feel just now am I getting the sustainable materials through the sustainable supply chain that I have always wanted. The consumer's desires have played so heavily into what suppliers would make. My questions about better packaging are no longer being negated. Rather, we have awakened the necessity of better packaging and we are implementing technology that way. For instance, our glass tubes, used for mascara, gloss, and more, are sandblasted to ensure easier home recycling. This was not available a couple years ago, but I kept pushing in order to get the packaging that is more environmentally responsible.
8. Looking to the future, how will Elate Beauty continue to be a leader in innovation?
Within the beauty industry, where the status quo is over consumption and waste, our innovations are really focused on our marketing of a simplified beauty ritual. Creating a Capsule Beauty bag, where you use everything in it until it's gone and refill at the end. This business model also creates extremely loyal customers, whom we love connecting with. Elate is founded on core values of Connection, Integrity, Curiosity, Kindness, and Joy. We Elate is a company that leads in a very different way than most corporations and I know that continuing on this path will help us shape the beauty industry of the future.