Innovating Through Play
An Interview with Matthieu Rouif, Co-founder and CEO of PhotoRoom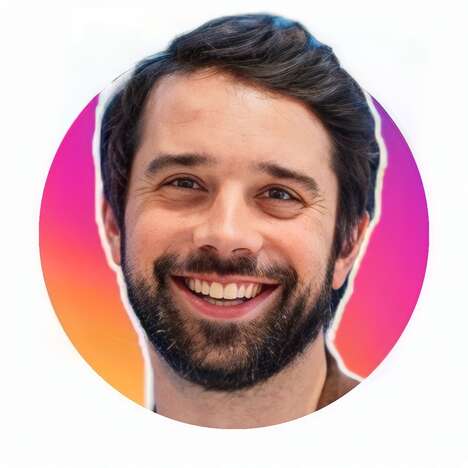 As a fresh Polytechnique and Stanford graduate, Matthieu started working on photo apps 15 years ago. He then created the first mobile apps for ski resorts and co-founded the HeyCrowd app to make surveys more social. After, he led product for Replay Video Editor (Awarded 'Best App of the Year' by Apple and Google). After leading all image editing products at GoPro when they acquired Replay, Matthieu left GoPro in 2018 with the aim to start PhotoRoom.
1. Tell us your name and how the idea for PhotoRoom came about?
My name is Matthieu Rouif, I'm the CEO and founder of PhotoRoom. Before PhotoRoom I worked in app development and product management. During my time as a Product Manager at GoPro, I found myself growing frustrated with the time-consuming process of manually removing backgrounds in Photoshop. I came to the realization that I was not alone in this frustration, and that there was a demand for a better solution on the App Store.
This led me to take an online course in machine learning, where I developed prototypes that mixed machine learning and mobile apps. After the course, I met Eliot Andres, an expert in machine learning, and together we created the first version of PhotoRoom in just two weeks. This initial version used a machine learning algorithm to remove backgrounds from photos. Our team collaborated with talented designers, successful app developers and computer vision experts and received valuable advice to refine the app before its release on the App Store.
For context, PhotoRoom is an artificial intelligence-based photo-editing app. Our mission is to enable entrepreneurs and small businesses to create high quality images in a fraction of the time and cost. Since launching in 2019 we've been able to carve out a niche by breaking down the barriers to doing business by making commerce photography easy. We initially found success with our best-in-class background remover, and have now expanded our offering to
include a batch photo editor, magic retouch tool, and a AI tool that instantly generates backgrounds and shadows.
Our team has been overwhelmed by the positive feedback we have received from users. It's been amazing to see how many different types of people find PhotoRoom useful, including designers themselves.
2. What does innovation mean to you?
It's a deep question! For me, innovation is creating something useful that uses new technology or science. It really feels like the first time in human history that deep science, mathematics and physics are now in the hands of millions of users. I'm especially excited when new technology meets demand, and helps people in their daily lives.
3. How do you and your team generate new ideas?
For us it's about talking to users and playing with new technology. Play is the way the human brain is wired to learn. When we're at play, we're in a state of active curiosity, which is the perfect state for learning. I'm always trying to learn by doing, and by putting myself in a mindset where I'm willing to try. I also spend a lot of time exchanging ideas with people, as it helps me create new connections, identify problems to solve, and puts me in touch with tools and
products I might not have discovered on my own.
4. Do you have any specific rituals for resetting your team to be creative?
I do think creativity is a muscle, and like every muscle, you have to exercise it in order to build strength. Creativity is a real balance between making innovation and speed a part of your daily habits, and also injecting new ideas and perspectives into that routine on a regular basis.
An example of that in practice at PhotoRoom is our weekly creative ad sprints. Once a week the team gets together to learn from last week's creative and produce new ad sets together. The marketing team has begun inviting other team members to make ads, which often takes us in unexpected directions.
Another great moment for us is our hackathons. It's a great opportunity for the team to get out of the daily routine, build something new with strict time constraints. It's always amazing to see what the team is capable of generating in just a day or so, and a lot of that work is folded into our product roadmap.
I also think that the environment has a big impact on creativity. There's a great quote from William Gibson stating, "the future is here, it's just not evenly distributed." One place PhotoRoom is trying to develop a greater distribution of that future is our office, by inviting users and creators to share their ideas with us, and creating a space that feels flexible and adaptable–just like our culture.
5. How do you identify trends? What resources do you use for spotting trends and consumer insights?
Paul Buchheit once said that the people at the edge of a rapidly changing field live in the future. That means integrating new ideas, habits and technology into your lifestyle, and using them in mundane, everyday tasks to make new connections. I love to try new apps, download new things, and even talk to people in the street to see what they're using.
Most new tech tends are adapted by young people, so I try to spend time in those communities. Tiktok is a great source of insight into what people are doing in new ways. There are also countries that are known to be early adopters, so we keep an eye on what's going on in Southeast Asia and Brazil, for example.
PhotoRoom also has an amazing community of innovators who we are constantly learning from. We try to build in the open, and create strong feedback loops between our users and the product so we really understand the need. It's why we have a free version of the product, and an API. We are here to remove the barriers to creativity, and give people the flexibility to build what they need with PhotoRoom.
6. Can you tell us about your recent partnership with Warner Bros and how the idea for PhotoRoom's Barbie AI Selfie Generator came about?
Sure! Warner Bros' objective was to create a viral moment and amplify the Barbie trailer with a digital user generated sharable. Integral to this campaign, they were looking for a high-quality solution to remove the background from fan photos. Warner Bros' agency, Bond, tested ten different platforms before selecting PhotoRoom. Once Warner Bros' and Bond had identified
PhotoRoom as a provider, it only took an hour to turn on the campaign – allowing them to very quickly scale their creative idea. The Barbie selfie generator has now been used over 14 million times, and been used by everyone from Pedro Pascal to Rihanna, generating huge coverage and anticipation for the Barbie Movie.
7. This partnership was a huge success, showcasing the potential for brands to use visual AI to create a personalized and immersive user experience for consumers. Can you speak more about how you see AI being applied in the future both in the realms of entertainment and marketing?
We really see AI as the next creative frontier. What I think is very interesting for brands is the trend of user generated content (UGC). More and more big brands want to rely on things coming from their community and users, and are experimenting with AI to make that happen. Netflix recently worked with us on a UGC campaign to promote their new Black Mirror series, for instance.
The big challenge is how do you control the output. That's why we're focused on helping images look professional, which relies on the consistency and accuracy of our AI technology. Once a brand can define the constraint, users can play within those constraints to create something new and unique.
More broadly, we're really excited for the possibility of AI assistants. For PhotoRoom, that means using AI to help people create amazing content. The aim is that every business–even working on a shoestring budget, will be able to use PhotoRoom to create cost effective–and unique content for their customers.
I think the entertainment industry will also reflect that trend. Historically, a book is about the only entertainment medium that one person can create by themselves, but now generative AI means that anyone can become a visual storyteller. The medium often defines the story in some ways, and so as we get more people using AI to create their own comics or their own movies in a way that wasn't possible before, I believe we'll have new stories to tell.
8. Generative AI has seen a recent boom with tools like ChatGPT and Midjourney becoming more embraced by the masses. What is your advice for business professionals who are skeptical about leveraging AI?
You really have to see it as a tech revolution, like the mass adoption of personal computers or mobile phones. The change is already here and happening, whether businesses are ready or not. Just like the first computers, which took up entire offices, the AI we have today is the worst version we will ever have.
Incorporating new technology into our lives can be daunting. But the best way to adapt to new technology is to play with it. If I were testing AI for the first time, I would make it easy for myself by starting with habits I already have–like downloading a new app, and trying it out that way, and then building from there.
9. Looking to the future, how will PhotoRoom continue to be a leader in innovation? Are there any exciting projects you have in the works that you can share?
The way we innovate is by pushing new technology to users as quickly as possible so they can play with it, adapt it, and teach us how to make it better.
Our mission is really to break down the barriers to creating amazing content. Right now for example, you can use PhotoRoom to generate AI content for your business, but you can't add custom props or background elements to your images. That's on our roadmap for later in the year. Basically, anything that a professional designer working for a big brand like Nike is capable of, we want to make possible for everyone through AI.