Empowering Indigenous Communities
An Interview with Mary Jane Oatman, Executive Director Indigenous Cannabis Industry Association and Indigenous Cannabis Coalition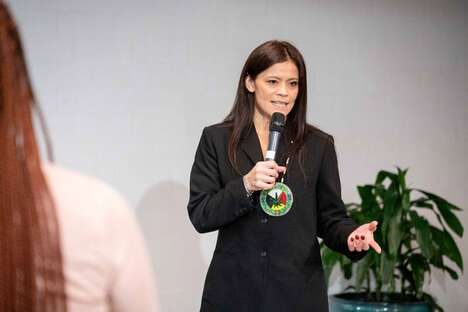 Mary Jane is the executive director of two Indigenous-led cannabis nonprofits - the Indigenous Cannabis Industry Association and the Indigenous Cannabis Coalition. She is also the editor and publisher of Tribal Hemp and Cannabis Magazine, frequently touted as the leading and most respected Indigenous cannabis publication.
1. Tell us your name and about your work with the Indigenous Cannabis Industry Association and the Indigenous Cannabis Coalition?
My name is Mary Jane Oatman, and I'm a member of the Nez Perce Tribe and serve as the Executive Director of the Indigenous Cannabis Industry Association where I have grown a network of tribal cannabis leaders to advance the protection of Tribal Sovereignty in the emerging cannabis and hemp markets.
2. Can you tell us about your role with Tribal Hemp and Cannabis Magazine?
I am the founder and Editor-in-Chief of THC Magazine, the nation's first and only print publication dedicated to tribes in the hemp and cannabis industry. I founded the magazine in 2020, featuring my grandmother Alice Jeanie Warden on the cover of the first issue. My grandmother went to federal prison for growing on the reservation in Idaho in the early 1980s. Incorporating my grandmother on the cover of our inaugural issue not only paid homage to her remarkable journey and resilience, but also underscored the vital significance of acknowledging our roots and the historical context that has shaped the hemp and cannabis industry within tribal communities.
3. What does innovation mean to you?
Innovation means breaking away from the time-tested measures to explore a new way of thinking, engaging and executing to make "things' and experiences better for humanity. Innovation is not always positive if it is backed by greed, so finding ways to create solutions that are based on an ethos of future-thinking is so important in order to leave this place better than we found it.
4. Can you speak more about your mission to expand opportunities and equity for indigenous people within the cannabis industry?
Our mission is deeply rooted in reclaiming plant medicines as opposed to "legalizing" cannabis. The sacramental smoking of herbs has been a practice of many Indigenous cultures since time immemorial. Smoking culture is nothing new and religious persecution banned traditions for many pipe carrying societies. So we are working to make sure our rights are protected.
5. How have you been able to successfully bring your activism to the business world, bridging the two?
The activism work that we have done is deeply rooted in ending the negative stigma and reefer madness campaign that has done so much harm to the plant. The more education and advocacy we do, the more we are seeing tribes lean into the opportunities for economic development. We have hosted two summits and over 5 educational panels at national tribal gatherings to increase awareness about cannabis policy, encouraging tribal unity in cannabis policy and networking the best and brightest of Indian law and cannabis law experts not just in the US but internationally. This has led to tribal nations supporting our lobbying and advocacy efforts in order to build resources and technical assistance services.
6. How has the cannabis industry changed over the years and how are the organizations you're working with pushing forward to promote more diversity and inclusion in this space?
The cannabis industry has changed in how we advocate. Post George Floyd's murder and national unrest, we experienced an awakening during a critical time in cannabis. Very few states were adopting social equity provisions and now it's the norm. We have states retroactively working to include funding and services for those impacted by the war on drugs.
7. Looking to the future, where do you plan to go next as an empowering innovation leader?
Tribal organizing is not easy. We have over 400 tribal nations that are still fearful to address cannabis law and policy, so the next decade will continue with advocacy and education while navigating the bureaucratic measures to liberate the people and the plant. Until this plant is honored for the medicinal value that it has always had, and is no longer listed as a schedule 1 drug under the CSA, my work will continue to leverage our young people's voices to lead with common sense reform for plant medicines.