Podcasting Through the Pandemic
An Interview with Marshall Lewy, Wondery's Chief Content Officer
Related Trend Reports
Business
,
Computers
,
Fashion
,
Life Stages
,
Lifestyle
,
Market
,
Marketing
,
Mobile
,
Multimedia
,
New Ventures
,
Tech
,
World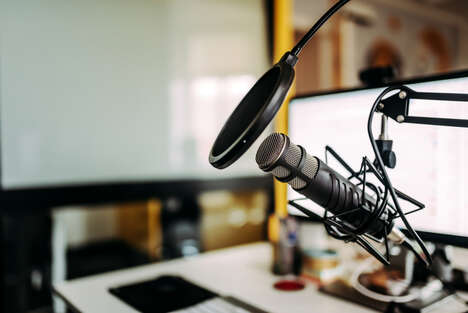 Podcasting has reemerged as a popular medium for storytelling in recent years, and Wondery, the American podcast network that offers programs like 'Dr. Death,' 'Dirty John,' and 'The Mysterious Mr. Epstein,' has remained an important source for informative stories during the COVID-19 pandemic. To find out more about how the medium has been impacted by the pandemic, how listeners can learn more about the current events surrounding it, and what new podcasters can do to stand out, we spoke with Marshall Lewy, Wondery's Chief Content Officer.
Can you tell us a little about yourself and your role with Wondery?
As the Chief Content Officer at Wondery, I oversee all the Wondery Originals, which includes our investigative miniseries, like 'Dr. Death' and 'The Shrink Next Door.' I also oversee our ongoing series, like 'Business Wars,' 'The Next Big Idea,' 'American Scandal,' and our audio dramas like 'Blood Ties.' Apart from that, I oversee our efforts to bring our podcasts to film and television.
Have you seen an increase in listeners since COVID-19 started? What podcasts have taken off recently?
Industry-wide, there was a decline in podcast listening in the first few weeks of the shutdown, then we saw the numbers flatten, and in the past few weeks, as habits have adjusted and people have started slowly moving again, the numbers have started to increase once more. Companies like Podtrac have been sharing weekly data about how podcast listening has been affected by COVID-19. I haven't noticed any specific podcasts that have taken off as a result of COVID-19, but I have noticed a trend that more celebrities have been interested in starting a podcast now that so many other types of production have been shut down.
How can interested listeners learn more about the effects of the pandemic through Wondery's content?
We've launched a number of podcasts and episodes that are specifically about the effects of the pandemic. 'Fighting Coronavirus' is hosted by Steven Johnson, who is our host of our long-running science and technology podcast 'American Innovations' and an expert on the history of pandemics. On 'The Next Big Idea,' we've run a seven-episode series called 'Rethinking Big Ideas,' which highlights discussions with some of the greatest thinkers of our time about how their ideas apply in this new normal, including guests like Daniel Pink, Adam Grant, and Priya Parker. We've also been running a three-part series on 'Dying For Sex' called 'Living with Connection.'
And finally, if you're just looking to laugh and focus on the positive, we've just launched 'The Daily Smile,' which focuses on bringing listeners a happy story every day. On top of that, Justin Long has been producing some funny quarantine-themed episodes on his podcast, 'Life is Short with Justin Long.'
In which ways have podcasts changed current media consumption, and how do you see it continuing to impact the industry in the next 5-10 years time?
The thing I love about podcasts is that they're a modern digital medium that's widely available and freely distributed. They're also able to capture listeners' attention for long periods of time compared to other forms of media. People who have embraced podcasts have really woven them into the fabric of their lives, whether it's while driving, cooking, or walking the dog. They create strong bonds with the shows and the hosts, which is really cool. Creatively and technologically, I think we have only scratched the surface of what podcasts can be.
When looking for great content, what do you look for when deciding which podcasts should be included on Wondery?
We look for podcasts that will make you feel something, that will immerse you in a story, and that will push the storytelling possibilities of podcasts.
What advice would you give new creators looking to start a podcast?
It's more work than it seems! If you're serious about it, make sure you have a unique concept, and plan to create and distribute your podcast with consistent episodes, ideally every week. Otherwise, it will be hard for you to turn it into a real profitable business for yourself.