Cross-Disciplinary Innovation
An Interview with Kevin Swanson Innovation Leader - Global Innovation, Hallmark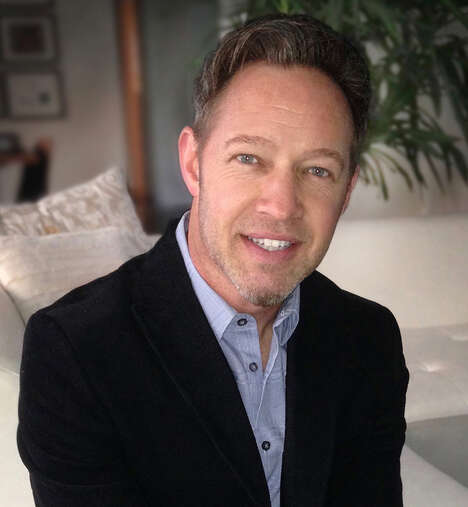 With past roles in both product development and loyalty marketing, Kevin Swanson has worked on innovation at Hallmark for over 15 years. Believing in the value of cross-disciplinary innovation teams, Swanson walks us through his ideation process and the rituals he relies on to reset creativity and overcome challenges.
1. Tell us about yourself and about your role at Hallmark.
My name is Kevin Swanson and I'm an innovation leader on the global innovation team for Hallmark. I've been in several roles at the company-from greeting cards, publishing and gifts, to different management positions. Over the last 10+ years though, I've really been focused on innovation. In the beginning, it started with innovation for the kids' books and gifts categories, but has broadened since. Today, it's an innovation role across the whole global organization, and we're looking at innovation across all the formats we're known for, as well as for our future as a brand in the digital space-seeing its importance in today's world and the ways that it connects people.
2. What does innovation mean to you?
One way to look at it is that it's a means to an end. Innovation helps brands create breakthroughs that delight customers, and that can create new financial growth and a positive impact for your brand. Those are some of the why's but innovation also means being relevant, and that generates revenue. You want your brand to stay relevant, so that's one the simplest ways to look at it.
3. How do you and your team generate new ideas?
We've got a few processes in place when it comes to ideation, and we have innovation happening at a few different levels. We have incremental core category innovation, which happens on our product development teams and focuses on products as well as how they're created. We also have disruptive innovation happening at the brand level. This work explores everything including the consumer, how and where they experience our brand as well as the types of products we create. There is so much happening across the company, but these two approaches are pretty consistent practices.
My focus currently is more on the latter, working on the more disruptive innovations, although I do get to focus on specific ideas once in a while, and I enjoy both.
When it comes to our more disruptive innovation processes, we have a notable ritual you may be familiar with call sprints, and we'll have mini sprints as well as longer sprints. The sprint process is like a common design thinking exercise where we choose participants with a foundation of knowledge. I just call it walking around knowledge of our category, of our brand, of our customers, of their discipline, and of what's happening in the marketplace.
When we begin a sprint, we start this process off with some level setting, and with getting everybody on that same page. We then go into a design thinking process, which starts with a series of active listening and empathizing exercises. It's then that you're really looking for insights and drawing some conclusions based on what you've heard or
observed. From that, you start to define opportunities which leads you into ideation where you develop ideas based on who the consumer is, what they need, why they're doing what they do, and how they do it.
Now we're starting to form ideas, and once we start to form those ideas, you've got to develop them via prototype or you start thinking about how to best optimize them to meet the consumer's needs. It's also important to test and seek more input from your leaders and whoever your customer or end user is. That part of the process is what I call an iteration loop. At any point, when you have more information, or discover something that's not working, you can go back to any development stage in order to refine that prototype or address the concept itself.
That iteration loop is something you do for as long as you need to until you get it right, followed by selling it and getting it into market. Then of course, if you get the luxury of getting that far, you're in the market and now you have to analyze the data in front of you. You have to ask what you're learning, and how the product is being perceived by consumers. What's working and what's not working? That information then goes back into your foundation for next time, and you continue this process.
There are other things we do, that we've developed over time, that are more proprietary in nature that I can't discuss.
4. How do you reset these teams to be creative?
I like to begin these exercises with a very provocative question. I think that almost adds a little bit of sizzle in the process. At the very beginning, you create some enthusiasm for the project. It shouldn't sound easy, and it should sound like you're going to be challenging a lot of norms. You're going to be challenging the system, and that's okay because it gets people in the right mindset and gives them permission to say, we're gonna do this differently. It gets them excited about the project that's coming.
The other piece of that is prototyping. I'm personally a firm believer in it-whether it's physical or digital prototyping-and once you get into making your ideas real, the process of actually making them teaches you so much more about the value to the consumer. You might change your mind when you make your concept a reality.
My experience has been that there's too many different ways to interpret high-level concepts or written descriptions. Different people are going to interpret things differently, but when you make a thing, even if it's a digital thing, people react to it differently. A big part of getting people's creative juices going or getting them to reset in a creative process are those two things. Something provocative to start and then actually making something as well.
5. How do you identify trends at Hallmark? Are there any specific resources or services you use to spot trends and consumer insights?
We have a trends group that taps into information from lots of sources like yours and various competitors. They're constantly gathering, filtering and translating information about global trends both macro and micro as well as specifics to our category. And, the innovation group is woven directly into that team.
On the innovation side, I believe that foundational knowledge-like I was mentioning earlier with the sprint process-needs to consist of several things. Firstly, you need a really good understanding of your customer. This is that foundation that gets everybody on that same page. You also need to understand your brand attributes, so what a customer feels when they think of your brand. And why do they turn to you?
You really need a good understanding of the opportunities that are in the market, the emerging opportunities that are relevant to your brand. We want to understand trends, what's happening in business, culture and creative trends. You also need to understand available capabilities so you can blend all that together and connect the dots, each is an important ingredient for your innovation process.
6. What is the biggest challenge you face when innovating?
Well, it's the balance. On the one hand, you have to create a vision that's exciting enough and buzzworthy enough to excite the people that you're trying to convince. But it can't be so far out there that it shut down decision makers, your leadership, your customer, or whoever you're trying to get behind the idea. If it's too far out, it's just too easy to want to gather more information, and this is why I go back to prototyping.
You can really disarm a big idea by making it, touching it, feeling it and showing it. Now it feels real, now it feels doable. And again, even if you're doing it digitally, now it seems digestible. The thing about prototyping is that you're instantly brought back to feeling it's possible.
There are some amazing tools that allow you to create prototypes, and those prototypes end up having the ability to sell themselves, and you don't have to sell to somebody. Anybody who's face-to-face with somebody can tell when they're being sold something, and it doesn't come across as genuine, but the thing that's sitting between us sometimes has the power to sell itself. If this thing speaks for itself, then you'll either love it or you'll have thoughts, but now we can talk about it rather than talking about the process alone.
7. Has there ever been an instance where another industry influenced innovation at Hallmark?
For sure, and that's where I go back to the capabilities. Being aware of capabilities that are in the market can spark new thinking or opportunities for businesses. For example, we were really watching the voice recognition space about 12 years ago. Different companies were coming out with different types of voice recognition products, Alexa being a great example. While these technologies are commonplace today, they weren't as mainstream about 12 years ago.
We teamed up with a company that had developed a voice recognition capability and we tied that capability into story books. The result was a children's storybook and an interactive plush that went with it. Key phrases of the book were highlighted, and when you read those phrases out loud, the voice recognition chip in the plush would react as if it's listening to the story too. We called the project Interactive Story Buddies, patented the idea, and we created a very successful business from that. It delighted our customers and was a success across our different stores.
More recently, we've launched a video greetings capability called Hallmark Video Greetings. Again, this product was inspired by all the video content that is possible in the world today. We took this idea and were able to embed a video capability into a greeting card experience. As a result, when you receive one of these cards, there's a QR code you scan that connects you to not only a message from me, but also from other contributors along with me. So it could be a group of your best friends chiming in with this video capability to wish you a happy birthday or get well wishes, and it's been a lot of fun seeing that product enter the market.
8. Looking to the future, how will Hallmark continue to be a leader in innovation? Are there any exciting new projects that are in the works that you can share?
We do have some exciting news coming that I can't talk about just yet. Every year, we are at the Atlanta Gift Show where we unveil exciting new products that we've been developing, so keep your ears open.