Legacy Drives Innovation
An interview with John Cappella, President & CEO of Porsche Cars Canada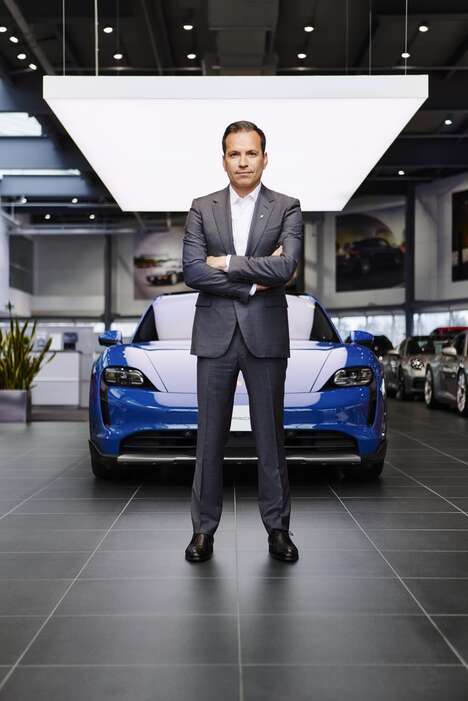 John Cappella has more than 20 years of automotive experience. A Toronto native, Mr. Cappella began his career in the automotive industry with a premium automaker, where he gained experience in various roles such as Communications Manager, Regional Manager, and Brand Director. In 2011, he joined Porsche Cars Canada as Director of Retail Development where he led the expansion of the dealer network. He became Managing Director at Porsche Centre North Toronto in May 2016, overseeing the building construction and first years of operation. Cappella ascended to the Vice President Area East position at Porsche Cars North America, holding responsibility for the vast region that included the New York, Boston, and Chicago metropolitan areas. In September 2022, he stepped into his current role leading Porsche's wholly-owned Canadian subsidiary.
Mr. Cappella holds a BBA as well as an MBA from the Schulich School of Business - York in addition to completing the Automotive Dealership Management Ontario College Graduate Certificate program from the Automotive Business School of Canada.
1. What does innovation mean to you?
I think the Porsche legacy is really how to combine tradition and innovation. We think that only by constantly changing has Porsche remained Porsche.
We have to continue evolving to stay relevant. This applies to our vehicles, where there are many examples throughout Porsche's history. The Targa design, the exhaust gas turbocharger in the 911, rear-axle steering in the 928, transaxle transmission in the 924, or sequential turbocharging in the 959 are just some of the technological highlights. Porsche invented the hybrid drive and had the foresight over 20 years ago to bring out a sports car SUV with the Cayenne. The Taycan — the first purely fully electric Porsche model — reset expectations in terms of performance, driving dynamics, and charging time.
However, it is not just about our vehicles, but also how we interact with our customers. We are constantly rethinking the customer experience. Whether that is creating and evolving an omnichannel marketplace, or the way we evolve our Porsche Centre design to make the dealerships a destination and central gathering place for the Porsche community.
We also want to create opportunities for our customers to experience our products in new ways. We already offer a range of Porsche Experiences from Travel and Track Experiences to our Porsche Ice Experience Canada. Next year, we will open a Porsche Experience Centre in the Toronto area that will be the 10th in the world, but the first of its kind in Canada. It will provide Canadian Porsche enthusiasts the opportunity to experience our products in spirited ways, and the design will include unique Canadian touches for a one-of-a-kind experience.
2. How does your team generate new ideas?
I think you need to create a culture where people are not afraid to fail. You need to be willing to take risks and try new things; you cannot always just go for projects where success seems guaranteed. Further, it is important to foster diversity amongst your team and encourage people to express their different opinions and share their diverse experiences. It is often those conversations and discussions that spark new ideas and give impulses for innovation.
3. Do you have any specific rituals for resetting your team to be creative?
I asked my team to challenge decisions that were made two to three years ago and test if those decisions are still relevant now. We need to make a conscious effort to question how we do things. We also regularly organize different team off-sites to take time away from the day-to-day for brain storming sessions as well as to get inspired by a different environment and different activities. Last but not least, we keep a close exchange with our retailers to stay on the pulse of what happens during their daily operations and to learn about the feedback they receive during their customer interactions.
4. How do you identify trends? What resources does your team use to spot trends and consumer insights?
I think it is important to look outside your own industry as well as outside your own country. One example is that we asked our team members to do "mystery shops" at stores of luxury brands from different industries to experience their level and quality of service. We also try to forge partnerships with companies outside of automotive to bring in new perspectives and product enhancements. It is also important to follow industry developments in other countries around the world to identify trends that could be or become relevant for us here.
5. What is the biggest challenge you face when innovating?
The hardest part about innovation is letting go of decisions you have made for the right reasons at the time and accepting that your hard work of the past may no longer be relevant.
6. Has there ever been an instance where another industry has influenced an innovation at Porsche Cars
Canada?
Yes, for sure. If we consider the customer experience, for example, the hospitality industry inspires how we shape our customer experience and our events.
7. What makes an innovative culture? How do you create a culture of innovation?
Here also, I think readiness to take risks, willingness to fail, and encouraging an exchange of different opinions and experiences are important ingredients for an innovative culture. We need to demonstrate this as a leadership team to see it reflected in the overall team culture.
8. Looking to the future, how will Porsche Cars Canada continue to be a leader in innovation?
I think it is all of the above. We need to take learnings, keep things that work and further improve them, but be willing to let go of things that are no longer bringing us forward. We need to encourage risk as well as diversity of ideas and opinions. The culture needs to be one of continuous evolvement, and being aware of that is the first step.