The Kitchen of the Future
An Interview with John Adler, VP of Culinary at Blue Apron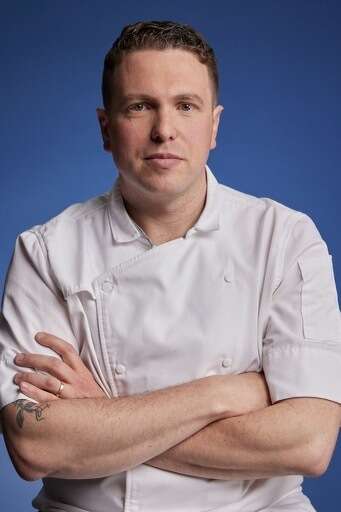 With an impressive resume that includes "time in the kitchens at Per Se and Blue Hill Stone barns," and "8 years at Franny's, a beloved Italian restaurant in Brooklyn, where he served as the executive chef," John Adler is the VP of Culinary & Physical Product at Blue Apron. Blue Apron is a premium meal kit service that aims to deliver quality meals, wine pairings and more at an accessible price point.
1. What does innovation mean to you, and how do you generate new ideas?
At Blue Apron, innovation can take many forms, most notably in new product types that we launch and new recipe designs. As a chef, innovation is a constant process and one that goes hand in hand with a commitment to continuous improvement; whether that means finding a faster way to cook a recipe without sacrificing flavor or investigating an entirely new dish type (such as our new Ready to Cook offering) is simply determined by our product roadmap and priorities. However, daily innovation is a requirement for us in everything we do. Our ideas are generated from a multitude of sources of inspiration: feedback from customers is always #1, followed by personal culinary experiences, food media, the competitive landscape and our own creative inspiration that emerges from increasing familiarity with our pantry of best in class ingredients.
2. Can you tell us more about the Blue Apron test kitchen team, the kitchen's inner workings and the recipe development process?
The Culinary team is made up of a group of passionate folks who come from a variety of backgrounds as it pertains to the culinary world. Some of us are products of Michelin star kitchens and restaurants, some have a more traditional food media and publishing background, and others are culinary enthusiasts and graduates who are not interested in a restaurant environment. We all work together to ideate, write, test, refine and edit our recipes which, depending on the product, can take anywhere from 12 - 20+ weeks.
3. How do you identify trends? What resources does your team use to spot trends and consumer insights?

Our in-house research and analytics teams are our partners in identifying trends within our own customers' preferences and behaviors. As far as macro trends within the food space, we have strong supplier relationships and they provide us with annual reports and forecasts based on what they are being asked to produce for other clients and traditional grocery markets. Lastly, we stay abreast of food media trends that emerge on social media platforms as well as traditional food publications and blogs.
4. How would you describe the evolution of Blue Apron's culinary strategy and culinary partnerships?
Our culinary strategy will always evolve based on our customers' feedback and product roadmap. Culinary partnerships are generally at the supplier level, and so those are built to support our innovation across all aspects of the physical product. In the past that has looked like working with a supplier on a new set of sauces or ingredients based on customer feedback all the way through partnering with a co-manufacturer to produce our Heat & Eat meals for us.
5. Can you discuss the life cycle of a recipe and if you have any tactics for 'resetting' your team to be creative and innovative?
At minimum, a recipe requires 12 weeks from ideation to being shipped in a box. In that time period it is tested at least twice in the kitchen, evaluated for merchandising and marketing optimization (i.e. titling or placement in the digital experience), operational complexity, cost, and then photographed and built into recipe cards all before becoming visible to customers 5 weeks before shipping. We use multiple tactics to encourage innovation and creativity, most of which entail discussing ideas or recipes that likely wouldn't work for our average customer and then pulling those apart and reimagining them as something that could work in a more traditional Blue Apron recipe format.
6. What are some of the key culinary learnings over the past 10 years?
I think one of the most important lessons that we've learned is that offering capital 'V' - variety - is key to success. This doesn't just mean the number of recipes, but it more pertains to larger scale needs such as providing products that deliver a variety of cooking experiences, preferences, flavors, dietary needs, ingredients and complexity. Focusing on this has been key not only to our success but also to prioritizing how and when we innovate.
We've also learned that it is easy to over-engineer a product and that in doing so you remove a customer's ability to make it their own and feel that they can see the benefit for themselves. Leaving room for personalization is absolutely essential for us.
7. Looking to the future, how will Blue Apron continue to be a leader in innovation when it comes to sustainability in the culinary space?
We are incredibly deliberate in every decision we make when it comes to the culinary product. We will continue to monitor the environmental impact of every ingredient we put into a recipe, and also work with our suppliers to further optimize logistics and distribution models to further minimize that impact. Additionally, we are going to be laser focused on finding the best ways to surface this information to our customers so they can participate and engage with our sustainability goals.