Adapting to Renewed Expectations
CEO and Author Joe Jackman Speaks to the Food and Beverage Sector, (GALLERY)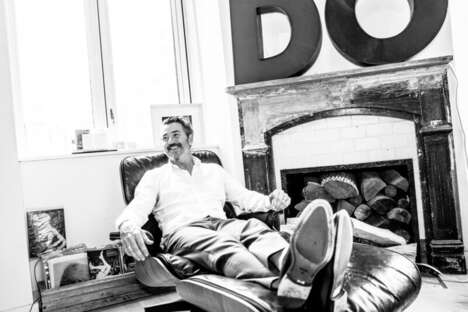 The COVID-19 pandemic has impacted businesses across all industries in recent weeks, and the food and beverage sector has been hit especially hard. With physical distancing measures expected to remain in place for some time to come, many of these businesses will have to reinvent themselves in hopes of surviving. To find out more about consumer behaviors have shifted in the face of the pandemic, how businesses can meet these newly changed expectations, and what's to come for the future, we spoke with Joe Jackman, CEO and Founder of Jackman Reinvents and the author behind 'The Reinventionist Mindset: Learning to love change, and the human how of doing it brilliantly.'
In which ways have you seen consumer behavior shift in response to COVID-19?
We recently conducted a survey of 5,000 people in North America, to try and better understand how the COVID-19 pandemic is impacting consumers. From this, we've identified three major behavioral shifts.
Firstly, the majority of consumers report being "more cautious about the choices they make," and all consumer segments also "believe organizations need to be held accountable for their decisions." These are strong indicators that consumers will have much higher expectations for the companies they're interacting with, meaning now is the moment businesses must ensure they are keeping their promises. If you indicate next-day delivery, it must be next day. If you have a chat feature on your website, it needs to work and elicit a timely response. Additionally, it's essential you are doing (and are seen to be doing) the right thing —by your customers, employees, and society as a whole. With the consumer setting a higher bar, the consequence for failing to meet expectations today is de-selection.
Secondly, all consumer segments surveyed stated that "technology is essential to staying connected with others." We are witnessing the greatest trial period of digital and direct means of connecting, communicating and shopping in history. As consumers become increasingly familiar with and accustomed to technology as a highly convenient tool, they will expect the businesses they deal with to be highly developed in these regards. Figuring out how a brand can fully engage with customers digitally has not been a luxury for some time, yet many businesses have lagged in their digital development. Now, it's a bare-minimum requirement.
Lastly, our data indicates that customers are increasingly giving more value the idea of "being self-sufficient and prepared for anything." Prior to the pandemic, there was a trend towards more do-it-for-me service-based businesses. Consumers had essentially been choosing to outsource many areas of their lives, from everyday chores and cooking, to choosing the fresh market over gardening. With the acquisition of new skills, either by necessity or interest, combined with the post-pandemic pressure on discretionary income, it's likely that the pendulum will swing back in many categories towards a do-it-yourself survivalist mindset.
Each of these shifts will bring rich opportunity for businesses that meet the needs of evolving consumer expectations, and consequences for those who stick with the prior status quo. It's worth spending some time looking at a business through these lenses to determine where and how it needs to adapt to thrive.
How can businesses in the food and beverage industry adjust their business models in order to meet these newly changed expectations?
Businesses in the food and beverage sectors have a big responsibility facing them, namely, to keep customers and staff safe once they reopen their doors. Restaurants that rush to open without stringent hygiene and social-distancing protocols may have a successful opening day, but they risk losing customers who've been dramatically sensitized to health and safety concerns. Most customers are expected to demand high standards, and on a fundamental human level, they want to know businesses care.
What's exciting, beyond the new realities of on-premise engagement with customers, is the enormous promise of digital/direct engagement and fulfilment. From easy delivery and curbside pick-up, through deeper and more meaningful digital connection with customers, the food and beverage industry is learning how to do things in innovative and sometimes scrappy new ways. We can expect much of this to stick, which opens up the promise of delivering a much richer mix of experiences and benefits for customers beyond time-honored traditions. This means greater value, variety, convenience, personalization, and even sensory appeal and collaboration (think of the rise of chef-created pizza kits ready for pick up at your favorite local). All of these dimensions have been evolving in fresh and exciting new ways. Meeting customer needs in the future means getting creative, experimenting and deepening customer engagement. When you figure out how to be more and mean more, you'll find you sell more too.
What role has technology played in the industry during these times?
Technology is offering restaurants ways to connect with and serve customers as never before, even when there is no dine-in experience. From direct delivery apps to digital social platforms, the toolkit for most operators has gotten bigger and more familiar over the course of the crisis. Imagine what would have happened 20 years ago. Restaurants and bars would have had limited or only expensive means to broadcast their retooled propositions and stay in touch with customers. While the on-premise experience has been out of commission for most, customer engagement has been enriched.
Going forward, technology will enable restaurants to rethink their service experience altogether—potentially doing away with the traditional menu and moving it to customers' own smart phones for on-premise ordering. Some might even offer pre-visit ordering and table assignments. Payment processes in the near future will also be mobile-based, no longer requiring human interaction when it comes time to settle the bill.
How will the pandemic continue to impact the industry in the long term?
We know that customer preferences and expectations are changing during the pandemic and will continue to evolve afterwards. Staying with these changes is mission critical. Larger restaurant chains with strong balance sheets will have an advantage over smaller restaurants in the short-term because they're able to weather revenue declines and ramp up investments that will help them compete in the post-pandemic world. However, smaller restaurants have the advantage of being nimble and arguably more inventive-on-the-fly. Now is not the time to stand on tradition.
Regarding competitive threats, new competitors for food and beverage dollars are already emerging from the pandemic stronger than ever before. Large grocery chains and meal-kit providers have used the pandemic as an opportunity to win new customers and trial new services, and these businesses will compete head-to-head with restaurants more than they did in the past. A less obvious competitor is also on the rise: cooking and baking at home from scratch. It will be interesting to see the mid to long-term impact of the crash course many consumers took on doing what their parents and grandparents did as a matter of course.
When restaurants are given the okay to reopen, what other measures can business owners expect to incorporate to ensure the safety of both staff and visitors?
Business owners will have to be prepared to aggressively meet new standards of hygiene through thoughtful actions. This includes more frequent and deeper cleaning and hand washing protocols, staff and customers wearing masks, staff wearing frequently-changed disposable gloves, contactless payment, customer temperature checks, food displays and in-line pay stations behind Plexiglas, safe distancing in the spacing of bar seats and dining tables, as well as restrictions on overall guest capacity. This is what the new normal will look like for the foreseeable future. The regulatory standards themselves are sure to evolve and meeting them must be considered the new table stakes. You do not want to be offside regulations or your customer's evolving expectations.