People-Centric Innovation
Jeff Mocha, Chief Technology and Innovation Officer, OEC x Keynote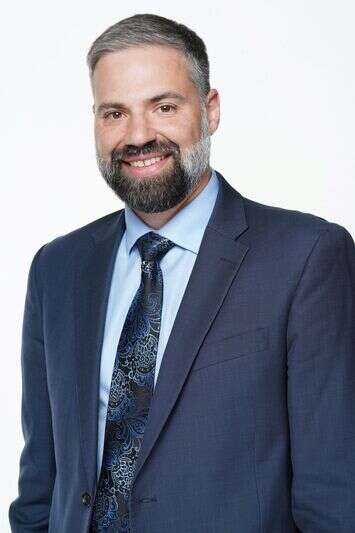 Believing that the best innovation comes from collaboration across all levels of an organization, Jeff Mocha empowers his team to work together as a tight-knit community. Jeff is the Chief Technology and Innovation Officer at OEC, an organization dedicated to providing "insightful and reliable energy and infrastructure turnkey solutions to clients across Canada and beyond."
1. What does innovation mean to you?
That's a good question. At its core, I would say innovation is about perspective. It's very people-centric and comes to life in the mindset of individuals in a community, a culture or an organization. It's not necessarily only about the latest and greatest innovation nor does it have to be a highly disruptive idea. It's often as simple as a series of small improvements that add up together to make a big impact.
2. How does your team generate these new ideas, even if they're the smallest ideas?
We find that the best ideas are generated from the ground up. They start with people who are working hands-on with customers or delivering services. We prioritize those ideas based on business needs and then evolve them, ideally, into projects that are resourced and supported. We work hard to instill an innovation mindset in our people, in addition to a sense of empowerment so that they bring those ideas forward.
3. Do you have any specific rituals that you use to get your team to reset creativity?
Across the entire organization, we promote our brand behaviors of lead, innovate and commit to excellence. They're effective because they're simple, relatable and we ensure they're highly visible. We include them in communication documents, on meeting room walls, as well as on promotional material―helping to keep them top of mind. Our innovation team is also highly focused on reporting and sharing success stories from across the organization, and every quarter, works to identify areas where there are opportunities to continue evolving our culture of innovation.
4. What resources does your team use to spot trends and consumer insights?
In addition to leveraging technology, we rely on people at all levels of the organization to help us identify emerging trends. Specifically, we seek out those who are focused, passionate and knowledgeable, and work with them to identify opportunities. By collaborating together, we are able to talk through different scenarios based on ongoing changes in our industry. We then identify trends that will create opportunities in addition to challenges and disruptors that could impact our business and customers.
5. Do you also attend a lot of conferences in the hopes of spotting future trends?
Luckily, the industry we're in offers a variety of conferences that help us think about the future of energy and infrastructure. We can engage in a fulsome conversation about what future trends we're seeing in the industry and how we can leverage technology to take advantage of the opportunities at hand.
6. What is the biggest challenge that you faced while innovating or while spotting trends?
I would say our biggest challenge is making sure that our new ideas and innovative projects move the needle forward for the business in a sustainable way. When implementing innovation, there is a risk of getting caught up in a pilot phase without making or demonstrating significant changes to the status quo. We find that it's important and challenging to manage change while embedding innovative and sustainable practices for a lasting impact in new projects and procedures.
7. Would you say you're able to overcome this challenge?
For us, it's about making sure that new ideas, that is those that have come from the ground up, are communicated effectively so that we can gain buy-in from the people that really need to implement change. Change can be uncomfortable for some people, but if they can really understand the value then they're a lot further ahead in being able to embrace that change. As an example, when we make the connection to a more sustainable future, it's a win-win. Our team takes pride in affecting positive change in the communities we serve, and in the innovation space, there is a lot of opportunity to change the world for the better.
8. Has there been any instance where another industry has influenced yours?
We are fortunate to participate in several industries currently undergoing major transformation. As a quick example, the electrification of everything affects almost every aspect of our business. Beyond our work internally and the industries we serve, we also make time to see what's happening outside of our industry. A recent example that comes to mind is medical diagnostic imaging where scientists are working to identify tumors. This example of innovation in action got us thinking about the capabilities of using artificial intelligence on imagery. We've recently been working on applying similar approaches to pictures of our electrical infrastructure to identify issues that are emerging before they turn into a customer interruption.
9. How do you create a culture of innovation within your company?
An innovative culture is driven by a shared understanding of what innovation efforts are meaningful and a belief that everyone is capable of and empowered to be innovative. We talk a lot about innovation in a framework related to leveraging new technologies, seeing challenges as opportunities and striving for continuous improvement. In that framework, there's something for everyone regardless of their role in the organization. We also find that celebrating innovation helps to solidify the culture and promote an innovative mindset.
10. Do you and your team work remotely, or do you work in the office?
We have a number of unique businesses across the organization. Currently our working practices remain a hybrid mix based on the needs of customers and the capabilities of the businesses. For my team specifically, we continue to find opportunities to adapt as required.
11. How will your company continue to be a leader in innovation?
The industry we're in is rapidly changing. Decarbonization is driving the increased electrification of energy which is having major impacts to our electricity system, as well as the infrastructure we're designing and building. By utilizing new tools and technologies in the market, we're digitally transforming our business to stay competitive.
To remain a leader in innovation, we're focused on maintaining our culture of innovation, while promoting a continuous improvement mindset that's focused on delivering new methods, new services and new technologies as we remain focused on making the right investments to advance our business.
12. Can you share any other unique innovation stories and rituals at your company?
From a business perspective, we're in a very unique position. We've created an energy and infrastructure company that includes the distribution of electricity in our community, but also includes design, build and management capabilities on the infrastructure side. As a vertically integrated service provider, asset owner and electricity distributor, we understand what it means to own infrastructure and support both consumers and the public, while also understanding what it means to design and construct for other infrastructure owners. In bringing those perspectives together we have something that is both a competitive advantage and one of the tools that we use to drive innovation forward.