Nurturing Your Culture
An Interview with Lee Valley President and COO Jason Tasse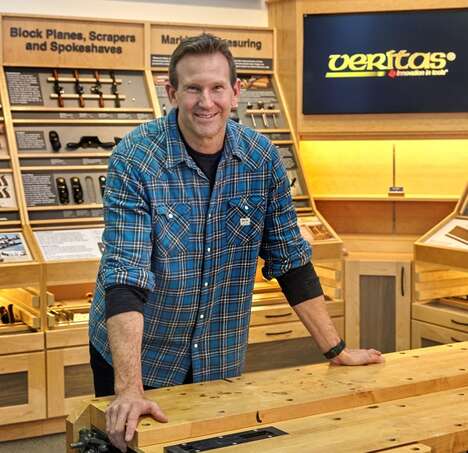 After joining Lee Valley Tools 26 years ago as a seasonal picker/packer, Jason Tasse proved that hard work, work ethic, and a good attitude are the winning pillars for long-term success. Jason is now the president and COO of Lee Valley Tools and recently discussed the Canadian company's ongoing evolution and plans for the future, sharing its adoption of digital retail tools and its investment in robotics in an effort to streamline operational innovation.
1. Tell me about yourself and how you first get involved with Lee Valley Tools.
Twenty six years ago, I was completing my undergrad at Carleton University. Nobody was hiring, and even the federal government was laying off. I was working at a lumberyard while I was paying for my university tuition and books, building roof trusses in an outdoor shed with winter around the corner. My primal instincts kicked in, and I decided I needed a job inside. One of the guys I knew had heard about this family-run catalog company called Lee Valley Tools right here in Ottawa. The best part about it was a heated building, so I applied and took on a seasonal job as a picker/packer, one of the most entry level positions in the company at the time.
The Lee family has an admiration and value for hard work, work ethic, and a good attitude, and they believe the old adage, if you hire for a strong attitude, you can train up the skill, and that was my career progression. I worked hard and made it past seasonal to full time, and it wasn't long before I was promoted to lead head because one of my personal values is to work harder than the person next to you. I started to build a rapport with Leonard Lee, and I developed an appreciation for his company's values. I was a young twenty-something, and I could never articulate the values then, but there was just something that seemed right from a principle perspective, the approach to the business, the success of this work ethic, and the success that would follow.
I was eventually promoted to supervisor, and they took a chance on me when I was finishing my final university credit. I had heard full-timers could receive a subsidy for schooling as long as their area of study had a mutual benefit to the organization. Not only was I given the opportunity for increased responsibility and recognition for hard work, but here was this company investing in me as well. I was floored by that, and my Lee Valley experience just kept getting better.
I continued to be a firm believer in the idea that if you're going to do something, do it well. I put a lot of extra time and effort into working hard but also built an external understanding of the subject matter that I was involved in. I progressed from supervisor to manager, from manager to director, director to VP, VP to chief operating officer, while earning my MBA and logistic certifications, and now president. All the while, the Lees' confidence in my ability and their recognition of my commitment was growing, and I developed an emotional connection to the culture.
2. What does innovation mean to you?
Innovation to me has multiple dimensions. Fundamentally, it's about looking around the corner, trying to anticipate what's coming with a pretty clear understanding of the environment you're in today, and bridging that gap. I would call that maintaining relevance. When you raised the question about innovation, I immediately thought of organizational innovation, product innovation. Lee Valley Tools is going through a fairly standard generational shift. We're going to be 45 years old next year, which is a wonderful accomplishment for a Canadian family business. We are a category specialist, and one of my largest responsibilities and one that is important to me is the generational handoff internally between leaders. With many of our leaders who built this great brand retiring, we need to bring in an energized leadership to help Lee Valley reach its growing potential.
Organizational innovation is really about caring for and nurturing your culture. The values of the organization are what define it, and I've often described it as the soul of the organization, with the scaling of the business, as the mechanics. Organizational innovation around leadership requires extreme care in selecting the right leaders, those who are aligned with the values of the brand, those that have a passion for what they do, and an excitement for market response.
Lee Valley has an emotional connection with woodworkers, gardeners and crafters–they helped build the company, but that generation is aging out and it's a reality that we face. So we're now changing tracks; appealing to a new generation of hobbyists while continuing to care for our original customers. We have to focus on the future, recognizing the reality we're in today while coming back to the values of the brand. Companies have to innovate to remain relevant. It is necessary to repackage the brand, aligned to a new customer, with different shopping habits, and different consumer behavior.
A great example of "repackaging" is how customers used to use clipboards and pencils to write down the products that were displayed as showroom models. We assessed our operation to evaluate, how best to leverage what you have for a new generation? As a result, we're one of the first in Canada to adopt an in-store mobile shop model. We took the existing store framework and adjusted it so anyone can come into the store and shop with their phone. And what's wonderful is that it's not even an app: it is our current New Website CloudForms, and you don't have to download anything. You can be in your car, on your couch, or in the store with your phone and fill your basket. Then you can either curbside pick-up or place the order in the store. So all that to say how innovation on the customer-facing side drives the growth and the evolution of the company.
Lee Valley Tools has its own design and manufacturing division, and this innovation capability is completely unique to our business. You won't find it on Amazon, and we completely control it. We're proud to be a Canadian manufacturer of fine woodworking tools, planes and chisels. We have patents, we do all our research and development, we manufacture right here in Ottawa, and we're proud to say we're a market leader in that area. Innovation for us is a strategy to protect and insulate the company.
3. How do you and your team generate new ideas? Are there any specific rituals you use to reset creativity?
I'll give you an unconventional answer to the first one, because it's not about a process or an incubator. It goes back to your employees' engagement with the company, and what I mean by that is everybody around you genuinely wanting to see the brand succeed. We all want Lee Valley to grow and reach its full potential. Ideas are coming from everywhere because everyone cares and they're leaning in. So you constantly have this rhythm of idea generation, and it's because people genuinely care. I would say that a fundamental building block of innovation is the discretionary level of engagement that you achieve from your people. If you can build pride and a connection that your employees have to the brand, they will treat it like it's their own company. They will protect it from irrelevance, and contribute to its growth and well-being. To sum up, this strategy is based on; culture focus, emotional brand connection, and discretionary engagement.
Another common theme that we're adopting as an organization is a very cyclical planning model that's this concept of continuous improvement recalibration. After every cycle of business or every release of a product, we take time to step back and analyze it to understand what we can learn going forward. And it's not to waste energy on what didn't go well, but instead focus on how to strengthen and move forward. When it comes to creativity, if you take blame out of your culture and really focus on continuous improvement and recalibration, then there's less fear of error and more of a push to learn as you go.
4. What resources do you use to gain trends and consumer insights in your industry?
We are certainly dialed in to trends, and they're important because I define a trend as a pattern of forward-moving sentiment. Some of them lead nowhere, and then some of them lead to significant market disruption. The challenge is to not get easily distracted as you learn and identify what's important to you, your organization and your values.
When it comes to how we identify trends, we tend to create an organic network of touch points. When it comes to retail, we have a series of retail aggregators that provide real time information daily. We discuss it in our weekly leadership team meeting to identify what's going on in the world that could impact Lee Valley Tools.
The voice of the customer is extremely important in assessing trends. We conduct in-depth customer research studies on the six stages of shopping. We examine all the friction points, and all the points of delight, so that we're actually pulling rich data rather than speculating.
5. Has there ever been a time when another industry impacted innovation at Lee Valley?
Disruption is predictable, and every disruption is usually at the heart of some level of innovation. I would say the single most significant innovation-driven disruption has been the adoption of the digital platform in the marketplace. In the past, you went to your store, and you got to know the people in the store and the assortment they had. Now, everything on the planet is accessible in just three clicks. Everybody has access to whatever information they need to make a purchase, to engage in a hobby, or to do whatever.
I would say our organization, as we're moving towards the next generation, is very focused on figuring out how to integrate a pure omni experience that has been driven by the emergence of this kind of digital powerhouse platform. I don't think there's a single person I know who's not engaged on this digital platform in some way since it connects us all, and it's had a tremendous impact on retail.
6. Looking to the future, how will Lee Valley Tools continue to be a leader in innovation? Can you share any exciting things the brand has in store coming up?
For Lee Valley Tools, it's about having a long-term strategy of sustainable growth and an open-minded approach to how we're going to conduct business to remain relevant. We are extremely protectionist of our brand and value proposition.
When it comes to operational innovation, Lee Valley Tools is investing heavily in robotics. Picking/packing and shipping are a big part of e-commerce, and one of the challenges in today's economy is that there are fewer people willing to do these jobs. There are other job opportunities with the gig economy and remote work, and there's tremendous wage pressure in those types of roles, so we are automating them and focusing on changing the way we approach what we refer to as low-satisfaction work–the stuff that our employees just don't enjoy doing as much.
When they pick/pack and ship, for example, it's all the walking between pick bins that can be classified as a low-satisfaction job, so we thought we'd let a robot do that, but we'll have our people continue to do the verification of the packaging, labeling, shipping and manufacturing. Our manufacturing operators enjoy operating and programming our milling machines. We can invest in a robot to do the less satisfactory loading and unloading of machines or the repetitive sanding of high-volume wood parts.
On the customer-facing side, much of our innovation is going to be focused on the customer user experience, whether it's online or in-store. Because people are shopping differently than ever before, we have to meet those expectations, and in some cases try to exceed them to stand out. We're delivering better personal content all the time, and we're providing a lot more creative content around inspiring people to work. We're saying to our customers "Here's a hobby you could do this weekend," or "Here's a craft to try out" and then just making a great assortment of our tools accessible in order to inspire others.