Manufacturing with Cutting-Edge Technology
An Interview with Haverhill Leach, Founder of Haverhill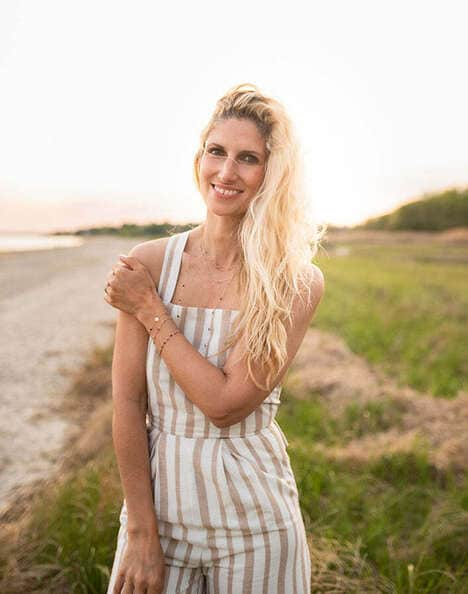 The creative force behind Haverhill, a brand of ethical and sustainable, made to order fine jewelry, Haverhill Leach and her team handcraft pieces in a coastal Rhode Island studio. Her customers have the ability to personalize designs online to create timeless and effortless pieces that tell their story with birthstones and letters. Because Haverhill's pieces are so meaningful to the person wearing them, Leach designs them to be versatile enough and comfortable enough to never take off and to stand the test of time. Her love for the craft of jewelry is in her lineage as she is the fifth generation in her family to create fine jewelry in New England.
1. Tell us about yourself. When did you first know you were interested in the jewelry industry?
Growing up walking the factory floor of my family's jewelry company, I got to see firsthand how jewelry is made and I was always fascinated. I have memories of seeing thousand of gold beads being polished to perfection and extra long tubes of gold waiting to be created into a twisted bracelet. At night, my father would come home from work bearing samples of hoop earrings, dome rings and bangles for my mother and I to try on and to give our opinions on before they would go to market. Giving my input on jewelry designs at a young age certainly had an impact on me being a designer today. My mother is an incredibly creative interior designer so with her keen eye, combined with my father's jewelry manufacturing abilities, I think you could say I was heavily influenced by my family, but never pressured to become a jewelry designer. After years of designing several different mediums in New York and LA, like handbags, shoes and swimwear, I landed back home to the jewelry capitol of America to create my own line of jewelry. I couldn't be happier.
2. How do you / your team generate new ideas?
My creative process for design is not always consistent but I always design items that I want to wear and that fit my lifestyle. It has been a long process of discovery for me to create my own brand and to give myself permission to design items that I would wear. At Kate Spade, I would design a handbag and then Kate would completely make it her own. She would add a green handle and a stripe lining and it would be to her liking and fit her aesthetic and lifestyle. It was wonderful to watch her design for herself, because that is what her customer wanted. When there is something that I personally want, I promote it much more, I wear it much more and it works for my lifestyle. I am a busy mother who goes to the office but who also likes to walk every day to the beach and collect shells before cooking dinner for my family and lounging on the sofa to watch a show, all without taking off any jewelry. My lifestyle is somewhat relatable to many women so if a jewelry piece is successful for me, it will be successful on the market. When I design an item, I ask myself if I would wear it every day- I make everyday jewelry.
3. Do you have any specific rituals for resetting creativity?
Sometimes after the holidays or mother's day season, I can get a little over tired so taking the time reset during those seasons with a morning walk to our local beach, even in the snow, can be very calming for me and keeps me going. My husband, Andrej is my business partner so we are on the same crazy schedule, which allows us to travel whenever we can, in between the business rushes. I feel totally rejuvenated after a trip to the tropics in the winter and summers in Vermont with my extended family. Nothing sparks creativity for me more than travel.
4. What is the biggest challenge you face when innovating within your field?
As we are in the gifting as well as self purchase business, we understand the need for speed of creation and delivery of our product as well as the need for new designs to satisfy our customers. We did not start our business with our own manufacturing, we were relying on traditional manufacturers to produce our items for us. This worked with certain items for a little while but as we wanted to develop new, more intricate styles, we found that the development of an items was taking 3-6 months from concept to market. We invested in 3D printers, in house stone setters and much more, and the result is that we now have cut the development time to 3-6 weeks from concept to market and we create and ship an item in only 1-3 business days.
5. What makes an innovative work culture? How do you create a culture of innovation?
Being a company that creates something beautiful, I think we are all very visually inspired so last October, we moved into a beautiful old mill building that is about 10 feet from the water, with views of a small harbor through large windows that we had cut out for all day ocean views. I also believe that a good way to create an innovative work culture is to invite collaboration from the team. Not every idea will be used but I think many more ideas come out and people understand that they can be involved in the creation of something- even if their involvement is just to question the idea. We actually shift people into different jobs that they started with because of this. Someone may have applied for a certain job but after a few months show great interest and ideas that involve a different department. We really believe that if someone shows interest and passion toward something, the result will be far greater for everyone.
6. Looking to the future, how will your brand continue to be a leader in innovation?
Our brand will continue to be a leader in innovation because our team is incredibly dynamic and very good at pivoting and excelling. We all have so many ideas and we just love to figure out how to bring them to fruition. For example, we are constantly questioning what we can do to make our website more user friendly and seamless. We have a team of in house graphic and UX designers as well as programmers and we are currently building our own personalization system from scratch. We are a small business made up of people who all want to be part of a fast growing, ambitious team. I believe it's this mindset that will keep us charging into the future with positive innovation. Unlike many fine jewelry companies that are a bit stuck in the past, we invest in the newest technologies to create a beautiful and quality product that is made efficiently.