Fostering Team-Wide Creativity
An Interview with Gathre Founders Jessica Eraso & Marilee Killpack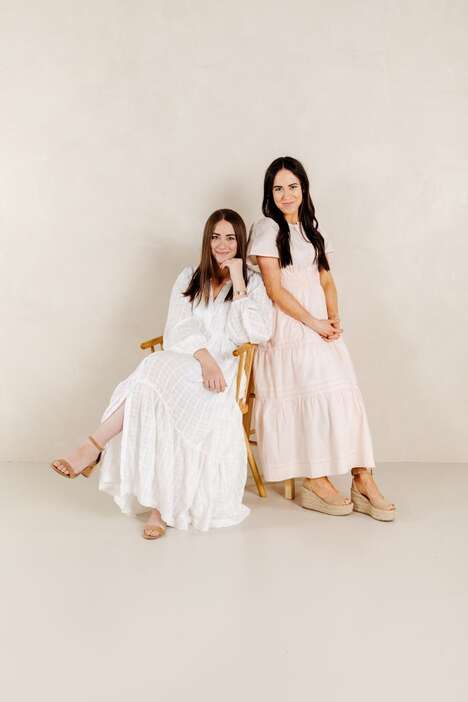 As busy moms, Gathre Founders Jessica Eraso and Marilee Killpack create functional and family-friendly products that are also a translation of their unique personal style.
(Marilee) I'm a Utah native and spent my younger years dancing at the Juilliard school in NYC, and graduating from BYU. My business partner JessicaJessica Eraso and Marilee Killpacknd I co-founded Gathre as two young moms who wanted an easier, more beautiful way to connect with our families. It's been 7 years since then, but a few highlights along the journey include: launching on Kickstarter by raising $78,000, being nominated as a finalist in Ernst and Young Entrepreneur of the Year, getting named the 6th fastest growing company in Utah last year, and growing the best team and community out there. Grateful for the ride!
Jessica is a native to the Empire State. She was a collegiate athlete running track at and graduating from BYU. She went on to receive a master's degree in public administration and worked at Google Fiber as the manager over community events when they opened in Utah.
1. Tell us about yourself. When did you first know you were interested in the lifestyle/baby product industry?
From a young age I spent the summers in NYC dancing where I grew to appreciate all forms of great design – clothing, homes, furniture, etc. My mother is a graphic designer so I always loved learning about colors and type from her. I majored in the nearest thing our university had to a fashion degree and studied all about textiles, sewing, and pattern making. As a young girl I sold ramen noodles at my dance studio and always had a dream to start a business. However, it wasn't until I became a mother that I found the inspiration (Jess + I agree that the 8 kids we have between our two families are always our inspiration) for this idea that became Gathre.
2. How do you / your team generate new ideas?
The biggest way we generate new ideas is to look for products we want to buy as women and as mothers, but that aren't made how we'd want. They are either too obnoxiously colored, too kitschy, yell kid too loudly, or not elevated enough. Usually when we're looking for a product that isn't pretty enough and we can't find anything out there we know it's time to make it! Our leather is what sets us apart, so sometimes it's just thinking through what would be really beautiful in leather. Lots of brainstorming and time on Pinterest!
3. Do you have any specific rituals for resetting creativity?
Great question. Yes, the easiest is to get outside. But so is spending a weekend trying a new form of art, whether that's pottery class, painting, or reading a novel to open new doors. As a partnership we love spending time taking trips with our two families to national parks and that time with family always enlivens our options. At the least, it's always effective for us to take a breather and see if it makes a difference to come back refreshed.
4. How do you identify trends? What resources does you use to spot trends and consumer insights within your industry?
We try to stay clear of trends because we do want our designs to be timeless. But there are different designers, brands, and companies that are always an inspiration to us. Keeping tabs via books, magazines, Pinterest, or social media on what the greats in the industry are doing helps us stay clued into what is current.
5. What is the biggest challenge you face when innovating within your field?
Easily, it's the capacity to create it. As we're sure is common, we have so many ideas we'd love to manufacture, but whether it's finding the right manufacturer, hitting the target price point, funding for new molds, or overcoming a design hurdle, there are many roadblocks to making dreams reality. That's the easiest question to answer. The harder one is how to overcome them and keep creating regardless of the obstacles you face.
6. Has there ever been an instance where another industry has influenced your work?
All the time. We are most inspired by interior design because we want our pieces to blend effortlessly into a woman's home. Fashion is a constant cue as well for colors and print inspiration. Architecture, art, museums, and even hospitality also serve as an impetus for brainstorming new products.
7. What makes an innovative work culture? How do you create a culture of innovation?
We believe that innovation can come from anyone so we have slack idea channels that our entire team can contribute to. Many of our designs start with an employee who isn't on our product team. We regularly survey our customers and post on social media for requests. As far as a culture of innovation, we try really hard to let employees try out, and vocalize new ideas without fear, giving things a chance to sink or swim. Lastly, we think a good work life balance enables our employees to bring their best selves to work, so we offer a hybrid work environment, have given out travel only bonuses for our team at year end, bring in an outside group that trains our team quarterly on diversity and inclusion, and always support our team's mental health.
8. Looking to the future, how will your brand continue to be a leader in innovation?
We are very passionate about making products that are beautiful and easy. It's our north star when it comes to which products we create. We've found that our inner compass as mothers and women is the best indicator of which products other mothers and women want, and we've found that deeply resonates with our community and customer base. We will continue to lean into that. We will lead out in creating designs for the modern striving woman who loves good design but won't sacrifice functionality to get it. So far, she hasn't let us down!