Helping Small Businesses Innovate
An Interview with Faye Pang, Country Manager Canada, Xero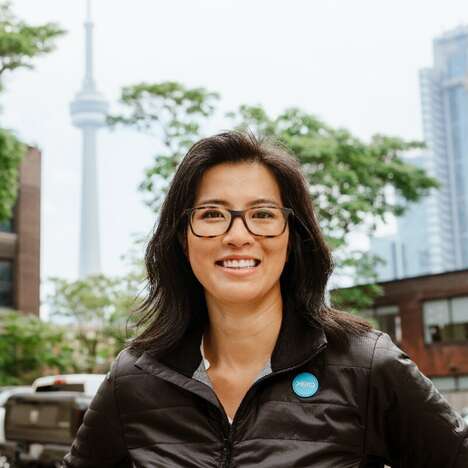 Passionate about creating diverse and inclusive working environments, Faye Pang is an experienced leader and the Canadian Country Manager for Xero. In addition to helping small businesses succeed amid the pandemic, Faye shares that Xero is continuing to innovate by creating beautiful experiences for its consumers.
1. What does innovation mean to you?
Innovation, to me, is the foundation for growth. I don't think you can have one without the other. And so innovation to me is existential; it's required for any business, particularly in today's operating environment. You've got to continue to innovate beyond what you're doing today to drive growth in the future. So when I think about the term "innovation," it's about how you think about doing things better, faster, more efficiently, and more beautifully. One of the things we talk about at Xero is how do you create beautiful experiences and "hashtag" beautiful products. How do we drive more beauty into the experience for our customers? At the core of it, it's about innovating out of what you're doing today.
2. How does your team generate new ideas?
We firmly believe that new ideas can come from anywhere. We are very active on Slack and often new ideas get dropped in there. We have a few different ways of generating new ideas including more formal ways. One thing that we started about a year ago was a monthly go-to-market jam session. We put this into effect because we were trying to replicate in this hybrid world those sorts of cooler conversations or the Friday evening 5:00 PM drinks at the office. We asked questions like what if we did this? Or what if we did that?
We found that were really losing those touchpoints and those natural places where you just have some bigger-picture thinking. And now we bring the team together once a month through a very informal, largely virtual format to be as inclusive as possible. We throw up a topic like how could we do more here? How could we be faster on onboarding? How could we help our partners with marketing? And then it's a jam session. We use tools like Miro to help organize our thoughts. But that, to me, is blue sky sessions. Anyone can join and anyone can submit an idea. It's actually kind of shocking how many of those have led to sprints, working groups, or wholesale changes in how we do things. So just one example from our team showing how innovation can come from anywhere. We try to have some more formal touch points where we do that.
3. Do you have any specific rituals for resetting your team to be creative?
I think language is really important. We talk about rituals, and I think about language and little triggers that you could use. So some of the things we often do for our team as it relates to problem-solving is "what we mean to be true if," or let's talk about the art of "the possible" and how can we potentially solve this for our customers or how we might approach this. We use prompts like "if money were no object" and "if we can't go to jail" – that's kind of a funny one as a prompt. We try to use that type of mentality to break us out of the really linear, structured thinking. Especially if we have a bigger problem to be solved. So when I think we need to say the word rituals, I think of triggers and mindsets that we rely on for problem-solving.
4. How do you identify trends? What resources does your team use to spot trends and consumer insights?
I think it's a great opportunity to talk about XSBI which is something that I'm super excited about. We are launching it for the first time in the US and Canada. The key differentiator for me with XSBI relative to other small business data that you might have seen before is it does not use survey data. So it's not asking people what they think, it's actually looking at what people do and the numbers reflect that. Given Xero's position, we have unique insight and visibility into those numbers. Ultimately, XSBI is actual data relative to business performance – not survey data, that's one key differentiator.
The other key differentiator is the scale. We're talking about tens of thousands of Xero customers across the US and Canada. The scale of the data that we have is in my mind, quite unprecedented as well across North America. So combine those things and the timeliness of it, because Xero is a client record and is updated in real-time. We can react and surface that data a lot sooner than some of the other historical methods of understanding what's the pulse and health of the small business community in Canada.
5. What is the biggest challenge you face when innovating?

I think any company would face this challenge, but Xero has a unique position where we have nearly 4,700 Xeros around the world. Being an established company for 16 years, we have very successful businesses in markets like Australia, New Zealand, and the UK. Now we are talking about how you innovate within the geographical location. For example, in Canada or the U.S., we have to plug in the right spots into that global organization so they can continue to do what they need to do while we also innovate on a regional level. So just that balance of sort of global versus regional, keeping established markets on track and growing while enabling growing markets like Canada. It's not a unique or new problem for Xero. Many, many companies have faced it before. I think that's one thing we must navigate gracefully if we want to innovate well.

6. Has there ever been an instance where another industry has influenced an innovation at Xero?

The way I might answer this question is to reference our mission – to better the lives of small business owners, their advisors and their communities around the world. So many things touch a small business, right? So I'll give you some examples of the last couple of years. There was this need for government support, as there were rolling restrictions in lockdowns, payroll, and payroll support that was coming through from the government. Those were things fundamentally outside our core control and zone of influence but heavily impacted the small business customers, accountants, and bookkeepers we worked with. It forced us to innovate to meet those needs.
So how could we make sure that "cash became king" at the start of the pandemic? Everything was shutting down. We released at Xero, through our cashflow analysis tool that allowed small businesses to understand better where they were gonna be 30, 60, 90 days. That would be the best example of us needing to respond really quickly and say, how do we actually better support small businesses? Specifically within the context of what they're challenged with today.

8. Looking to the future, how will Xero continue to be a leader in innovation?

I think innovation is existential for us, but it's also in our DNA. We were the very first Cloud Accounting Platform built in the cloud 16 years ago. We continue to push industry first around the world. So innovation will always be at the core of what we do. We expected that of ourselves and our partners demanded that of us. So I think the way that we continue to foster that mindset within Xero is by really enabling and empowering our teams to do really great work. Having that north star vision of our purpose, which is to make the lives of small businesses and their advisors more beautiful and simpler. Then what are all the different ways that we can tackle that? While we definitely don't have all the answers today, it's exciting for me because it means we'll need to innovate to get there.