Innovating Through Flavor
An Interview with Emma Walker, Johnnie Walker Master Blender
Related Trend Reports
Art & Design
,
Branding
,
Drinking
,
Humor
,
Interactive
,
Lifestyle
,
Luxury
,
Marketing
,
New Ventures
,
Pop Culture
,
Special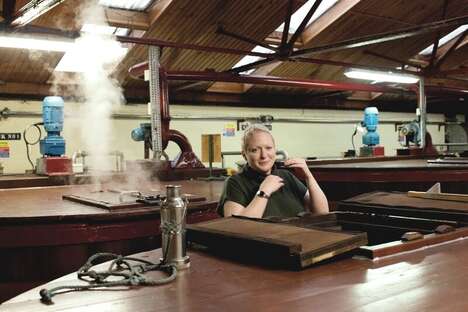 Joining Diageo 14 years ago, Emma Walker is a Johnnie Walker Master Blender. She recently took over the title this year from Dr Jim Beveridge, becoming the first female Master Blender in the 200-year Johnnie Walker story.
During her career, Emma has developed knowledge of different areas of Scotch production: fermentation, distillation, maturation, blending and quality analysis [she has worked in whisky production roles in distilling, quality and blending at Leven, and Cameronbridge and Knockando Distilleries], enabling her to develop a well-rounded understanding of flavour and its journey through the whisky making process.
In her new role, Emma leads a 12-person team of expert whisky makers creating new Johnnie Walker innovations and ensuring the quality of Diageo's Scotch portfolio.
Tell us about yourself. When did you first know you were interested in the world of premium spirits?
Early on at school I realised that I was good at chemistry and enjoyed studying it. Thankfully, this made deciding what I wanted to do at university an easy choice. In my first year, someone handed me a Talisker and that began my love for whisky and my passion for flavour.
After doing a PhD, I worked as a process chemist in pharmaceuticals. But, holding a passion for flavours and the science behind them, I knew I wanted to do something that could involve flavour with my background in chemistry.
In 2008, I applied for a job at Diageo's Technical Centre in Menstrie, Scotland, and I haven't looked back since!
I love my role as it gives me the opportunity to marry my background in science with my passion for flavour and whisky.
How do you / your team generate new ideas?
We have an amazing team of 12 whisky blenders, and we love to work as a team and to draw out each other's individual talents. Everyone brings something different to the table, with everyone bringing their own unique personalities and differing interests to the blending table. It's this diversity and freedom to express ourselves, that has contributed to the team's success.
Do you have any specific rituals for resetting creativity?
For me, the way the whisky team works helps with the resetting process after a project. Every day in the lab, we assess whisky, looking at rows of glasses, understanding the flavours and aromas in the glasses. Carrying out the hugely important 'day job' of managing the quality of our core whiskies alongside Innovation projects gives a strong daily basis and process, and keeps us engaged with the whole world of flavour we have within Scotch.
How do you identify trends? What resources do you use to spot trends and consumer insights within your industry?
The Scotch industry has always looked to innovate and find new ways of making this wonderful liquid even better and more enjoyable for drinkers. That is something that's important to the industry as a whole and for us innovation is part of what we do, what we have always done - it's in our DNA. Since the time of our founder, John Walker, we've never wanted to stand still. We've always explored new possibilities in whisky. We've always had one eye on the future.
One of the things that I find most inspiring and where really good ideas come from is being out there chatting to people about whisky. Whether that is distillery managers, in the cooperage, with my team or chatting with bartenders and consumers – it's energising to get away from the blending table and have those brilliant conversations with fascinating people all over the world.
What is the biggest challenge you face when innovating within your field?
The challenge we face is that Scotch has been enjoyed by so many people for such a long time that we always have to find new ways of exploring and experimenting with the flavours to find new ways of surprising people. It's a great challenge for all of the team that we enjoy.
As a team, we want to continue the legacy that has been built for more than 200 years here at Johnnie Walker. Our founder John Walker sought out the finest whiskies from the four corners of Scotland to craft something really special for his customers and today we continue this by drawing from the largest selection of maturing Scotch stocks in the world. This gives us a far-ranging breadth of whiskies to continue our exploration of flavour through blending.
Since the time of our founder, John Walker, we've never wanted to stand still. We've always explored new possibilities in whisky, with one eye on the future and now we are looking to craft whiskies for the next 200 years.
Congratulations on being named Johnnie Walker's first-ever female Master Blender! Can you speak about how the spirits industry has evolved in recent years and where you see it headed in the future?
Thank-you – it is a huge honour for me. My proudest moment has been getting the opportunity to lead this wonderful team built by my predecessor Jim (Beveridge). I love going into work every day to work with these guys. They are all so passionate about whisky and about continuing that Johnnie Walker legacy and securing it for the next 200 years.
I want to make sure we're continuing the Walker tradition of innovation and looking to the future, so making sure we continue to have a great inventory of maturing Scotch for our future whisky makers is essential. We make our whiskies to be enjoyed by everyone and that is at the heart of everything we do – no-one is excluded.
Whisky is in great shape – more and more people are interested in what we do. We are seeing more people enjoying whisky, both men and women, and we're building on a strong existing foundation. I believe the range of flavours available in Scotch and the diversity in whisky serves is helping to widen the whisky market.
Some of the changes that Johnnie Walker (and parent-company Diageo) have implemented in terms of diversity and inclusivity have been incredible. It is great to be part of an organisation that is so proactive in this regard.
Has there ever been an instance where another industry has influenced your work?
For me personally, it is music - I love live music and I really missed seeing new bands during lockdown – so it is great to be back out and going to gigs in Edinburgh and beyond. Discovering and hearing new music always fills me with a sense of life and possibility – it fires my imagination and that feeds directly into my work every day. Those new ideas and news possibilities allow me to think about whiskies and flavour from a fresh perspective.
What makes an innovative work culture? How do you create a culture of innovation?
I think an innovative work culture gives people the freedom to think for themselves, while being surrounded by a strong supportive team. Having the space to think innovatively is hugely important, as is having co-workers to discuss ideas and concepts with. In our innovative work culture, the team we work with is the wider whisky team, the inventory and planning team, distilling and maturation, the innovation teams in Scotland and around the world…we all work together within our innovation culture.
Looking to the future, how will Johnnie Walker continue to be a leader in innovation?
Innovating with flavour – pushing the boundaries of what is possible in whisky is hugely important for us. However, it's also important to say that innovation isn't just about flavour, it is about how people enjoy our whisky and how we make it.
Last year we opened Johnnie Walker Princes Street, an amazing space that completely reinvents the whisky experience – it's all the sights, sounds, smells and of course flavours that go into our whiskies shared in brand new ways. We believe whisky is meant to be experienced and felt. We're always trying to create amazing new ways of experiencing Scotch – and that is exactly what we have done with the opening of Johnnie Walker Princes Street.
The impact that we have on the planet through the process of making our whisky is also something we think about a lot and are striving to be as innovative as possible in order to achieve our goal of being the most sustainable whisky in the world. From introducing a lighter bottle, to biodiversity and most recently restoring the landscapes of Scotland, our home turf, we're taking bold steps today to make sure that the future world in which these whiskies will be enjoyed is brighter and more sustainable.