The Value of Collaborative Ideation
An Interview with Elizabeth McCall Master Distiller, Woodford Reserve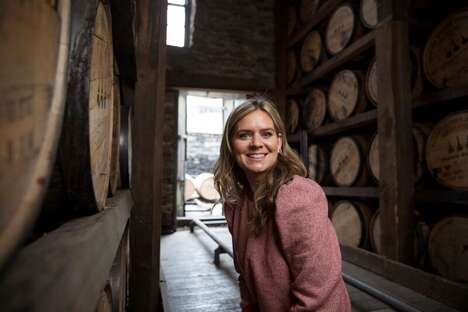 Woodford Reserve's recent Winter 2022 Master's Collection - Historic Barrel Entry release features "newly-distilled whiskey that went into the barrel at 100 proof - how bourbon was created in the 19th century." Fusing old world tradition with modern distilling practices, the brand, first founded in 1812, is continuing to innovate with the help of its newest Master Distiller Elizabeth McCall.
Elizabeth McCall, CSS (Certified Specialist of Spirits) is "the second generation of her family to work in the bourbon industry and one of the youngest female distillers in the United States. She followed in her mother's footsteps starting as a sensory expert and working in the quality department. McCall has a master's degree from the University of Louisville and has been a member of Brown-Forman's R&D Department since 2009. She works directly with Master Distiller Chris Morris and R&D on innovation and the development of new products within Woodford Reserve."
Believing in the power of collaborative ideation, Elizabeth trusts her team's input when it comes to making her creative vision a reality.
1. Tell us your name and about your role at Woodford Reserve?
My name is Elizabeth McCall and my new role at Woodford Reserve is Master Distiller. In this role, I wear many hats, covering areas like innovation, quality control, training, brand ambassadorship, and more.
2. How do you and your team generate new ideas? Do you have any specific rituals for resetting creativity?
My inspiration for innovation comes from history, my personal flavor interest, and sustainable agriculture. I work with an innovation team and I'll present an idea for a new whiskey and we will discuss how we can bring it to life and if it makes sense. I like to gauge the interest of the entire team, and it's not a good sign if I'm the only one who thinks it sounds tasty.
3. How do you identify trends? What role do trends play in your creative process and in the technical distilling process?
We have a product insights team that track trends in the whiskey space. What is interesting about what is trending currently in whiskey and what we can produce is that they are very disconnected. The quickest turn around time is a minimum of 5 years from distillation to bottle. So we look to trends as a way to help us understand where things might be going, and it can be hard to predict the future. That is why I pay attention to what is trending, use that as inspiration and then create something that will fit with Woodford for many years to come.
4. What is the biggest challenge you face when innovating?
One of the biggest challenges that I face when innovating is the size of our distillery or processing tanks. Our distillery is small but it's growing. I am always trying to consider the feasibility of producing a unique distillate within our production facility and what demands it will put on our team. I make sure to discuss future grain recipes with them and work through the logistics of production before we are 100% set on a recipe. The same thing goes for our processing tank sizes. We either need to use enough barrels to make a large batch--roughly 60 - 120 barrels--or a much smaller batch of 30 barrels. Understanding this capability helps shape any blends we may do for either our Distillery Series or our Master's Collections.
5. Does Woodford Reserve look to other industries for inspiration?
I haven't looked outside of the beverage alcohol industry for inspiration when it comes to our liquid. Personally, I find a lot of inspiration in the beverage alcohol industry. However, I have looked to food, particularly sweets, for flavor inspiration when creating grain recipes.
6. What makes an innovative work culture? How do you create a culture of innovation?
An openness to change and stepping outside of the box helps to create an innovative work culture. Sometimes I catch myself saying "no" to something just because it goes against what we have always done. I have to consciously force myself to say "yes and" to let the creativity flow.
7. Congratulations on being named Woodford Reserve's newest Master Distiller! Can you speak about how the spirits industry has evolved in recent years and where you see it headed in the future?
Since I started in the spirits industry in 2009, I have noticed a major shift in the inclusivity of it. I feel that within just the past 5 years or so there has been a major intentional change in attitude. It feels so much more welcoming to people of all races, genders, the LGBTQ+ community, and It feels so good to see this change. With this, I have also noticed that the doors have really opened up to fun and interesting innovations. People like it when you go outside of the box and use non-traditional grain recipes, barrel finishes, manipulation of maturation environment. It's this vibe that the more out there the idea, the more praise it will get. It makes innovation a lot of fun and I think that this trend will continue into the future. I also think that we will see a return to the more traditional whiskey styles.
8. Looking to the future, how will Woodford Reserve continue to be a leader in innovation? Can you share any exciting news/projects Woodford Reserve has coming up in the near future?
Woodford will continue to be a leader in the innovation space by staying true to the brand's values and not just jumping on the bandwagon of the latest new thing. We will watch what's going on, but make sure that what we decide to do fits our brand's story and what our customers have grown to expect from Woodford. For the near future, I have a fun indulgent grain recipe in the works and we just need to find a good time to produce it at the distillery. This will be a Master's Collection 7 to 10 years from now. I've learned to have a lot of patience in this role.