Revolutionizing Sun Protection
An Interview with Chad Sweeting, Director of Operations, Co-Founder and Inventor of SPOTMYU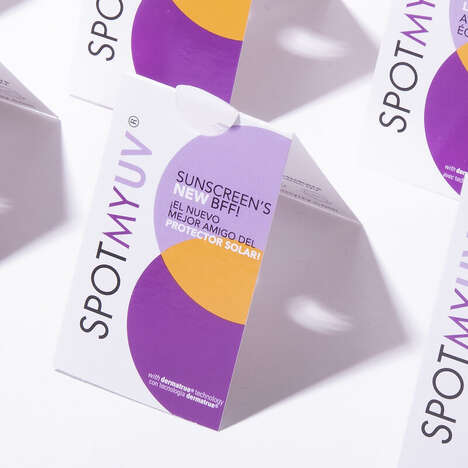 Growing up in Northern Ontario, in the small town of Penetang, playing hockey like most other Canadian kids, Chad Sweeting harbored a curiosity towards the sciences. Eventually, he attended and graduated from the University of Waterloo as a Nanotech Engineer. Chad is the Director of Operations, Co-Founder and Inventor of SPOTMYUV and was inspired by innovation and start-up life through the Waterloo incubator program - Velocity, where him and his fellow co-founders and developed the concept for a UV detection system in their final year as a capstone project. Thus the journey began to create the genuine product SPOTMYUV and get it into people's hands.
1. What does innovation mean to you?
Innovation is all about thinking ahead, or to put it differently, identifying a future need and strategizing how to solve it and improve it. It can be as on an individual level or as large as on a societal level. With innovation, it's important not to have limits on your thinking. For the founding team at SPOTMYUV, we identified the need for people to know the risk of UV exposure with insufficient sunscreen application and the link between UV and skin cancer. Helping to reduce this risk was a real-world problem we could help solve through nanotechnology engineering science. From personal experience, and in this case, we were getting sunburned even when we used sunscreen. So we asked ourselves, "How do we know when to reapply or if we have enough on?"
2. How does your team generate new ideas? Do you have any specific rituals for resetting your team to be creative?
At SPOTMYUV, we like to approach future innovation as a team. Daily collaboration is how we generate new ideas from internal and external team members and added customer experience and feedback. Each member adds a unique perspective from their background, education and experience. When faced with a block internally, we go for a change of scenery or take a day, do more research, return to it, and process with fresh eyes. Ideas are not something to be forced but rather to be nurtured.
3. How do you identify trends? What resources does SPOTMYUV use to spot trends and consumer insights?
Understanding the customer journey and their needs is the most critical aspect of identifying trends. By honing and understanding our personas, we can identify people most likely to adopt innovative sun safety behavior by using SPOTMYUV to help lower the risks of UV exposure. To best meet and get ahead of the emerging trends our customers identify with, we follow and brainstorm to predict future trends in suncare, skincare and skin cancer prevention, i.e. Tiktok, Meta, media, influencers, medical professionals and experts in the field .etc. In addition, we compile purchase behavior data, analyze customer reviews, Research data and insights on our consumers' skincare preferences, sunscreen habits and shopping rituals. We want to understand the needs of our consumers and the emerging trends that resonate with them most.
4. How does SPOTMYUV® revolutionize the way individuals approach sun protection?
SPOTMYUV's 3-layer patented technology takes the guesswork out of sunscreen protection and lets you know how effective you are at applying and when to reapply in real-time. SPOTMYUV's UV sensing ink changes colour from purple, indicating UV exposure, to transparent, indicating no UV and your sunscreen protects you. The Dermatrue skin-mimicking top layer is the unique SPF interactive technology that allows the sensor to absorb and release sunscreen at the same rate as your skin.
Thus SPOTMYUV gives you a genuinely personalized indicator of when to reapply your sunscreen. For example, two friends, Pete and Sandy, apply sunscreen as they get to the beach. However, Pete gets into the ocean while Sandy reads under an umbrella. Based on Pete's activities, his SPOTMYUV sticker will turn purple earlier than Sandy's, indicating that he needs to reapply sunscreen. We designed SPOTMYUV to work for everyone, including those with the most sensitive skin and melanin rich skin tones. SPOTMYUV is a straightforward concept, but a lot of technology and work goes into it
5. What inspired you and the creators of SPOTMYUV® to develop your innovative technology?
Various factors inspired the founders. I saw skin cancer diagnoses in a member of my family. It got me asking why skin cancer resulting from sunburns remains an issue. We have sunscreen. Why does it not fully protect us? We looked into this and found the answer was simple; people don't have a way to know how well their sunscreen is protecting them from cancer-causing UV. We found the problem we wanted to solve, and we went for it.
6. How does SPOTMYUV® leverage technology to enhance its effectiveness in detecting harmful UV exposure and guiding sunscreen reapplication?
SPOTMYUV has three main components of technology. The first is a skin-safe and tested medical adhesive, the same adhesive you would find in your bandaids. The second is our colour-changing layer. This layer is sensitive to UV light from the sun, so when it is in sunlight, it will be purple if it can detect UV light. However, when UV light is blocked, such as sunscreen, the sticker will turn clear, indicating you are protected. The third technology is our Dermatrue® layer. This skin-mimicking layer is our key patented technology that allows the sunscreen to be absorbed and released from the SPOT at the same rate as the rest of your skin; this allows for a very personal indication of their UV protection.
7. How does the SPOT actually work?
SPOTMYUV changes colour to indicate when you are exposed to harmful UV. The first step is applying the SPOT to a clean, clear skin that is exposed to the direct sun. Once SPOT is on your skin; you apply sunscreen directly over the SPOT. Next, generously sunscreen over all your skin and the rest of the body that is exposed to the sun as you normally would. The SPOTs are sunlight activated, so once you have applied all your sunscreen, ensure the SPOT is in direct sunlight for around 30 seconds to start the activation. Activation time is dependent on the sun's UV strength i.e. full sun or cloudy day and how effective your sunscreen application is. If the SPOT is still purple, then you need more sunscreen, or higher spf. If the SPOT is clear, then you are protected. YOU ARE NO LONGER PROTECTED whenever SPOT turns a shade purple after UV exposure, so you should take action.
8. What is the biggest challenge you face when innovating?
In my opinion, the biggest challenge for innovation is the desire to perfect the solution before launching something new. What I mean by this is that picture-perfect can interfere with the innovative process and slow the implementation of potentially good ideas when trying to better the product and create new products based on science.
SPOTMYUV and UV Detection products are an emerging category in the sun-safe space, and competitors are trying to innovate and capitalize based on this and our success. However, what is missing from ALL of those competitive experiments is the innovation part of the SPOT's technology...not just the colour change but it's the Patented Dermatrue® that interacts with sunscreens for personalized protection and sun risk management. So the other challenge is education and letting customers know that SPOTMYUV s patented and clinically proven to work with sunscreen in a meaningful way.
9. Can you share any exciting future projects the company is working on?
We can't say too much but are excited about this emerging sun safety category and all the things we can do to use our patented technology to help people assess their UV and skin cancer risks. I will say our team is always looking at better ways and new technologies to continue to help everyone enjoy the sun safely.