Innovating Through Sport
An Interview with Catherine Parenteau, Pickleball Champion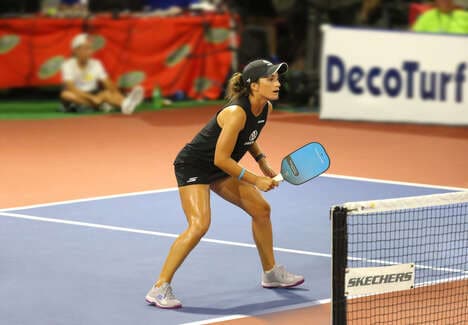 In addition to her work as a Skechers Brand Ambassador, Catherine Parenteau is one of today's most well-known players in women's professional pickleball. Previously ranked top 5 for tennis in Canada, Parenteau now travels around the United States to compete in the world's biggest pickleball tournaments on the PPA Tour. She is currently ranked number two in women's singles and mixed doubles, as well as number five in women's doubles. Recent titles include a Triple Crown at the 2022 Invisalign NC Open, 2021 and 2022 US Open Champion, 2021 The Masters Champion, and 2022 Atlanta Open Champion. Catherine holds 13 PPA Titles and is a 46-time PPA Medalist.
1. Tell us about yourself. When did you first know you were interested in the world of professional Pickleball?
I played Division 1 tennis at Michigan State University from 2012-2015. During my 5th year at MSU I was still on my athletic scholarship but had run out of eligibility to compete. I had been competing my whole life and it was crazy to me to think my competing days were over. This is when I was introduced to pickleball in Michigan by my college coach at the time. I started competing in local amateur tournaments in Michigan and I excelled pretty fast. My first big tournament was the US Open in 2016. I competed in the 5.0 skill level event, and I won gold. Needless to say, after that tournament I was hooked!
2. What does innovation mean to you?
I believe innovation is crucial to the success of almost anything. Personally, as a professional athlete, I am constantly having to learn new skills and incorporate new strategies after every tournament to make sure I remain at the highest level of competition.
2. Do you have any specific rituals for resetting creativity or staying motivated under pressure?
One strategy I use is to stay in the present moment and remember how blessed I am to be in the position that I am in. One of my favorite books called, "The Power of Now" talks about how we are consumed with thinking about regrets of our past and have fears of the future. But the reality is we can't change the past or predict the future. All we have is right now! I could have never predicted pickleball would grow at the rate that it is. I am so grateful to be competing at the level that I am during the sport's time of growth.
3. What is the biggest challenge you face as a professional athlete?
The biggest challenge I face as a professional athlete is managing travel for pickleball and time off/family time. My partner and I run a teaching academy where we run pickleball camps and clinics all over the country year-round. This year we will run a total of 25 teaching events, and I will compete in 21 tournaments. Sometimes the schedule can be a bit overwhelming, so I have been working hard to be able to find a balance that allows me to recharge and stay fresh for competition.
4. Tell us about your recent partnership with Skechers?
I joined the Skechers family earlier this year and have been playing in the Skechers Viper Court Pro pickleball footwear on the court. Offering all the comfort technologies that the pros need to play their best, Skechers pickleball shoes have truly allowed me to focus on my game. They are a joy to work with and some of the kindest people I have ever met! I couldn't be happier with this partnership and look forward to what's to come!
5. Can you tell us more about any exciting innovations Skechers has in store in the near future?
I've been working closely with the Skechers Product Team on designing a new high-performance pickleball shoe that will be launching in 2023! It's been great to have a say in the style, design elements, and colorways, as well. This is the lightest pickleball shoe I have ever played in and it really makes me feel like I have an advantage over my opponents on the court. Knowing Skechers, this is just the beginning, and I can't wait to see what we are able to come up with to help create amazing pickleball footwear!