Starting With the Consumer
An Interview with Bob Arnold, CEO of Q Mixers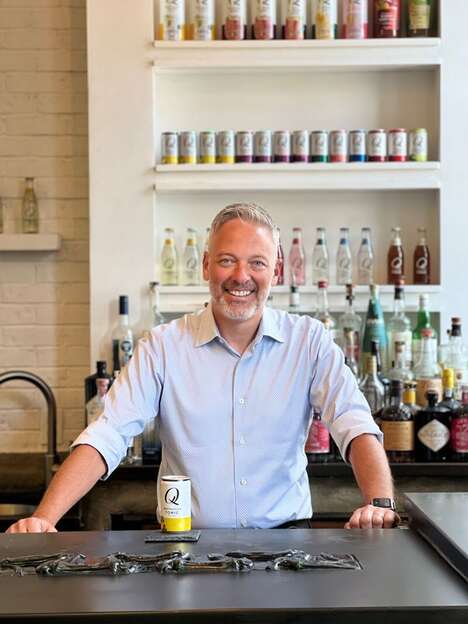 After holding leadership roles at four industry-leading, multi-national food and beverage companies Bob Arnold became the CEO of Q Mixers in June of this year. Since joining Q Mixers, Bob has been responsible for the end-to-end navigation of Q Mixers' journey to becoming the #1 mixer in the US.
1. What does innovation mean to you?
Innovation is a broad term that takes on several meanings to me. Generally speaking, innovation means that we are creating a product, service, or capability that is unique to Q Mixers and therefore serves as an incremental benefit to our overall strategy.
2. How does your team generate new ideas?
It depends on the situation, but typically it begins with a clear commitment to excite our consumers, elevate our external partnerships, or improve our executional excellence. Data trend forecasting or identifying consistent unaddressed themes from outside voices help to inform our process. We look to where there is a clear opportunity to address our consumers while still ensuring we're operating efficiently.
3. Do you have any specific rituals for resetting your team to be creative?
I don't think it's a unique cocktail that I'm sharing here, but there needs to be a commitment to hygiene that forces the team to do three things:
1. Have a clear understanding of what we are trying to do and who we serve.
2. Think provocatively, execute pragmatically.
3. Ask ourselves what great looks like, what it's worth to us, and can we afford it?
In order to do this, we need to create forums that invite these types of discussions and behaviors, while supporting ideas with the right information.
4. How do you identify trends? What resources does your team use to spot trends and consumer
insights?
We are a small company, but thanks to our incredible partnerships we have access to tremendous data sources beyond syndicated data allowing us to analyze trends and growth across channels to see how consumers purchasing habits are evolving. Additionally, we have third party data to understand if we're enabling our distribution partners to sell with both confidence and ease. We begin here and augment with additional information as necessary.
5. What is the biggest challenge you face when innovating?
Definitely resource allocation. Anything we add to the current plate must either replace something existing or become an incremental enhancement. The latter requires additional bandwidth to execute since resources are finite and trade-offs must be made. We must also determine if and how we can dedicate the necessary focus required to make new additions.
6. Has there ever been an instance where another industry has influenced an innovation at your
company?
The spirits industry is a "first cousin" to us and is in the bedrock of how Q Mixers began. The gin category has evolved over the years from gins that were extremely juniper based, which required a little more sugar in a Tonic to complement the flavor profile. Newer age gins are produced with a greater focus on botanicals and ingredients like cucumber that are drowned out with sugary tonic. This was a critical need we wanted to address and was how our founder, Jordan Silbert, began Q. More recently, tequila demand has accelerated, and consumers are becoming more
epicurean in the need for a proper and natural grapefruit soda designed specifically to compliment the spirit. Purposeful design is always a non-negotiable for the brand.
7. What makes an innovative culture? How do you create a culture of innovation?
It starts with two foundations, shelf-back thinking and time. We first must understand how things would be cleanly executed if we were to move forward, which takes time to execute. If you can't get to an execution plan that fits your culture and structure, you're simply throwing stuff against the wall and hoping it sticks. Small companies tend to boast that they are more agile and fast than larger companies, giving them an advantage on the innovation front. I believe the agility comes from eliminating layers of bureaucracy and politics, but remaining disciplined in what you spend time on is always critical, especially for a smaller company that can't absorb inefficiencies in the way larger companies can.
8. Looking to the future, how will Q Mixers continue to be an innovation leader within the
beverage industry?
Again, it really starts with the consumer. They inform us where we should be going, if they have enough information to purchase, and do we have a proposition that is worthy of their trial. We can never take for granted that we have enough investment or resources allocated to advocate, educate, and ultimately get our liquids to their lips. Consistency with these disciplines help consumers and customers better understand what they can expect from us, which creates that "what's next from Q" type of excitement we are striving for.
9. Can you share any exciting projects the brand has in the works?
I wish I could and soon I'll be able to share more! What I can say is that we are confident that there are segments within the mixer category that have been a bit ho-hum and taken for granted by our competition over the years. We plan to change that, and I look forward to telling you more when we kick that door open.