Building a Legacy of 'Fun'
Bisma Ansari VP of Marketing, MEGA Brands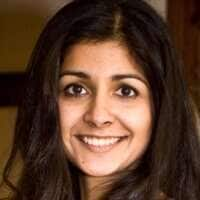 MEGA Brands is best known for its oversized MEGA BLOKS building blocks that are Canadian-made and designed for preschoolers. MEGA also creates fantastic junior sized bricks and micro sized bricks designed for older kids. In an age where technology continues to invade every facet of our lives, MEGA continues to be a champion of physical play -- something that parents hold in high regard.
Bisma Ansari is the VP of marketing at MEGA Brands and is responsible for creating fun. Crafting those stimulating creative moments can be a reward itself, however Bisma continually pushes the envelope by inspiring her team to search out new opportunities for play. For Bisma, that high regard continues to inspire her and her team to search out new ways to reach and understand their consumers -- all while allowing her team the creative freedom to explore their curiosities and build out innovative products, one brick at a time.
1. What makes an innovative culture? How do you create a culture of innovation?
I would say it starts with giving the teams time to find their creative source. We make toys, so that really helps but one of the great things about working with creative people is that they find those creative solutions across all lines of business in the company -- not just in marketing or product development. That whole culture of innovation and creativity is about encouraging people to take the time to think about it, but also giving the freedom and open platform to share those ideas.
2. Do you have specific rituals for re-setting yourself/your team to be creative?
At MEGA we go into every year or season looking at new ideas, then it really becomes about setting aside time to brainstorm, go offsite or even just having an area or room, literally and figuratively, to actually have open ended creation and play. That kick off at the top of the season is important because it's not a part of their everyday process. And, those off-sites and brainstorms allow for that creative reset.
3. How do you identify trends? What resources does your team use to spot trends and consumer insights?
One of the most important things is spending time with consumers. We have an amazing insights team we work with at Mattel. Working with them and observing consumers interact with toys is one of the most rewarding ways to spark new ideas. Sometimes you make assumptions on how a consumer will interact with a product. However, they often interact with it in surprising ways. Ones we didn't account for. We have great partnerships with the insights team that allow us to reach out and see what happening in other categories as well. It allows us to take best practices away and bring them into our space.
4. What is the biggest challenge you face when innovating and creating new play patterns?
I think one of the challenges is that there is so much tech innovation out there that when we're looking at classic play, it becomes about trying to find the innovation that is relevant in the marketplace today. But also keeping close to the core play patterns and values that are important to us, our brand and our consumers. The challenge comes down to finding that balance and pushing the limit.
For instance, with our recent launch of MEGA BLOKS construction toy line we worked in partnership with a leading parenting expert, Alyson Schafer, to create an early childhood education toolkit. We know that it can be challenging for parents to keep their busy toddlers engaged during playtime, so we created toolkit to provide parents with those hints and tips, in order to stay true to play time over screen time.
5. How do you think about inspiration or ideas from adjacent industries? Are there specific trends, patterns or insights you keep an eye in other categories?
Inspiration comes from everywhere. Of course, technology and electronics are really relevant right now. There is a ton of innovation in that space and we see kids gravitating towards it. That's often where we see new trends appear. Those new ways of interacting with content or technology can be exciting. That's not to say we're bringing a heavy tech focus into our products. But the way content or play is delivered to kids is something we definitely keep our eyes on.
For instance with MEGA BLOKS Block Scooping Wagon, is combines wagon play and construction, with an element of surprise. As toddlers roll the wagon over the blocks, the wagon picks them up and spins them around in a clear compartment as the wagon continues to roll – which helps make clean-up part of the fun.
6. Looking to the future, how is your company going to be a leader in innovation and play?
Up front, it's about making sure our teams are connected with what's relevant to the consumer, both parents and kids. I think that's what will allow us to continue to deliver innovation in our products. Working with our insights partners to keep an eye on upcoming trends and making sure we understand where they are headed and evolving. Physical and Digital play is a big topic right now and we need to deliver on that to stay on the edge.
One of the great things about MEGA and the team here is that we have one of our manufacturing plants right here in Montreal. So, the design team and the manufacturing team get to work hand in hand. As we engage in product development and ideation, we actually see that get executed right here in the manufacturing plant. It's really important to the overall process. It makes it exciting from a teamwork aspect and creates a new creative element that fuels not only the development of the product but also how it gets built.