Resetting Creativity Internally
An Interview with Becky Hosmer, Founder of Anna Beck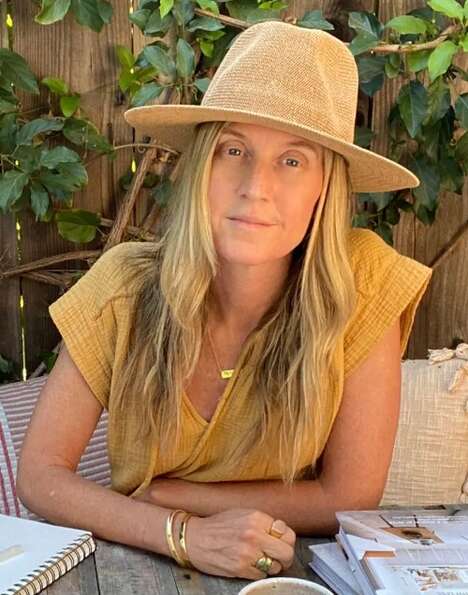 After a trip to Bali 18 years ago, founder Becky Hosmer started Anna Beck. She had always been an admirer of beautiful things, but never thought she could create them. Becky moved to Bali, and a few years after designing those first pieces, Anna Beck grew into a business where Becky quit her day job and followed her passion. As the brand expanded, Becky moved to Bali from Los Angeles and started to understand the magic and beauty behind the pieces. She became more passionate than ever about her approach to honoring the artisans and the value of handmade objects. Becky lived in Bali for five years, and the lessons she learned would become the foundation of who she is today and who we are as a brand. The Balinese culture taught her how important it is to not only share this beautiful art, but also the intentions and the energy behind it.
1. Tell us about yourself. When did you first know you were interested in the jewelry industry?
I started my interest in college while I was studying abroad in Kathmandu Nepal. I was fortunate enough to apprentice with a local silversmith, and I created my first piece of jewelry.
2. How do you / your team generate new ideas?
Most of the designs we come up with are inspired by where I've traveled or what visually speaks to me. I'm mostly inspired by nature, culture, or places I've been or am hoping to go. I can be inspired by a texture I saw somewhere or something that has soul or history - like a vintage piece. It's always a balance of Yin and Yang.
3. Do you have any specific rituals for resetting creativity?
I try to keep myself balanced on a daily basis. I'm wired to always be on the go, but especially in the past few years, I've gotten deeper into meditation and slowing down versus getting on a plane and always being in motion. I find that when I'm grounded and more connected with myself, it allows me to connect and see things outside that I wouldn't pay attention to. Being quieter and more observant has allowed me to be more present and more creative as well.
4. How do you identify trends? What resources do you use to spot trends and consumer insights within your industry?
Living in LA, it's easy to identify a number of emerging trends. I live close enough in proximity to neighborhoods that inspire me and there's lots of diversity and eclectic, artistic communities. I like to travel to different neighborhoods within LA to see a variety of people. It's especially needed when I think about designing jewelry for different types of women. I also visit museums and local designer and artist exhibits.
5. What is the biggest challenge you face when innovating within your field?
I try to always challenge myself and think outside of the box, but also stay true to myself. Therefore it's hard not to get sucked into the latest trends because it feels important, but also can feel very temporary. I design two collections - the Demi-fine collection, Rasa, can lean towards modern; whereas our traditional Anna Beck pieces with more traditional techniques are typically more classic. I try to cross over design a bit, but I've found that I'm still trying to figure out what our customer likes. However, sometimes I just design for what I like and want to wear, and also what our most loyal customers want. It's taking them on the journey with me, but also creating those safer pieces that I know will sell well.
6. Has there ever been an instance where another industry has influenced your work?
I would say for sure interiors. I'm obsessed with texture and color and my favorite thing is to travel and stay in different hotels, as well as visit inspiring restaurants and places with interesting interiors. I love places that are a bit modern but balance it with something more soulfully vintage. It's the way I like to design and make our pieces fresh and modern, but also keeping in mind something more traditional and shine the light on the handmade quality that tends to be more traditional.
7. What makes an innovative work culture? How do you create a culture of innovation?
I think it's important to make sure everyone is heard, everyone has a voice and everyone is seen. With Covid, it made us all a bit disconnected, so now we try to all be in the office at least once a week. Our team splits up days and we still work partially from home. However we always do consistent meetings that allow each department to be heard and share their thoughts. I think it's all about listening but also being heard. I try to also share what's going on in Bali where our jewelry is created. It's important to keep everyone in the loop and it all comes down to clear and kind communication.
10. Looking to the future, how will your brand continue to be a leader in innovation?
I'm very passionate about handmade craftsmanship and about highlighting our artisans. Handmade jewelry is very rare and special, so my goal is to spend more time in Bali highlighting the work of our smiths and eventually opening up our Bali workshop to our customers.