Making Clean Beauty Accessible
An Interview with Rachaelle Rempe, Founder of Auraïha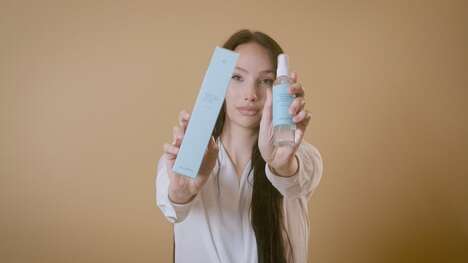 Recruited by Oregon State University on a soccer scholarship, Rachaelle Rempe left her Canadian hometown to chase her American dream. She then pursued her design aspirations in San Francisco at the Academy of Art University, earning a B.F.A in Menswear Fashion Design. In a personally momentous career break, Rachelle joined Ralph Lauren as a designer in New York City. Deciding to shift her career in favor of production, Rachaelle returned to Canada to work as a Production Manager, first at Canadian Tire Corporation's Marks subsidiary, and currently at Aritzia, both apparel companies. When the pandemic hit, Rachaelle founded
auraïha
, a small skincare company focused on accessible clean beauty.
1. Tell us about yourself. When did you first know you were interested in the world of beauty / skincare?
When the pandemic hit and sequestering at home became the norm, I had extra evening and weekend time to pursue her interests. While some might consider this period a blip in their careers, I combined my creativity and product knowledge to found Auraïha, a small skincare company. My wellness journey started as a consumer disheartened by a gap in the market for reasonably priced, natural skincare and makeup. Auraïha embodies the belief that everyone should have access to affordable clean beauty.
2. What does innovation mean to you?
The skincare industry is a very saturated and highly competitive marketplace. Innovation doesn't always mean something "brand new;" it can also mean building on an idea and making it your own or "better" for your niche customers. For example, my setting spray isn't the only spray on the market, but I've made this product stand out by using certain ingredients and making sure the formula is exactly what I envision, so it's not too sticky or heavy on the skin. It comes down to the exact percentage of ingredients used to ensure that the formula comes out how you envisioned it. There is room for everyone in this industry. It's all about the quality product that you are providing your clients.
3. How do you / your team generate new ideas?
I am always researching, trying products and seeing what I like and don't like in the marketplace. I also look at WGSN, fashion, and architecture trends as that's where I get my inspiration. Key new ingredients are always great to have in the formula but it's also about presentation of the product and brand image.
4. Do you have any specific rituals for resetting creativity?
I create moodboards. I find different inspiration everyday. If a color scheme isn't working I scrap it and start again. There are hundreds of product images that I will review and remake with my team to ensure the colors are right and match the direction the brand is going. I won't just post an image that doesn't resonate with the brand. I actually have archived a lot of images as the brand grows because it doesn't align with our current state.
I'm very particular about the website, blog posts, and writing direction. I'm so lucky to work with an amazing writer that really has captured the mood and brand in words. So when there is a need to "reset," that means I need to reevaluate the brand as a whole. From the website to the way the product is photographed. We are still small, but the copy and imagery is everything to ensure our customers understand our point of view.
5. How do you identify trends? What resources do you use to spot trends and consumer insights within your industry?
WGSN is my BEST FRIEND—I have been using this for almost a decade and it's the best way to keep on top of the latest and greatest trends. In regards to architecture and art, I go to galleries and museums for inspiration and insight on package design and brand imagery.
6. What is the biggest challenge you face when innovating within your field?
Honestly, it's the formula edits. It can get expensive to make a formula "just right." It also takes a lot of time and testing to ensure the formula is exactly what you envisioned and that it works for your ideal consumer.
7. Has there ever been an instance where another industry has influenced your work?
All the time. I actually look at many industries, not just the skincare industry. There are so many ways to pull information. I wouldn't just look at skincare for influence. Again galleries and museums are my form of influence.
8. Looking to the future, how will Auraiha continue to be a leader in innovation?
Our next product is going to really bring awareness to our brand. I can't wait to launch. I can't say much about it but it will bring a different edge to us. I've been working on it for over a year now.