Humanizing Work
An Interview with Anna Love, Co-Founder and CEO, Stoked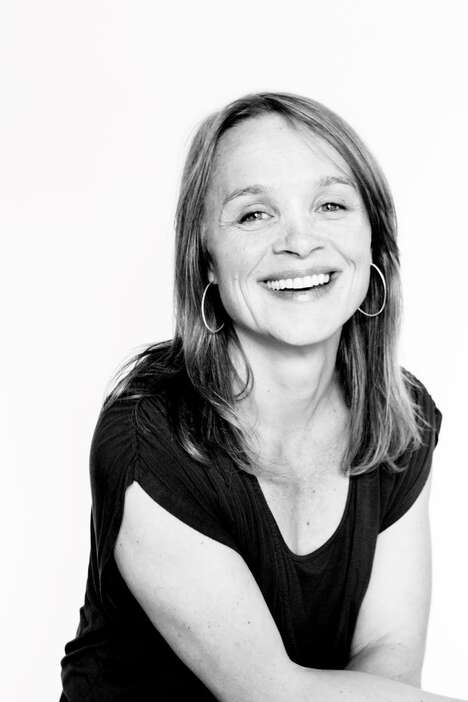 An entrepreneur, co-founder, and CEO at Stoked, Anna Love leads the global design consultancy that is renowned for pushing workplace culture boundaries. Stoked guides Fortune 1000 brands to be innovative and to create pride-worthy cultures.
1. Tell us your name and about your role at Stoked?
I'm Anna Love and I'm the Co-Founder and CEO of Stoked.
2. What does innovation mean to you?
Let me start by providing a little background into what we do at Stoked. We are a human-centered design firm that partners with ambitious leaders looking for transformation.
We design experiences that connect people to themselves, to each other, and to those they serve, allowing for innovation to emerge. And so, when I think of the word innovation, I see it as a verb versus a noun. It's about exploring the right problems and testing creative solutions.
In our line of work, successful innovations share a few themes. This first is ensuring you are solving the right problem. Humans are really good at problem solving but we often find ourselves solving the wrong problems. Good innovation starts by scoping and tackling the right challenge so that we have an impact in the direction that we intended.
The second theme is that innovation is human-centered. Most of us are trying to make the world a better place or we're trying to make things easier. We're solving challenges for a group of people facing difficulties. Humans are at the center of the work that we do, and good innovation keeps humans at the center through the entire process.
The third theme is that in innovation, we're doing something that's never been done before and that inherently involves ambiguity. The most successful innovations and innovation processes rely on maintaining that ambiguity longer than what feels comfortable. It's uncomfortable for the team doing the work because they feel pressure to have an answer. It's uncomfortable for the sponsor who's paying for the work as they are also eager to have an answer. As a result, it's an emotional endeavor that inherently has tension in it. Recognizing that and making it explicit allows for that tension to be diffused.
3. Stoked is a leader in helping businesses redesign the way they work. How do you help your clients embrace change, especially when faced with reluctance or tension?
It starts with being explicit about the intention and then backing it up with shared language and expectations. Learning to embrace change requires trust and trust is earned over time. There are different ways for an organization to build that trust. One of the most powerful tools that we've experienced is transparency, radical transparency. The more transparency an organization can offer around the way decisions are made, the way compensation is determined, the way money flows, the way people are incentivized, the better.
When an organization is reluctant to change, it is often because there are current systems and structures that reinforce the way things are. In order to create change, we have to identify those systems and change them too. It is unfair to ask people to change without tending to the environment they are functioning within.
Here is an example. In the early days of Stoked, we priced work based on outcome regardless of the amount of time it took. This allowed us to be creative in our design and we loved the flexibility. A few years back, we decided to start tracking hours. We thought it would help us stay focused on what mattered most in our projects. In making this change, we unintentionally squashed peoples' creative freedom and the work wasn't as much fun. While our initial intention was pure and intended to make our business smarter, the impact resulted in a less creative culture. Understanding the impact of this structural change allowed us to intervene and test shifts that allowed for creativity to thrive while being efficient.
The last one is creating an environment where it's mandatory for people to maintain a connection to themselves and to one another because innovation work is emotional. Connection to oneself might include daily walks, a gratitude practice, or journaling. Surprisingly, one of the ways we stay connected as a team is by NOT collaborating on Fridays. We call it Auxiliary Fridays, which means there's no email, there's no phone calls, no texts, no Slack. It's a deep work day. This day of deep work allows each person to enter work on Monday morning with a sense of inspiration and excitement.
4. What makes an innovative culture and how do you create a culture of innovation?
We love using rituals and rhythms. They're like a tether, holding a team together. For example, a company with a dispersed workforce might choose to set a rhythm by convening in person every quarter in order to tend to the festering that undoubtedly happens when you don't see your coworkers every day. Identifying the behaviors that make for a creative environment and then ritualizing them will increase the odds that they happen.
I might also add that creativity requires time. We assume that there's at least a one-to-one ratio of the creative planning to execution. This rule of thumb ensures that we aren't getting lazy and cutting corners that leave our work feeling flat.
Additionally, a team's ability to be creative is directly in proportion to the permission they feel to be courageous. It is the leaders' responsibility to create rhythms that celebrate and make space for courageous thinking and behavior.
Lastly, in the age of Zoom, we must take the time to be human before diving into work. Even when someone in the meeting is annoyed and wants to get to work, which often happens, we tend to produce better work when we start with connection and sincerity. One of our check-ins asks, "What is your intention for this meeting and what has your attention at the moment?" This simple prompt recognizes that we all have distractions tugging at our minds.
5. What is the biggest challenge you face when innovating?
I'm not sure if this is a challenge, but I believe one of the most significant risks to successful innovation lies in not having a clear connection to an organization's strategic priorities and vision. Our least successful projects stem from situations where someone was tasked with solving X but it isn't a key priority. Consequently, the team faces an uphill battle, struggling for resources, time, funding, and leadership support. If a project isn't a priority, it's best not to
allocate time to it.
One of the first questions is: Where does this work fit within the hierarchy of your efforts? If it's not at the top, then don't hire us. Don't do it. Instead, redirect those resources to what truly matters and double down on those priorities. I'm not sure it's a challenge but I would say it's the most significant caution.
But, you asked about challenges. One significant challenge we encounter is premature attachment to a solution. As I mentioned earlier, the discomfort of ambiguity is real. In our work, we strive to prolong the exploration phase as long as possible. Despite the pressures pushing us to make decisions, choose an idea, and start building, and we intentionally delay this process. The longer we postpone, the more insight we gather about the problem and the more learn about those impacted by it. The moment we start building and testing solutions, our ideas become precious and our attachment grows as we develop a desire to prove their worth. To combat this attachment, we test multiple solutions - not just one.
6. You spoke a bit about idea generation, but how do you identify trends or what resources does your team use to spot trends and consumer insights?
Innovation involves capturing, uncovering, and creating data. At the onset of a project, we are typically capturing data through qualitative interviews. In prototyping and testing, we are creating data as we test. Another data input is to identify the signals and trends impacting the project space. This includes political agendas, social, environmental, and economic landscapes. Signals come from various sources. I might identify a signal and then become curious about its
momentum, potential implications, and the implication of those implications, like the thread of a sweater. Pulling that thread, you start going down a rabbit hole of potential outcomes. One simple action you can take is to subscribe to sub-stacks, newsletters, and podcasts from thinkers you admire. For instance, Amy Webb and Andrew Huberman are two people I regularly follow.
Here is an example. During Covid, we observed individuals in a particular industry choosing independence over employment. This shift would have a big impact on the hiring and staffing strategy for this industry. We then explored what the implications might be and imagined multiple possible futures based on those implications. It is less important that you are right and more important that it cultivates conversation about possibilities. It is in these conversations that insights and themes arise.
7. Looking to the future, how will Stoked continue to be a leader in innovation?
Stay uncomfortable, and that's easier said than done. I hate being uncomfortable, and out of everyone on the team, I'm probably the worst. I so badly love to focus, I love clarity, and I love having answers. That's really great when I'm in an operators mindset. But our purpose in the world is to push boundaries and to help organizations humanize work.
Staying uncomfortable is something that we have to do in order to be good at our job, and so what I've done is
surrounded myself with people who are really good at it. They're better than me, and if we're the average of the five people we spend the most time with, I'm bound to get better at staying uncomfortable.