Developing Endurance Skincare
An Interview with Angie Buonassisi, Founder of Lontreau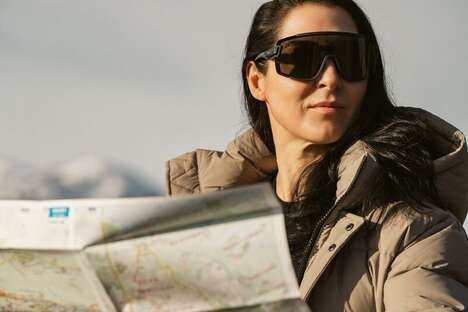 Like most modern women trying to find balance in a demanding world, Angie Buonassisi doesn't have time for a complicated skincare routine. She is the Founder of Lontreau and was inspired to develop a line of products that support the extreme conditions of an athlete's lifestyle — from pollution to the elements. As the co-owner of 8 West Cosmetic Surgery and Skin Clinic, she sees the concerns and needs of thousands of patients. Beyond creating a skincare brand that meets the unique needs of an athlete's skin, she is also passionate about creating a community that is inspired by the support and strength of female athletes.
1. What does innovation mean to you?
Starting a new brand is a unique opportunity to innovate as we are less bound by legacy decisions such as packaging or ingredients that made sense at one point but don't anymore. Because Lontreau is fresh, we were able to design a line that achieved my goals around clean, biomimetic and sustainable forward, with formulations specifically for the needs of active people. I'm particularly proud of our 100% recyclable airless packaging which protects our formulas from oxidation, are spill proof and gym bag friendly and can be tossed into the recycling bin whole (no hidden metal springs inside). We know that's not a perfect solution either, so we opted to offset our use of plastics through the RePurpose Plastic Negative program which means we remove 2x more plastic from the environment than we produce. I'm also really proud of the innovative ingredients we were able to source for protecting skin against pollution, blue light and infrared.
2. How does your team generate new ideas? Do you have any specific rituals for resetting your team to be creative?
It's important to nurture a culture where every idea is a great idea. I'm lucky to have an amazing team of people who think big and support me in my big, crazy thinking. We usually start with a huge "the sky's the limit" brainstorm then begin taking it down a notch to what is practical and can be executed well. It's so fun to see our ideas come to life!
3. How do you identify trends? What resources does Lontreau use to spot trends and consumer insights?
I've been involved in skin care for over 10 years and have seen many trends come and go. Entire lines built on "clean" messaging (we know today that clean is a baseline expectation amongst many consumers) or entire lines built on the single "super ingredient" of the day. At the risk of not seeming very exciting, my goal with Lontreau was to create a product line with staying power. That means rooted in a strong vision, a dedication to efficacious products, excellent customer service and building a reliable supply chain that we can count on. Our foundation is strong and as we grow we have a lot to leverage and build upon.
4. What is the biggest challenge you face when innovating?
Innovation can be challenging because there isn't always a fully developed proof of concept to take lead from. Our strategy is to take small, measured risks on innovations that we believe will be valued by our customers. This means carefully selecting manufacturers that will make smaller, more custom production runs so that we can test the market safely. While being a smaller company provides its own challenges related to not having reached scale, we can be more nimble. We hope that our customers understand and appreciate that we do small, special production runs of innovative formulas that are manufactured in a world-class facility in Canada.
5. Lontreau describes itself as endurance skincare. Why was it important to you to create a skincare line for people on the move?
People who live to move are so passionate about their activity, sport or hobby that they plan their lives carefully around making sure it gets done, rain or shine, so to speak. They are committed runners, golfers, cyclists or skiers (for example) who brave the conditions no matter what. It's windy, you ski. The pollution index is high, you still run. It's very hot or very cold, the activity still happens. As an active person myself, I struggled to find products that protected me from the specific conditions I found myself in all year long. For example, I wanted to use retinol but it made me photosensitive. I wasn't going to miss a run because of my skin care routine. I was also conscious of the amount of time I was spending riding my bike in the city, with all the pollution from cars being churned up into my face. Bluelight from my computer during the day or when I was spending hours indoors Zwifting were all starting to add up and I didn't feel like I had access to products that were lifestyle friendly for me. I'm proud of the line that we created as it is specially designed for the active person's lifestyle. We use carefully selected ingredients that protect against infrared, pollution, bluelight and free radicals (and more), in biomimetic formulas that are designed to protect the skin barrier day in and day out.
6. Lontreau's philosophy is rooted in biomimetic skincare and skin compatibility. What makes this an innovative approach in skincare?
Biomimetic formulation in skincare represents a sophisticated approach that combines nature and advanced scientific methods, incorporating revolutionary plant-derived components. These unique ingredients imitate the structures and biochemistry of the skin, facilitating optimal delivery and achieving great outcomes. In the realm of skincare, biomimicry has played a pivotal role in uncovering potent anti-aging peptides, enhancing collagen production, and introducing exceptional moisturizing elements.
The primary objective is to enhance sustainability by utilizing nature-derived ingredients, including vegan sources like those used in Lontreau's formulas, and selecting components that stimulate the skin's innate functions. Biomimetic ingredients are those that emulate the substances or processes naturally generated by our skin.
7. Skincare is truly the sum of its parts. What do consumers need to know about the ingredients in Lontreau and what makes them unique?
Great skin care formulations are synergistic, meaning the formula as a whole is more powerful than the individual ingredients on their own. This is a more strategic type of formulation that requires a truly innovative approach and a very skilled formulator. I'm very fortunate to work with the best in the industry. As part of our commitment to sustainability, we shied away from single ingredient products that tend to be quite trend based and focus on ingredient dense formulas that are multi-purpose and ultimately reduce the number of products required in a routine.
8. Can you share any exciting future projects the company is working on?
Yes! We are working to expand our product line with skin type specific products, expanding the dry/mature skin and oily/blemish prone skin categories. Stay tuned!