Adding to Culture
Angel Bellon, Sr. Director, Insights & Cultural Intelligence, Paramount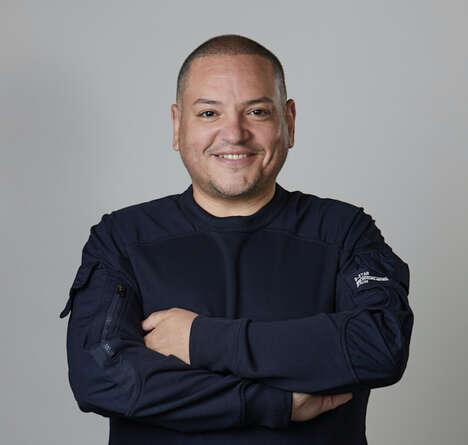 Believing that innovation is not only defined by something new, but rather by something that is disruptive and additive to culture, Angel Bellon is the Senior Director, Insights & Cultural Intelligence in Paramount's Audience Impact & Intelligence team.
1. What does innovation mean to you?
I love this question because I think oftentimes, people in the marketing or innovation space define innovation as something new--a new product, a new campaign, or a new idea. By that definition, you are considered innovative for simply coming up with something new for the brand.
For me, innovation is really about disruption and transformation. It's about surprises and about being additive to your category, and to the space or the "culture" that you're entering. If you're looking to engage a subculture or being additive to what it already is, that to me defines innovation. By that definition, there are very few brands that are innovative.
2. How does your team generate new ideas? What makes an innovative team culture?
I think it starts with a team that adds to the culture, rather than hires for a culture fit. So often, companies are looking for someone that blends perfectly into their existing culture. What happens is that you create a homogeneous culture where everyone has the same perspective and experience. How can you be innovative? How can you generate new ideas when we are all thinking, sounding and talking alike? To prevent that from happening, I look for people that fill a gap on my team.
How can they be additive to our team culture? I want someone with a different background or different personal experience. I look for people with different education and professional backgrounds, and people who have side hustles and passions that have nothing to do with their professional lives or day-to-day work, because that makes them better at their day-to-day--especially if we're talking about consumer culture. Everything is consumer culture, so I want people who are doing things that I'm not into. If I'm not into sports, I want someone who is into sports. I think that's step one to building a team that is set up for success in order to generate new ideas.
I also think it's important to create a safe space for people to feel totally open, to get crazy with their ideas, no matter their years of experience or their title. I feel like so many people go into a brainstorming session already thinking about what the client wants. While we do need to think about our industry, this can lead to filtered, watered down ideas. It's important to remove those filters and consider ways in which we can scale ideas. How can we adapt an idea to the business? How can we adapt it to a client and their portfolio?
I want people to be immersed in culture, and if you're only studying a single consumer segment, you're not truly a part of culture. I want you to study them and to do what they're doing, eat what they're eating, watch what they're watching, so that you're really immersing yourself. It's only then that you're able to identify that white space, those knowledge gaps, and the stories that aren't being told in order to create ideas around them.
3. How does your team create that culture of innovation?
I have my own ritual and I encourage people to come up with their own system of looking at culture and immersing themselves in it. I'm not a morning person, so I make sure to start my day with an hour of just reading everything and seeing where that reading takes me. Whether it's a link within a link, a newsletter, an academic journal, a Slack message or a TikTok, I want to spend time catching up on what's going on. I advise people to pick something that works for them, and to create a personal toolkit that allows them to get immersed in culture.
4. Do you work remotely or does your team follow a hybrid model?
We follow a hybrid model with teammates in different offices across the country, so we end up having some coworkers that are always remote, but for the people based in New York, we go in two days a week, with Wednesdays being our assigned in-person day when we hold all our face-to-face meetings.
When I'm in the office on Wednesdays, we spend more time hosting meetings and sessions where learnings are gathered. We also have little hacks for people to share knowledge and insights, and a Slack channel dedicated to each project that acts as our repository for every article or signal we find. There's also a team-owned Instagram account that allows us to follow all the creators, publications and trend hunters of the world, so it has become a one-stop shop where team members can scroll through the top stories on their news feed, and get a quick snapshot of what's happening in the world.
5. How do you identify trends? What resources does your team use to spot trends and consumer insights?
That's a question I get all the time, and I think an organization needs to operationalize what it means by trends. "Trends" are used so often and are never operationalized. How I define a trend will be different from someone else.
It's really important for organizations to create a lexicon around trends--a definition of what they mean by the term. A trend for some might be a fashion or dance trend, while for others it might be an innovation, category or consumer trend. What's also important is the objective of trend-spotting. It's not just about the process, but the output--Are we identifying trends for the sake of product innovation? If so, we need trends with a life span of over five years, since it takes at least that amount of time to launch a new product, even though it's reduced in the last couple of years.
If we're coming up with new brand campaigns, then we're looking for something more cutting-edge, with a life span of two to three years. If step one is the operationalization of trends and coming up with business objectives and definitions, then the next is to think about the team's methodology.
When I joined Paramount about three and a half years ago, ahead of the ViacomCBS merger, I realized that everyone was speaking different languages around trends, so it was essential to come up with a common language and ultimately, a system for recognizing patterns and identifying trends.
So I created what we call the Trend Toolkit, a 200-page guide that outlines the language of trends, a clear process for identifying them, and different ways to spot them. It explains how to look at signals and data. As a cultural anthropologist, I look at everything as data, from product innovations to TikToks to statistics. We need to analyze them in the same way a data scientist would look at a big data set, and then look for the stories within them and find those connections. To me, spotting trends means looking at the cultural data, finding the patterns, and following that with the story that we want to tell.
6. Do you attend a lot of conferences in the hopes of spotting what's coming in the future?
Yes, we try to attend as many conferences as we can. I will say, though, that I'm not going to a conference for trend identification or discovery unless I'm speaking there. The Trend Hunter conferences, however, are unique because we're always learning something, which is why I was excited to attend in-person this year, even joined by three other people from my Audience Impact & Intelligence team.
Conferences take different forms today and there's so many webinars and content out there being shared extensively. Also, social media is free to use and scan however we like, from the subreddits to the TikTok videos, and even the comments section––that has become my form of qualitative and cultural mining.
One of the resources we subscribe to is Trend Hunter, which has definitely streamlined the whole cultural data mining process. The marketing and brand examples are especially useful and accessible with just a few keyword searches, because they are oftentimes the hardest to discover out in the wild. They are new and interesting findings that also come with succinct descriptions, which means we don't need to spend too much time on a write-up for a deck. It's really easy to use and helps us cut down on the time it takes to gather examples, so we can focus on delivering great insights to our clients.
7. What is the biggest challenge that you face while innovating?
I've been in the trend space for over 15 years, and in the past, a trend report used to be a static document that, once created, was done. That was it. If you did your job well, your trend report would have a shelf life of one or two years, tops.
Trend reports are still relevant, but because culture is moving so fast and unexpected events like the pandemic happen all the time, you really have to treat a trend report like a beta product. You have to look at it constantly, update the data and examples, and ensure that emerging political and cultural shifts are not accelerating or decelerating what you have been predicting.
It's about constantly updating and modifying the work while identifying challenges today that may not have existed five years ago. On the other side of it, there's a tsunami of trends and insights, or what I call the McDonaldization of trends, where there's so much fast content out there that I need to consider innovation in how we can do and say something differently--not just in the content, but in the format, the media, and the storytelling.