Exploring with Empathy
An Interview with Ami Vitale, Award-Winning Photojournalist and Filmmaker
Related Trend Reports
Activism
,
Business
,
Charity
,
Drinking
,
Fashion
,
Food
,
Gadgets
,
Interactive
,
Life
,
Life Stages
,
Marketing
,
Toys
,
Youth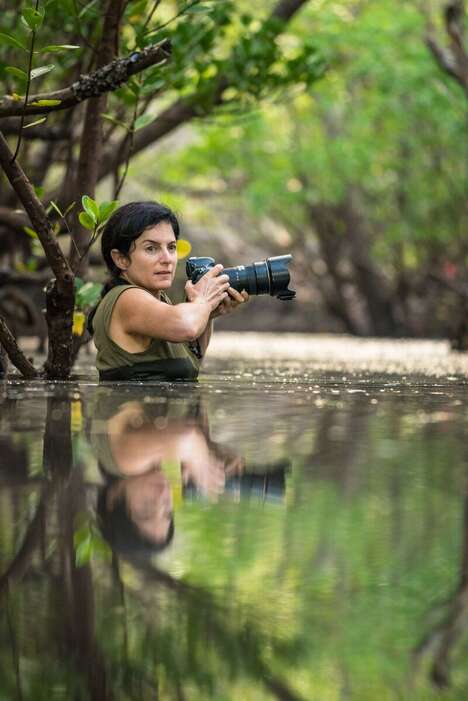 Montana-based photojournalist, filmmaker and writer Ami Vitale is an award-winning artist whose work has been featured in National Geographic, and recently spotlighted in the network's 'Women of Impact' documentary. She's also a founding member of Ripple Effect Images, and is a part of the Photojournalism Advisory Council for the Alexia Foundation.
We had the chance to speak with Vitale ahead of the
#TTCIWD Talks and Panel Session
hosted by The Travel Corporation to learn more about her work, her creative process, and her new role as an ambassador with The TreadRight Foundation—a not-for-profit that's committed to creating opportunities for travel that result in a positive impact.
Can you just tell us a little bit about yourself and your work with National Geographic?
I'm a National Geographic photographer, filmmaker and writer, and I tell stories about the beauty and interconnectedness of all life on this planet. I began my work about 20 years ago, first covering wars unfolding across the planet for almost a decade.
After witnessing the horrors and most heartbreaking parts of humanity, I learned that every single one of those stories was always connected to the natural world—to our planet. Everything comes from nature, and conflict often arises over resources. I realized I needed to shift my focus and not only cover the human conflicts but also the stories about the natural world. If you dig deep enough, behind virtually every human conflict is an erosion of nature and our dependence on it. Today, I cover the environmental challenges we face but I also look for solutions and where there's hope. Reminding us all of what we can achieve can be a great catalyst for positive change. I use nature as a foil for talking about humanity.
What happens next is in all of our hands. we all have the capacity to get engaged and make a difference.The key thing is to not fall into the trap of thinking that this issue is too big to deal with and someone else is taking care of it. It is up to you. And me. I want the next generations to experience the same beauty, magic, and diversity as it is today. Falling in love with this world gives us the courage to go out and be voices for it.
Can you highlight your creative process? How do you capture a shot that speaks to your subject's story?
Empathy is the wellspring of all creativity. All of my stories come from spending time, sometimes even years, with these communities. I've been working on my current project for a decade—and it began with the translocation of northern white rhinos from a zoo in the Czech Republic back to Africa. When I first met these ancient creatures, I could not believe what we had done to them. Less than a hundred years ago, there were probably hundreds or tens of thousands of them roaming the open plains of Africa but on that day, there were just eight of them alive. Today there are only two left. Something about that just captured my heart and I realized I had to start. Sometimes the most powerful stories come from a place of discomfort and despair. We all should be uncomfortable at times. When you take that first brave step into the place of discomfort, everything changes and it gives you the courage to go and tell the stories that matter. Stories are important. The narratives we tell ourselves become our reality. I want to amplify some of these powerful voices that are working to protect wildlife and give us hope and a way forward too.
What prompted you to become TreadRight's wildlife ambassador—what does this mean to you?
Our consumer choices are votes for our future. Humans are explorers but it's vital that we remember the profound impact we have in today's world as travellers. Planet Earth is the only home we have and what happens next is in all of our hands. I want to engage with partners who understand the importance of this. The challenges are formidable but no time in human history has there been a greater awareness and opportunity for transformation. I am proud to be partnering with an organization that is looking for honed solutions. By becoming an ambassador, I hope to have another platform to show that getting engaged really does matter and that we can all make choices that lead to a more sustainable world, where we have a positive impact, and where we can tread lightly.
What can travellers do to be more supportive of the wildlife or communities that they come into contact with when they're abroad?
In terms of wildlife, it's important to understand that if you love animals, you need to let them be free and be wild—truly wild. Around much of the planet, endangered exotic animals are routinely used as props for selfies for tourists. Never take selfies with captive animals. In our love for all these beautiful creatures, we can be their greatest protectors or their greatest destroyers.
The key thing to do is if you love something, give it space and let it be. When you're photographing, take pictures from a distance. I've seen in some places that guides have this pressure to get tourists really close so that they can get great pictures. Don't push your guides to get closer and potentially disrupt the wildlife you came to appreciate. In doing this, you can actually separate babies from their mothers, or disrupt a herd.
So again, the first step is educating yourself, respecting wildlife, and treating them as you would treat somebody you love. Secondly, understand that where you travel can have a really positive impact and can empower communities. Research and find places where your tourism dollars are going back directly into the communities, back into their healthcare and education, and giving them opportunities to earn a living from protecting healthy wildlife and a healthy ecosystem.
What do you hope your viewers gain from your work?
I hope they're inspired—inspired to believe that their voices matter. I want everyone to go out and be a messenger for this planet. Don't sit this one out! All of us need to be actively caring for and being the voice for the planet, for wildlife, and for each other. Because if you love wildlife, you also have to love people too. There is room enough for all of us, and empathy and love for each other is really important.
I have so much to say but I believe it's so important to take time and truly listen to one another, and understand that it's not about traveling and seeing the exotic—it's about creating connections. Travel is about reminding us we're in this intricate web together, that we are on this big, beautiful life raft together in a cold dark universe. Not all travel is comfortable, and that's okay. Oftentimes, that place of discomfort is where you're going to learn the most and become the best version of yourself.