Editorial SnapShot
The Most Innovative Trends this Week - October 27, 2023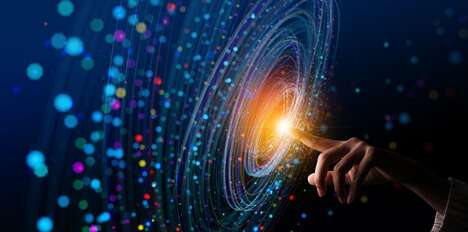 In a world where technology and ethics intertwine, businesses are not just innovating; they're evolving with purpose. In today's dynamic business world, artificial intelligence (AI) is transforming sectors from wearables to healthcare, enhancing user experiences and driving innovation. Wearables offer personalized interactions, while AI aids in demand forecasting in foodservice and precise diagnostics in healthcare. The entertainment industry is personalizing content for individual tastes. Concurrently, a strong focus on sustainability and social responsibility is evident. Eco-conscious practices, charitable endeavors, and sustainable fashion underscore the commitment to a greener future. As industries merge technology with ethical practices, the horizon promises advanced, sustainable, and socially responsible solutions.
Artificial Intelligence Revolutionizing Industries:
The convergence of AI and various sectors is reshaping industries and unlocking unprecedented possibilities. Let's delve into some remarkable highlights:
AI in Wearable:
Crossbeats
is releasing a new smartwatch for Indian consumers dubbed the 'Crossbeats Nexus.' This unique device includes full access to ChatGPT, which will help assist the user with a variety of dynamic features.
AI in Foodservice:
'
Lineup AI
' is a new artificial intelligence (AI)-powered demand forecasting tool designed for the restaurant industry. This tool works by analyzing both restaurant-specific and market-wide data, depending on the type of forecasting desired.
AI in Healthcare:
'
DentalXr.ai Pro
' is a software program that uses artificial intelligence (AI) to analyze dental radiograph X-ray images and provide a diagnosis.
AI in Entertainment:
YouTube Music
recently launched some new updates that align with the company's recent interest in artificial intelligence. As a result, the brand has introduced the integration of AI for customized playlist cover art creation.
AI in Senior Safety:
Despite significant advances in technology, canes for seniors have remained largely unchanged over the years, and the
CAN Go
is an AI-powered smart cane that changes this with fall detection, activity tracking, a built-in flashlight, emergency calling features and more.
Exciting Trends in Various Categories:
As well as AI advancements, entrepreneurs should be aware of trends across many industries. Among the noteworthy developments are:
Eco / Food:
These
Zenso
alcoholic beverages have been announced as a series of eco-friendly refreshments that make use of waste materials to achieve a high-quality alcoholic drink.
Pet / Social Good:
Crown & Paw
, renowned for its custom pet portraits, is taking a festive turn this Halloween. The company, which has generously donated over $250,000 to animal shelters nationwide, is unveiling a Halloween-themed collection that promises to capture the playful spirit of the season.
Fashion:
Reformation
, the eco-conscious fashion brand, is set to launch an 18-piece collection on October 23rd, curated by fashion icon Camille Rowe.
Marketing:
In celebration of its 125th anniversary,
Pepsi
created The 125 Pepsi Diner as an immersive pop-up restaurant, complete with a three-course menu.
Design:
Ocean Bottle
presents a look at its new GO Bottle which is a design that continues its efforts of sustainability and work of aiding ocean preservation.
In this era of rapid technological advancement, businesses that harness the power of AI and prioritize ethical practices are poised for success. The fusion of AI across various sectors not only elevates user experiences but also drives operational efficiencies, opening doors to untapped market opportunities. Moreover, the rising trend of sustainability and social responsibility signals a shift in consumer expectations. Businesses that adapt to these evolving trends will not only thrive but also set industry standards. The implication is clear: In a competitive landscape, innovation paired with purpose is the key differentiator that will shape the future of successful enterprises.