Editorial Snapshot
The Most Innovative Trends this Week - November 16, 2023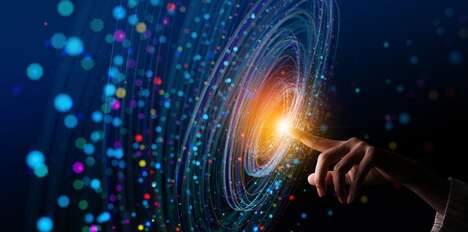 Introducing a new wave of innovation across various industries, these groundbreaking developments showcase the power of AI and cutting-edge technology. From Blackdot's game-changing tattoo technology to Osirion's AI-driven skill enhancement for gamers, and Amazon's ambitious Project Olympus in the realm of large language models, these advancements are reshaping their respective fields. Additionally, Rosalyn's StableSight is redefining online education, GraphCast AI is revolutionizing weather forecasting, and The Dissolving Bottle is making strides in eco-friendly packaging solutions. Meanwhile, Alo Yoga's Beauty & Wellness Advent Calendar promises a luxurious lifestyle experience, and the Dostea Tea Machine brings tech-inspired convenience to tea enthusiasts. Finally, Lucy's mission to provide safer nicotine alternatives underscores the potential for social good through innovation. These developments represent the cutting edge of business and technology.
The integration of AI is reshaping industries, unfurling unparalleled opportunities. Below, we delve into awe-inspiring breakthroughs:
AI in Art / Fashion:
Blackdot®
, the trailblazer in automated tattoo technology, has announced the swift success of its Blackdot Certified Artist (BCA) program. Within a month of its launch, the program has seen a sell-out of custom designs by Tyler Hobbs, a vanguard in generative art.
AI in Gaming:
Osirion
, a cutting-edge artificial intelligence-powered service, has emerged to revolutionize the skills development of Fortnite players. Leveraging AI and machine learning, Osirion provides actionable feedback on individual or team performance by analyzing gaming sessions. |
AI in LLM:
'
Project Olympus
' is a recently-announced initiative by Amazon to develop a large language model (LLM) with 2 trillion parameters, which is more than twice the size of OpenAI's GPT-4, the current state-of-the-art LLM.
AI in Education:
Rosalyn
is introducing a new artificial intelligence-powered feature called StableSight. Leveraging cutting-edge technology, including gaze-tracking and keyboard sound analysis, StableSight goes beyond traditional methods to identify cheating instances during online exams.
AI in News / Weather:
GraphCast AI
is a machine learning-based method for medium-range global weather forecasting, developed by DeepMind and Google.
Exploring Emerging Trends in Varied Categories
While AI continues to advance, there are other captivating trends drawing entrepreneurs towards the frontier of innovation. In the following sections, we shed light on these promising developments:
Eco:
For years, environmentally minded brands have been making solid haircare products to reduce packaging and offer more concentrated product formulas, and
The Dissolving Bottle
introduces bottle-shaped shampoo bars.
Lifestyle:
Alo Yoga's limited-edition
Beauty & Wellness Advent Calendar
celebrates 24 days of radiant beauty and health with $700 worth of products to support the mind and body alike.
Tech:
The
Dostea Tea Machine
is a coffee maker-inspired countertop appliance that would provide a person with the ability to craft authentic chai tea in a decidedly easier way.
Social Good:
In the US, where 22% of the population still engages in smoking or vaping,
Lucy
emerges as a trailblazer in offering safer, smoke-free nicotine alternatives. Founded by Soylent's David Renteln, Lucy's mission is to disrupt the traditional tobacco industry with its innovative and health-conscious products.
In the fast-paced world of business, staying ahead of the curve is essential for success. The innovations highlighted here demonstrate the remarkable potential of AI and cutting-edge technology to drive growth and transformation across diverse sectors. Whether you're in the art and fashion industry, gaming, education, or any other field, these developments underscore the importance of embracing innovation to remain competitive. The future is ripe with potential, and those who embrace change will thrive in the world of business.