4 Post-Pandemic Trends Transforming the Alcohol Market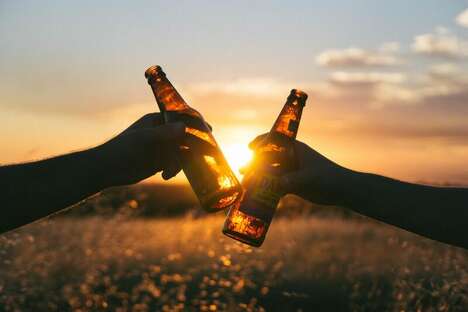 Although the pandemic is largely behind us, many of the hobbies, interests, and values that consumers picked up during lockdown will remain essential to their lives.
In terms of alcohol consumption, a new preference for unique drinking alternatives has arisen. In particular, Millennial and Gen Z consumers developed a taste for two types of booze alternatives: those that are experimental and those that are "healthy."
For this article, we've organized four key post-pandemic trends that are currently transforming the alcohol market, each of which aligns with these new alcohol categories (experimental and healthy).
Unlikely Pairing
As a result of lockdown-induced boredom, many Millennials and older Gen Zers began thrill-seeking by experimenting with the routine elements of their day-to-day lives; some dabbled in unconventional exercise routines while others expanded their cooking comfort zones. Not surprisingly, their drinking preferences also got a lot more exciting.
Trend Hunter's Insight, 'Unlikely Pairing,' captures this new phenomenon by highlighting brands that have begun offering unique products that combine alcohol with uncommon ingredients such as aromatic fragrances, cannabis strains, and smoke.
Booze Bakery
As novelty alcohol pairings continue to gain popularity, a handful of innovative alcohol brands have begun collaborating with bakeries and/or companies selling packaged baked goods. Together they're creating booze-infused treats that have cross-generational appeal. Trend Hunter's insight, 'Booze Bakery,' highlights the emergence of these hybrid, experimental desserts.
Vegan Alcohol
Locked down and inundated with health-related messaging, many Millenial and Gen Z consumers became motivated during the pandemic to optimize their health. Not surprisingly, a new category of better-for-you alcohol alternatives emerged on the market, catering to these new consumer preferences.
Trend Hunter's insight 'Vegan Alcohol,' explores a prime example of the kind of "healthy" alcohol younger consumers now seek out. The insight focuses on the emergence of plant-based creamy liqueurs and cocktails that utilize alternative kinds of milk such as oat or soy.
Alcohol Wellness
During the pandemic, the importance of maintaining one's physical and mental wellness was raised to new heights.
Trend Hunter's insight, 'Alcohol Wellness,' focuses on the way emerging alcohol brands have aligned themselves with the concepts and values associated with the health and wellness movement. Examples fitting into this trend range from wine brands leveraging wellness-focused messaging to beer companies developing low-calorie beers infused with electrolytes.
Takeaways
Ultimately, the pandemic has transformed consumers' alcohol-related preferences and practices. Among younger consumers, there has been a notable shift in preference towards novel alcohol alternatives, either in the form of experimental or healthy substitutes. As Millennials and Gen Z to consume less alcohol overall, brands in the industry have to appeal to these demographics through unique experiences, experimental flavors, and a health-conscious approach.
For more alcohol industry insights, check out Trend Hunter's free
2023 Trend Report
.