2023 Minneapolis Innovation Conference
Our 2023 Future Festival Minneapolis is on May 16, 2023
Related Trend Reports
Boomers
,
Drinking
,
Eco Architecture
,
Fashion
,
Food
,
Gadgets
,
Health
,
Life
,
Life Stages
,
Lifestyle
,
Mobile
,
Retail
,
Seniors
,
Shoes
,
Tech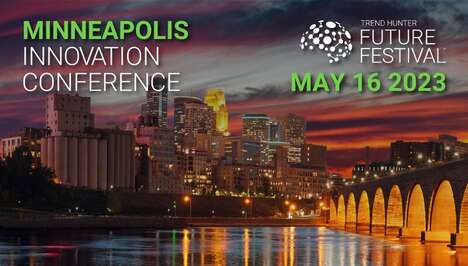 Our
2023 Minneapolis Innovation Conference
will feature keynotes from Trend Hunter's team of futurists, as well as from CEO and NYT-bestselling author Jeremy Gutsche. The event takes place on May 16th, 2023, and will be an action-packed, one-day event that compiles some of the most useful, actionable information from Trend Hunter's Future Festival tour.
The Minneapolis Innovation Conference will hear about modern emerging trends across various industries such as retail, technology, workplace culture, and more. Trend Hunter's team of experts will equip attendees with the necessary tools to navigate the post-pandemic world and innovate through chaos.
The Minneapolis Innovation Conference offers a comprehensive exploration of the 6 Patterns of Opportunity and 18 Megatrends shaping our world, with informative sessions focused on trends and innovation that will shape the future of consumer insights.
In addition, there will be an engaging afterparty experience where you can connect with top innovators in the industry. As a bonus, attendees will receive $4,000 worth of research and presentation materials, providing valuable resources to help turn inspiration into action, such as Trend Hunter's
2023 Trend Report.