2022 Innovation Strategy Awards Winners
Trend Hunter's First Ever Innovation Strategy Awards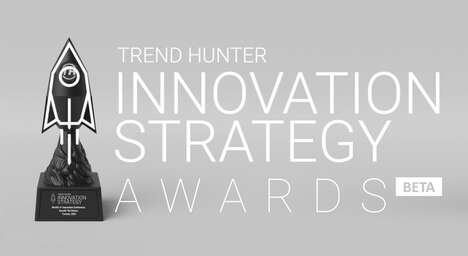 At this year's
Future Festival World Summit
event, we revealed the launch of
InnovationStrategy.com
, Trend Hunter's newest brand spotlighting all of our innovation tools and content. The website is home to over 6000 innovation interviews, our Innovation Assessment, videos, Masterclass, FuturistU and Innovation Accelerator content, workshops and more.
Alongside innovationstrategy.com, we launched our Innovation Strategy Awards, that recognize the best innovation tactics gathered from interviews with some of the world's most notable business leaders, authors and influencers.
To mark our inaugural year of the Innovation Strategy Awards, we went back in time to all the interviews we've conducted to date to select our favorite tactics by category. The selected award winners are all innovators within their field, work across a variety of industries and truly embody the definition of a change maker.
Full List of Trend Hunter Innovation Strategy Award Winners
I. ABILITY TO CHANGE
Boldest Challenge Award: Vicki Hollub - CEO, Occidental
Tactic: Empower your people and challenge them to save the world. More specifically, for Vicki, this award recognizes her committing to spending $1 Billion on a Direct Air Carbon Capture facility to extract pollution from the sky.
II. CULTURE OF INNOVATION
Adaptation Award: Jamie Wideman - Molson Coors
Tactic: Create a "Failure Playbook" so that we can learn best practices from our mistakes
Courage Award: Brian Coupland - SVP Merchandising, Staples
Tactic: Give people a a "Written Permission Slip to Fail" so that people can get over the fear of failure
III. OPPORTUNITY HUNTING
New Idea Award: Debbie Amato - Chief, New Idea Office, NASA
Tactic: Host "Poster Sessions" where people share ideas, like a science fair for adults, to create collisions
Passion Award: David Dombrowski - R&D Head of Innovation, Haleon
Tactic: Enable Passion Projects, but tie them to the North Star, to fill the gap between dreams and day-to-day
IV. ADAPTIVE INNOVATION
Strategic Thinking Award: Lawren Barnett - Global Insights Futurist, Coca-Cola
Tactic: Battle test ideas using "Extreme Scenarios" and then working back to the more applicable idea
Futurism Award: Tammy Butterworth - Front End Innovation, PepsiCo
Tactic: Future test ideas by innovating for 10 years out, then working back, all in a room engaging all 5 senses
V. INFECTIOUS MESSAGING
Provocative Thinking Award: Bill Hayden, Chief Strategy Officer & EVP, Universal Parks & Resorts
Tactic: Creating a state of mind for selling ideas in your organization, by remembering boardrooms are full of people who built their careers challenging idas and showing you what's wrong, so you must proactively address all possible fears.
For more information about our Innovation Awards, visit innovationstrategy.com