Chicago Innovation Event 2023
The Future Festival 2023 Tour Continues at Chicago on May 9-10, 2023
Related Trend Reports
Computers
,
Design
,
Eco Architecture
,
Fashion
,
Gadgets
,
Health
,
Hip Hotels
,
Lifestyle
,
Media
,
Modern
,
Multimedia
,
Pop Culture
,
Science
,
Tech
,
Travel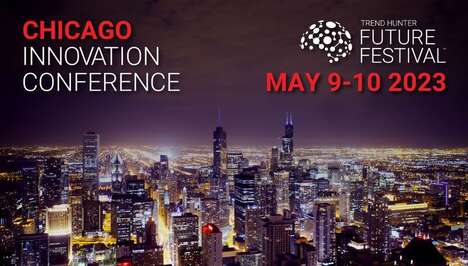 Trend Hunter's
Chicago Innovation Conference
is scheduled to take place on May 9th-10th, 2023, featuring a lineup of experienced futurists and headlined by Jeremy Gutsche, CEO of Trend Hunter and a New York Times-bestselling author.
The two-day event will gather leading innovators from various industries to explore future trends and opportunities based on Trend Hunter's extensive research and insights. Over the past two decades, Trend Hunter has amassed over 500 million views, delivered 10,000 custom projects, and delivered hundreds of keynote speeches. This experience is packaged down to a digestible two-day innovation conference.
Attendees of the Chicago Innovation Conference will benefit from keynote presentations by Jeremy Gutsche and other experienced futurists who will share insights on how to innovate through chaos and adapt to ever-changing consumer desires and pressures. Attendees will be well-equipped for the next decade of innovation, with specific respect to their individual industries. Additionally, all attendees will receive a practical package of materials worth over $4,000, including a preview of Trend Hunter's
2023 Trend Report
.
For those who sign up for the two-day extended version of the conference, there will be interactive workshops where they can apply the trend frameworks and methodologies to their own challenges and opportunities. These workshops are modeled after Trend Hunter's numerous successful sessions with Fortune 500 companies and NASA.
For more information on how to sign up for Trend Hunter's Chicago Innovation Conference, or its extended workshop day, see
this link.