2023 Innovation Strategy Awards Winners
Highlights from the 2nd Innovation Strategy Awards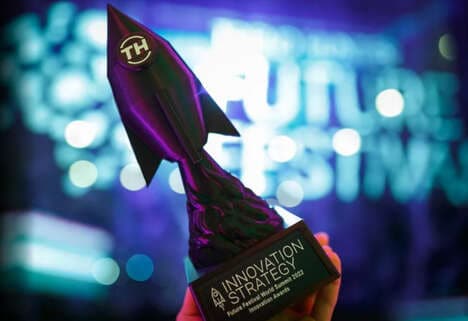 At this year's
Future Festival World Summit 2023
event, we presented the second annual Innovation Strategy Awards, recognizing the best innovation stories from some of the world's most prominent business leaders. The event was hosted by Trend Hunter CEO Jeremy Gutsche and Debbie Amato, Chief, New Opportunities Office at NASA Goddard Space Flight Center and past Innovation Award recipient.
This year's award winners were carefully chosen, are innovators across diverse industries, and truly epitomize the definition of being a change maker.
Full List of Trend Hunter Innovation Strategy Award 2023 Winners
I. ABILITY TO CHANGE
Winners: Carolina Ardila, Consumer Strategic Insights Manager & Natalia Gadioli, Head of New Business, Kimberly-Clark
Tactic: Annual consumer innovation events and co-creation with consumers are part of ongoing initiatives.
II. CULTURE OF INNOVATION
Winner: Bill Digneit, Director of SISU, The Innovation Institute + Department Head of Theatre Dance, Northern Michigan University
Tactic: A $1 million Reno-Innovate fund with committee review and reframing failure as a learning opportunity
III. OPPORTUNITY HUNTING
Winner : Lee Barnsley, Global Design Officer, Reckitt
Tactic: Brainstorming outside of their target market
IV. ADAPTIVE INNOVATION
Winner: Doug Werner, Head of Business Innovation, Amazon Web Services (AWS)
Tactic: 360 Learning Approach when gathering trends and consumer insights
V. INFECTIOUS MESSAGING
Winner: Gabrielle Walker, R&D Scientist, PepsiCo
Tactic: Their Curiosity Council, a group dedicated to evoking curiosity amongst employees, and teaching them how to harness it as a skill, inspires a company-wide a culture of innovation
For more information about our Innovation Awards, visit innovationstrategy.com